The Orlando Bloom Thread



By PrincessNeptune





Bloomers


1. Marissa
2. PrincessNeptune
3. Kristen
4. Theresa
5. LauzG (Laura)
6. fanatic4theoc
7. I<3MyTv
8. nLOVEw/Adam (Shawna Lea)
9. Trina
10. Wes
11. CamyWinchester (Camy)
12. Whitney86
13. ryan-marissa<3
14. Piggle Humsy (Sophie)
15. **beckie**
16. Linniejj
17. Sarah AJ
18. OJBBroxmysox xo
19. damnnprecious (Mel)
20. the oc rocks! (Priya)
21. seeuindallas
22. *Andrea*
Ask to be Added!


By PrincessNeptune
Reasons
1. Because sexy?! AY!
2. Because he looks good no matter what hair he's got!
3. Because he's our favorite pirate ;D
4. Because we love that accent!
5. Because you could get lost in those eyes.
6. Because we all want him to be our captain.
7. Because Whether he's an elf or pirate we love him.
8. Because It's our dream to be "Mrs. Turner."
9. Because who else could make an almost albino white haired, blue eyed elf look smokin?
10. Because noone makes fo-hawks look as good as he does.
11. Because we just want to run our fingers through his hair.
12. Because he's a romantic.
13. Because we all wanna marry him ;]
14. Because he can whisper sweet nothings to us (in French!)
15. Because that smile makes us melt.
16. Because he can rock anything and make it sexy.
17. Because we all have our favorite Orli looks!
18. Because we're jealous of Keira's leg kiss in POTC3.
19. Because he gives us butterflies!
20. Because no one rocks the gold earring like Will Turner.
21. Because we love to swoon over him!
22. Because we wouldn't mind if he rock'd our boats!
23. Because he got us wiping drools!
24. Because we hate Paris but we'll always love Orli.
25. Because he is not only hot as a pirate, he's one HOT cowboy too.
26. Because we'll keep a weathered eye on the horizon for his Sexiness!
27. Because he Loves dogs, too!
28. Because he kept us GUHing over him.
29. Because we want more POTC movies, so we can see more Will Turner.
30. Because we are BLOOMing for him!
31. Because we are in the Kingdom of Heaven when we see him.
32. Because his sexiness makes us melt.
33. Because he's handy with a bow and arrow
34. Because he's like a bomb: BLOOM
Pic of the Moment:
Quotes
"The process of making a movie is what I love. I thrive on that. It's an exciting miracle, a mad adventure. I love being part of it."

"I'm amazed that things have panned out the way they have. I always say I'm so lucky, though my mum always says, "You make your own luck."

"I'm always amazed at anyone's interest in what I have to say."

"Maybe our generation is more about sex, but it feels like romance is dying out."

"When you start falling for somebody and you can't stop thinking about when you're going to see them again, I love that. Women are beautiful. They deserve to be cherished and respected."

"I am a hopeless romantic and I love to spoil my girlfriends."

"When I was nine, I had this girlfriend and we used to have running races in the park. I wanted to be like Superman and fly in and rescue her."
By PrincessNeptune
Trivia
During the filming for The Lord of the Rings: The Fellowship of the Ring (2001), he fell off his horse and broke one of his ribs.

Chosen as one of Teen People Magazine's "25 Hottest Stars Under 25." [2002]

Originally auditioned to play the role of "Faramir" in the "Lord of the Rings" trilogy but lost out on that role and was instead asked to play the role of Legolas.

Learned to surf during the filming of the "Lord of the Rings" trilogy in New Zealand.

He won the 2002 MTV Movie Award for "Breakthrough Male."

Was nominated with the entire The Lord of the Rings: The Fellowship of the Ring (2001) cast for "Best Ensemble Acting" at the Screen Actors Guild Awards.

Won the award at the 2002 Empire Awards for "Best Debut."

Underwent a great deal of training with knives, horseback riding, canoeing and archery before his role as Legolas.

According to Screensavers.com, Orlando Bloom replaced Britney Spears at the top of the website's celebrity download index in January, 2004.

On People (USA) magazine's '50 Most Beautiful' list [2004].

Web-site Ananova.com chose him as the sexiest actor in Britain. [2004]

One of People magazine's "Hottest Bachelors" in 2004.

His cousin, the photographer/director Sebastian Copeland, is Brigitte Nielsen's ex-husband.

He made archery a very popular sport in the UK. Many youngsters saw him with a bow in the "Lord of the Rings" trilogy and decided to join archery schools.





By Marissa



Chosen as Teen People's #1 Hottie for the October 2004 issue.

Chosen as the sexiest male movie star by Empire Magazine. Overall he was 3rd; ahead of him were Keira Knightley (1st) and Angelina Jolie (2nd). [September 2004]

He used to be a vegetarian, but he had to go back to eating meat when he was filming The Lord of the Rings: The Fellowship of the Ring (2001).

Named as one of nine "off the charts" sexy superstars by People Magazine in 2004, along with Jake Gyllenhaal, Usher Raymond, Colin Farrell, Brad Pitt, Matt Damon, Ben Affleck, Bruce Willis, and Johnny Depp.

Was visited by Countess Seidy Maria Lopez during the filming of The Lord of the Rings: The Return of the King (2003) in New Zealand.

Received a great amount of "stage combat" training while at the Guildhall School of Music and Drama (as part of the drama program in conjunction with the British Academy of Stage and Theatre Combat), which helped prepare him a great deal in the characters he has chosen to play, that fight with swords, bows and knives.

He has received an invitation to join the Royal Shakespeare Company (RSC) in Stratford Upon Avon, which he plans to do in the near future when he has some time off from working on film. His goal is to perform Hamlet on the Swan stage (RSC main), one of Shakespeare's most challenging works.

Voted #1 star most women would like to kiss under the mistletoe in a poll for Sky Movies.

Has an older sister, Samantha Bloom.

Graduated from the Guildhall School of Music and Drama (1999)

Amusingly enough, his 2000 guest appearance in the television show, "Midsomer Murders" (1997) references and discusses J.R.R. Tolkien's masterpiece "The Lord of the Rings" (Particularly "Lothlorien"), for which he was eventually cast (The Lord of the Rings: The Fellowship of the Ring (2001)).

Found his dog, Sidi, while filming Kingdom of Heaven (2005).

Shares his birthday with Liya Kebede, Traci Bingham, Penelope Ann Miller and Nick Clooney.

Wears a replica of the One Ring that says "To wherever it may lead." It was given to him by one of the makeup artists on LOTR.

Is "mildly dyslexic".

Has three A-Levels. One A in Art, one A in Photography and one C in Religious Studies.

Can speak French.

His first car was a dark green VW Golf that costed £160.

His first job was as a clay trapper at a pigeon shooting range when he was 13.

His favourite vegetable is spinach.

First concert he attended was in Canterbery watching Jamiroquai.

Supports English football team Manchester United.

He used to smoke, but quit in 2002, which started making him bite his nails instead.

Was listed as a potential nominee on both the 2005 and 2006 Razzie Award nominating ballots. He was suggested in the Worst Supporting Actor category on the 2005 ballot for his performance in the film Troy (2004). And he was suggested again the next year in the Worst Actor category for his performances in the films Elizabethtown (2005) and Kingdom of Heaven (2005). He failed to receive either nomination.

Ranked 76 on VH1's 100 Hottest Hotties.

Is 18 months younger than Judy Greer but still plays her big brother in Elizabethtown (2005).

Split with girlfriend Kate Bosworth [September 5, 2006].
By PrincessNeptune
Recent Pics:
Recent Art: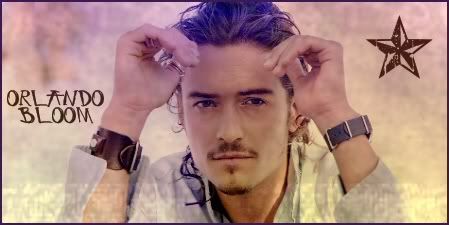 By Piggle Humsy (Sophie)
By CamyWinchester
OLD THREAD