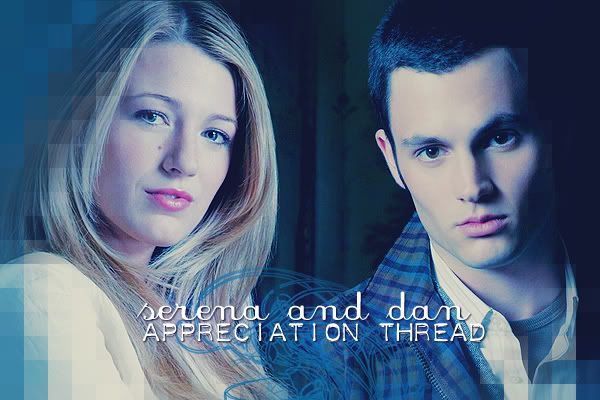 The proverbial fish-out-of-water at the prep school are Dan (Penn Badgley, "John Tucker Must Die," "The Bedford Diaries") and his sister Jenny (Taylor Momsen, "Paranoid Park," "How The Grinch Stole Christmas"), middle-class kids whose background keeps them on the fringes of this exclusive clique. Dan and Jenny are attending the school at the insistence of their father Rufus (Matthew Settle, "Into The West"), a former rocker turned art gallery owner, determined to give his kids a first-class education. Rufus has a history with Serena's mother Lily (Kelly Rutherford, "Melrose Place"), a socialite who hides her past as a dancer and rock groupie. When a chance encounter brings Dan to Serena's attention, he suddenly finds himself dating the girl of his dreams. The more Dan discovers about the real Serena, the more he's challenged to make sense of her world.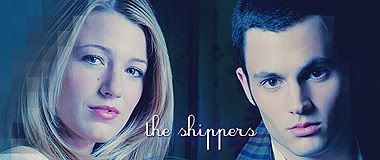 1. Jessica
2. lillie*
3. OCallyFaN80
4. TwoTreeHills
5. Kristen
6. Trina
7. merder.
8. LauzG
9. Liliane
10. Marissa
11. CamyWinchester
12. saleout
13. FaithGirl16
14. Whitney86
15. gillian
16. *Liz*
17. Captain_oats_13
18. *Lauren*
19. OCgirl411
20. damnnprecious
21. Shawna
22. oclover24
23. Pm513
24. 01ryanlover
25. xelanoops (Alex)
26. Glance18 (Jamie)
27. *Twinkle*
28. Steph
29. OCgirl01
30. ryan-marissa<3
31. *Zara*
32. fivariva
33. saRaa_xox
34. Wieke
35. >>Newpsie_14<<
36.leytonloverhp
37.Krysie
38.Andiee
39.cutecupcake12
40.Leyton_Rox
41.Rushin'
42.beaSS4ever
ASK TO BE ADDED OR PM THE THREAD STARTER!
B/C she remembered him
b/c everyone knows bumping into someone is destiny
b/c she already had plans with her 'friend'
b/c ' so you pick me up at 8?'
b/c he can't be worse that the guy she does know
b/c she met his dad on the first date
b/c she went with him to save Jenny
b/c he told her he thought she was hot
b/c it was love at first sight
b/c Their Hook up will will set new york on fire
b/c He went to that Hotel To See her
b/c He didnt read her Phone
b/c he lurks on the webbie for her
b/c he did punch someone on their first date
b/c he didnt think she was overdressed
b/c He gets the butterflies when he sees her
b/c she is Nice
b/c They are to scandalist to not talk about
b/c she asked him out
b/c their hand-holding is the cutest thing ever!
b/c she already had plans with him
b/c if he'd known it was a date he would have worn loafers
b/c handhold GAH
b/c he likens their relationship to Cinderella and Prince Charming
b/c he's her Prince Charming
b/c she's his Cinderella
b/c their chemistry lasts forever!
b/c she has stolen his heart
b/c there new love has just begun
b/c from the very beginning we saw sparks
b/c the eye glances they give each other leave us breathless
b/c They Are Written In The Stars!!
b/c They Are NYC's Newest Cutest Couple!!
b/c They Are Stange & Beautiful.
b/c He's Been Watching Her World From Afar.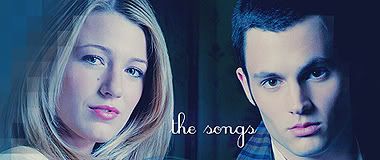 The Gift - Angels & Airwaves
Hard to Live (In the City) - Albert Hammond Jr.
Better Together - Jack Johnson
Everything - Lifehouse
Always On My Mind - Phantom Planet
Time After Time - Quiet Drive
You Give Me Something - Jamiroquai
You're Beautiful - James Blunt
Are You Gonna Be My Girl - Jet
Good Vibrations – Gym Class Heroes
Don't Matter - Akon
First Time - Lifehouse
Love At First Sight - Kylie Minogue
Lovestoned – Justin Timberlake
Beautiful as You - The Whitlams
Iris - Goo Goo Dolls
I Love You - Martina Mcbride
The Way I Are - Timbaland
Hanging By a Moment - Lifehouse
Honey & The Moon - Joseph Arthur
Everytime We Touch - Cascada
Collide - Howie Day
This Years Love - David Grey
You Found Me - Kelly Clarkson
Uptown Girl - Westlife
My Girl - The Tempatations
My Love - Justin Timberlake
She's So High Above Me - Fastball
Stolen -Dashboard Confessional
Be Your Love - Rachel Yamagata
Look After You - The Fray
Strange & Beautiful - Aqualung
She Knew - Rocket Summer
Blowers Daughter - Damien Rice
The Start of Something New - Zac Efron & Vanessa Hugdens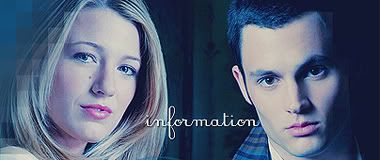 DanandSerena.com
thank you Dani!
Thank You Mel!
art credit goes to: Jessica
Thread #4