Welcome to the 3rd


Chace Crawford/Nate Archibald Appreciation Thread!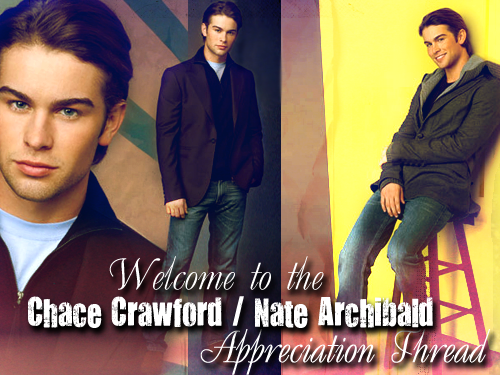 In The CW's new drama "Gossip Girl," Chace Crawford plays Nate Archibald, a young man uneasy with all the privileges that have been handed to him by his family, and who finds himself in a love triangle with his longtime girlfriend, Blair (Leighton Meester), and her best friend, Serena (Blake Lively).

Crawford recently wrapped production on the independent movie "She Lived" in Los Angeles, in which he stars as Joseph Young. Haley Bennett from "Music and Lyrics" co-stars and Mickey Liddell is directing. Crawford will next be seen starring in the Wingman Productions film "Loaded," starring alongside Jesse Metcalfe and Monica Keena.

In 2006, Crawford starred alongside Taylor Kitsch, Sebastian Stan and Toby Hemingway in Screen Gems' "The Covenant." The movie follows four young men who belong to a supernatural legacy and are forced to battle a fifth power long thought to have died. Directed by Renny Harlin, "The Covenant" opened at #1 in the box office.

Crawford also appeared in Lifetime's television movie "Long Lost Son" in 2006, in which he portrayed the son of Gabrielle Anwar's character. Directed by Brian Trenchard-Smith, "Long Lost Son" told the story of a mother who realizes 14 years later that the son and husband she believed to have drowned are still alive.

Crawford grew up in Plano, Texas. He moved to Los Angeles to attend Pepperdine University and while there, he began acting as a hobby. Shortly thereafter, he landed his first break as Tyler Simms in "The Covenant."

Currently, Crawford splits his time between Los Angeles and New York City, where "Gossip Girl" is being filmed.

1. Saloeut
2. Marissa
3. Serena/Nate (Mina)
4. Panda
5. Naley`Fenka (Nade)
6. Lôwrane
7. Steeph_
8. ryan-marissa<3 (Kails)
9. OtH-&-Vm-Lover (Misti)
10. paulita
11. Kristen
Ask to be Added!



1. B/c he's absolutely gorgeous.
2. B/c of his mesmerizing blue eyes.
3. B/c that smile could make us go weak in the knees.
4. B/c we'd be happy to get the Archibald family ring.
5. B/c we believed in him when no one else did.
6. B/c we'd love to run our fingers through his hair.
7. B/c of that kickin body.
8. B/c we'd come back for him.
9. b/c he is soft and sweet
10. b/c he is a shy guy
11. b/c he is our preppy schoolboy
12. b/c we would never have left him!
13. B/c because his masked costume was adorable
14. B/c he's our lost puppy.
15. B/c we'd take a jog with him anyday.
16. B/c we wouldn't mind his father pushing him towards us.
17. B/c he is Chuck Bass's bestfriend.
18. B/c there is no reason; we just love him!
19. B/c we've seen him naked!
20. B/c we got a shirtless photoshoot!

1. Sexyback by Justin Timberlake
2. Paralyzer by Finger Eleven
3. MIMS - This Is Why I'm Hot
4. Rihanna - SOS
5. Ne-Yo - Because of You
6. Fall Out Boy - Thanks For the Memories




She Lived (2008) (post-production) .... Joseph Young
"Gossip Girl" .... Nate Archibald (9 episodes, 2007)
Loaded (2007/I) .... Hayden Price
The Covenant (2006) .... Tyler Simms
Long Lost Son (2006) (TV) .... Matthew Williams/Mark Halloran




Art by Naley`Fenka (Nade) & Marissa
OLD THREAD