OLD THREAD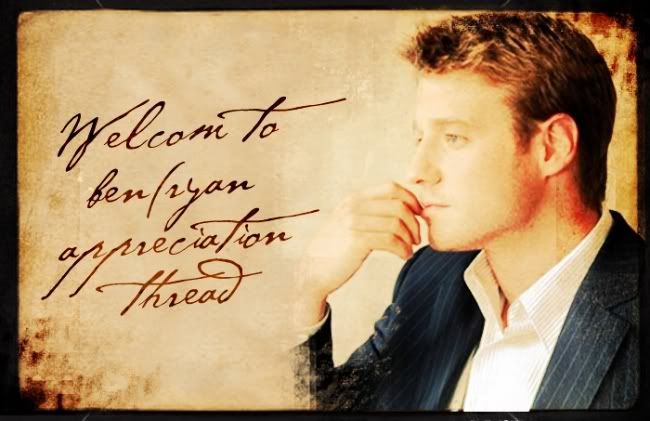 Biography
BENJAMIN McKENZIE (Ryan Atwood on THE O.C.)

Hard to believe this is Benjamin McKenzie's first starring role!

As Ryan Atwood, the neglected, filled with angst kid from Chino escaping a violent stepfather and a drunken mother, he is adopted by the Cohen's and moves into an affluent neighborhood in the O.C. Instantly befriended by Seth Cohen, his adopted brother, he suffers through adjusting to this new "rich" life and dealing with the "rich kids". An on-again off-again relationship with Marissa brings out his tendency to settle any problems with his fists.

Ben on the other hand was born and raised in Texas, attended Austin High and graduated from the University of Virginia (like his father and grandfather before him) where he majored in Foreign Affairs and Economics. The oldest of three sons to poet-writer, Frances and attorney Pete Schenkkan, Ben moved to New York City after graduation and three weeks before 9/11 to pursue his passion for acting. He appeared off-Broadway in "Life is a Dream" at the Soho Rep. He also appeared in numerous productions at the Williamstown Theatre Festival, including "Street Scene" and "The Blue Bird," and at the University of Virginia, in "Measure for Measure" and "Zoo Story".
He eventually moved to L.A. where he bunked down on a friend's sofa and got a couple of bit parts in JAG and The District before landing the role of Ryan Atwood in the O.C. almost exactly one year after moving to L.A.
BASIC INFO
Real Name: Benjamin McKenzie Schenkkan
Age: 28
Birthdate: September 12, 1978
Home: Santa Monica, California
Height: 5'9
Weight: 170
FACTS & TRIVIA
-Uncle is Pulitzer Prize-winning playwright Robert Schenkkan
-Education: Austin High, graduated 1997; University of Virginia, bachelor's degree 2001
-His paternal grandparents both did some acting when they were young. His 22-year-old brother Nate is a Yale graduate working in avant-garde theater in New York. Younger brother Zack, 19, is attending Pomona College, a half-hour away from Los Angeles, and still pondering his future.
-He followed his father and grandfather to the University of Virginia, where he graduated in 2001 with a degree in economics and foreign relations.
-He changed his name for screen-credit purposes because there's an actor named Ben Schenkman registered with the Screen Actors Guild.
-Son of Austin attorney Pete Schenkkan and poet-writer Frances Schenkkan
-Moved to New York City three weeks before 9/11
-While in New York he waited tables to help support himself and shared a bunk bed in a cramped apartment in the city.
-Mother: Frances Schenkkan will begin the master's program in creative writing at the University of Texas in the fall. She's been a newspaper reporter and editor, and in the 1980s she served on the Austin Planning Commission and the board of the Austin Child Guidance Center. She is a recipient of the Adele Steiner Burleson prize in poetry at the university. She and husband Pieter have three sons, Ben, Nate, and Zack.
-He graduated from the same high school in Austin that the Bush twins (Jenna and Barbara) graduated from. He was a senior the year they were freshmen.
-Second cousin of Sarah Drew
-Was a speaker at the Democratic National Convention on July 27, 2004.
-Drives an Infiniti G35
Latest Ben Pictures
Click the Image for Full Size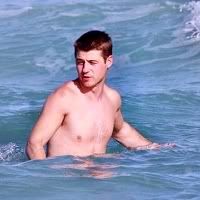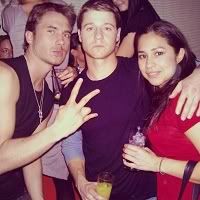 Latest Ben/Ryan Caps
Click the Image for Full Size
Fan sites
Ben Mckenzie fan site
Benmckenziefan
ben-mckenzie.com
Completely Ben M.
Ben Central
Benjamin McKenzie Italia
Ben McKenzie Online
benmckenzie-fi.com
benmckenzie.forumfree.net
Totally Ben McKenzie
benjamin-mckenzie.org
Ben/Ryan Videos
LJ communitys
ben_support
Ben_Pix_Central
OC Ryan caps
Ryan and Taylor
ryantaylor-media
Ryan and Summer
wishful-thinking
Ryan and Marissa
ryan-marissa.com
Search for Ben News and sighting
|
Google news
|Yahoo!news|
Icerocket Blog search
|Blog search|
LJ seek
|
YouTube
|
myspace
|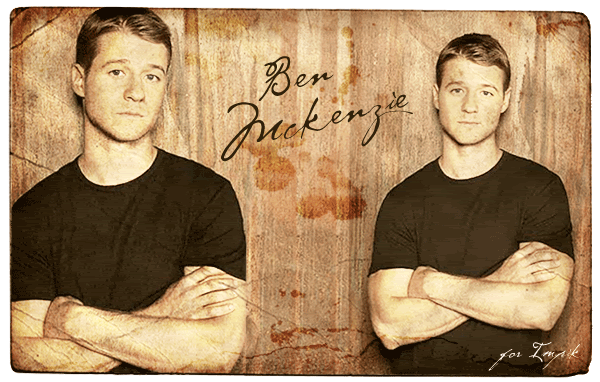 Shippers List:
1.mangomonkii
2.cheerbear
3.afrocurl
4.MaRyan4Ever!!!
5.experiment626
6.Kiki18
7.ryan-marissa<3
8.Ben's_Surfgirl
9.marisdig72
10.SG22
11.txocgrl
12.Ryan Atwood
13.ephramwood
14.littleputz114
15.RM4EVER<3
16.Annika.
17.marianne
18.interruptions
19.t_ina
20.01ryanlover
21.xHannahx
22.Angle_girl
23.goldy_m
24.naleyforever
25.BenBrazilianFan
26.xoxocxox
27.shanti96
28.orangeSKYsurf
29.tantucky
30.MarissaRyan4Evr
31.Nostalgic
32.vonnie1
33.distel
34.Divine order
35.karenSaev
36.LauraOC
37.TheOC4eva
38.TheOCrox!
39.impik
40.pluto
41.chino_chic
42.tam griff
43.Sar_Bear4Ryan
44.La Belle Vie
45.Foxy*
46.TrueDaisylover
47.pm513
48.KateUK
49.bensmyochotty
50.sether4eva
51.rocco99
52.coopandchino
53.Sab66
54. Chris
55.Tink212
56.angeleyez249
57.cohennatwood24
58.lilmissvixen
59.MeBored
60.ocisdabest7
61.amberdawn
62.Mckenzie #1 fan
63.Davis-scott
64.firefawn
65.Captain oats 13
66.baby_gal
67.OCvirgin
68.**beckie**
69.ocisdabest7
70.oxy_91
71.Balthazar
72.tutrgrrl-91
73.oceanista
74.d1ppy
75.Krysie
76.SarahLou
77.lona5
78.I<3MyTv
79.~summer & seth~
80. kathy_oc
81.*I.Heart.TheOC*
82. gillian
83. Tiggerbabe
84. monnie44
85. SweetHearts6
86. racheyaitken
87. countrychic429
88. MiloIsOnFire69
89. starbuck
90. OCgirl01
91. marissa+ryan
92.love-adam-brody
93.cookie_crumble
94.AngelEyez249
95.crimsonbaby11
96.0C iS L0VE x0x
97.ResaGrl158
98.dreamer124
99. off the wall
100. héla
101. susanpay
102. xllmelxemmllx
103.Alyssalovesyou
104.Arnett
105. katia
106. ForeverCharmed
107. oc_luver101
108. sammie_27
109. elyitaly
110. Forever_hot_Ben
111. x-fallenstars-x
112. LovEuTiLlThEnD
113. rylorfan
114. sammie_27
115. >>Newpsie_14<<
116. *I.Heart.TheOC*
117. Flavy
118. Mischalicious
~ask if you want to be added, we need as much Ben/Ryan loving fans as we can get!~
Reasons why we love Ben McKenzie/Ryan Atwood:
1. b/c he is SUPER hot.
2. b/c he's protective of the one he love.
3. b/c he's vulnerable.
4. b/c he's not pompus & full of himself.
5. b/c he is totally devoted to marissa.
6. b/c he cared when Seth was getting beat up,(THE PILOT) even though Seth put him down.
7. b/c he never forgets where hes from.
8. b/c he always sticks up for what is right,regardless of the consequences.
9. b/c he stood up to Julie Cooper.
10. b/c never gave up on Marissa.
11. b/c he's ultra hot.
12. b/c doesn't act like a spoiled brat now.
13. b/c he thinks before he react now.
14. b/c his blue eyes are mesmerizing.
15. b/c we can't stop smiling when we see him.
16. b/c he's funny and down to Earth.
17. b/c he's an awesome actor despite the fact that he has so little experience.
18. b/c he tries to lead a normal life away from all the Hollywood drama.
19. b/c he looks good in leather!
20. b/c he left marissa for the sake of his baby to be.
21. b/c he is soo hot in them wife-beaters.
22. b/c he has bedroom eyes.
23. b/c he didnt take the boat job.
24. b/c he put the tiki hut up for marissa so they could share a great moment together!
25. b/c just thinking of him gives goosebumps.
26. b/c no one else is as sexy as him.
27. b/c not even the baddest of the bad can pull off the bad boy look like him.
28. b/c he heats our seats.
29.b/c his got the nicest ass in town.
30. b/c it's impossible not to smile when he smiles.
31. b/c his abs are to die for.
32. b/c we wanna have his babies.
33. b/c when you look into those blue eyes, you get lost in them forever.
34. b/c he's a good friend and Ben seems nice.
35. b/c he's the boyfriend everyone wants.
36. b/c He finds it hard to say he loves someone, but when he does you know he means it.
37. b/c we love the puppy dog face.
38. b/c the oc would be so much better if Ryan was naked !!
39. b/c wet Ben is really sexy.
40. b/c he is the hottest guy on the oc.
41. b/c we wish we'd seen him strip.
42. b/c Kid chino is eighteen now.
43. b/c we love his blue collar DNA.
44. b/c shirtless Ryan is drool-worthy .
45. b/c we want to hug him.
46. b/c we get lost in his eyes.
47. b/c he melts our hearts.
48. b/c Ben in Wife-beaters is totally sexy.
49. b/c he's not the Hollywood type
50. b/c Junebug rocked!
51. b/c His first TV show was an instant hit and his firt movie, got an Oscar nod.
52. b/c he gives Ryan a heart
53. b/c he's from Texas
54. b/c he's a smiler !!
55. b/c he got into Berkeley
56. b/c he is a stallion.
57. b/c Chino Boys do it Better
58. b/c he kicked some surf Nazi ASS
59. b/c Who Doesnt a Love a Mad Raging Ryan ?
60. b/c he's a hugger
61. b/c he looked hot running scared through the woods
62. b/c we want to be in Italy with him.
63. b/c we want to bring him spaghetti to bed
64. b/c we all love his bad days
65. b/c he's the new James Dean
66. b/c he's soooooo Bellissimo
67. b/c we want to be the hole in his jeans.
68. b/c Ryan is love, and love always live
69. b/c when he smiles, it feels like heaven
70. b/c have you seen his arm's ?
71. b/c hes hot no matter what he's wearing or not wearing
72. b/c having a poolhouse of his wn is waaaaaay too SEXY
73. b/c now he's not just a man, he's a man with diploma
74. b/c "Hold On.. Hold on.. It's going to be ok"
75. b/c He was the last to say goodbye.
76. b/c when he dress in red, our face get red too.
77. b/c he's even look Hot Scruffy
78. b/c ben makes breathing look sexy
79. b/c people always have nice thing to say about him
80. b/c he even look HOT sleeping.
81. b/c Save a truck ,ride a Ben.
82. b/c we want him to wear his sombrero to bed
83. b/c what happens in Mexico stays in mexico
84. b/c Big Ben rings our bell
85. b/c He is going places
86. b/c how can even his voice be so sexy???!
87. b/c we all want what's best for him.
88. b/c he's even Hotter in person
89. b/c we cant wait for 88 Minutes
90. b/c Ben and Pacino ? thats HOT !
91. b/c he's been who ever we want him to be
92. b/c: You want Dean, Phoenix, Crowe? He's got them all
93. b/c: he make his mother proud
94. b/c: he look so cute with his ugg boots.
95. b/c If we won't see him soon, we're going after him.
96. b/c He rock our world every day !!
97. b/c we found him, but we're still going after him.
98. b/c Come on, did you see those shoulders?
99. b/c He is the best kisser on TV.
100. b/c Ben is life, the rest is just details.
101. b/c We have the ben epidemia! from Israel to Brazil to Canada to England to Auatralia to Italy
If you have some reasons about why YOU love Ben/Ryan go ahead and say them.
Ben/Ryan kepper list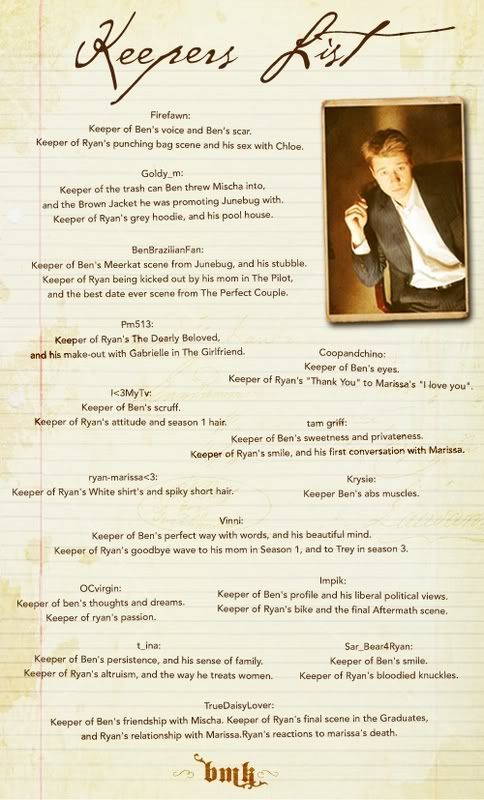 [center]
Ben Picture of the moment: