Exclusive: Ryan Barton-Grimley Talks 'Hawk & Rev: Vampire Slayers'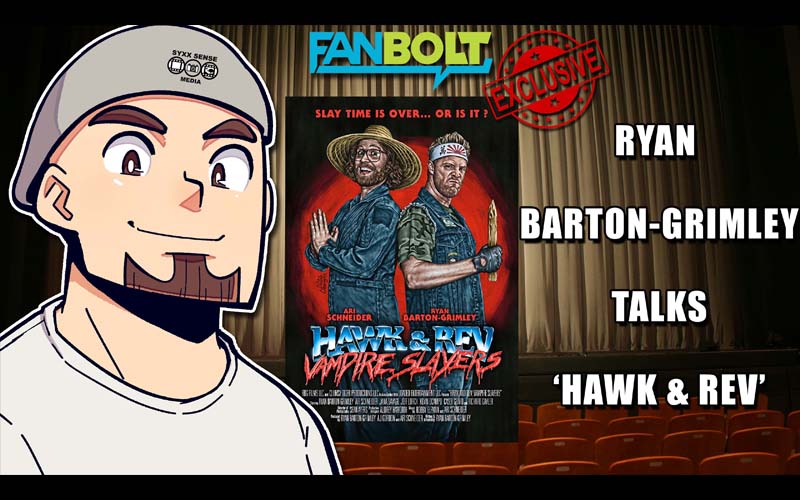 2020 is a horror show on all its own. So, what better way to alleviate the stress it is causing than by enjoying blood-soaked horror sprinkled with comedy? You can do that as soon as this Friday thanks to Hawk and Rev: Vampire Slayers, a film made by the comedic actor, writer, and director Ryan Barton-Grimley. We spoke with Ryan about how this film came about and how it transitioned from something dark into something more lighthearted yet gory. Check it out below!
Hawk and Rev will be having a virtual screening this week at Dances with Films LA. Click here to get your tickets!
Synopsis:
Philip "HAWK" Hawkins doesn't just dream about killing vampires… He eats, sleeps, drinks and freakin' breaths it. After getting kicked out of the Army for staking a fellow soldier with a blunt two by four, Hawk almost dies of boredom working as a night security guard at a deserted warehouse in his hometown of Santa Muerte, California… USA. Just when it looks like all Hawk's options in life have expired, filthy blood-sucking vampires appear and of course… Nobody freakin' believes him! With his back up against the wall, his sweaty Karate Kid headband tied on tight, real tight, and hordes of blood-thirsty vampires closing in, Hawk enlists the help of the one person who kind of believes him… Revson "REV" McCabe, a dimwitted, vegan-pacifist groundskeeper. Together they join forces to save the whole entire freakin' world. Well… At least their hometown anyway. (feature – horror/comedy) Runtime: 84 minutes