FanBolt's 2020 Holiday Gift Guide for Geeks!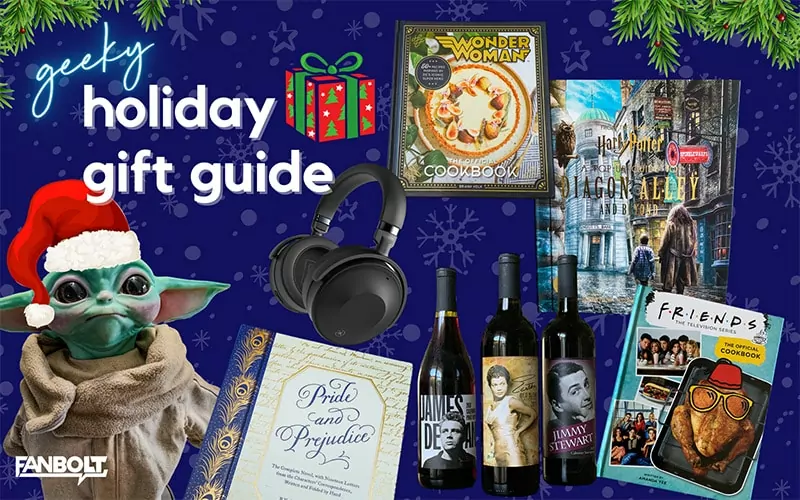 Whether it's Wonder Woman, Star Wars, or Jane Austen, we've got the geeks in your life covered with FanBolt's 2020 Holiday Gift Guide!
Our ultimate gift pick of the year? That honor goes to Chronicle Books' Deluxe Edition of Pride and Prejudice!
Check out our holiday recommendations below, and in our comments section, share with us what items are on your holiday wish list!
FanBolt's 2020 Geeky Holiday Gift Guide
For The Star Wars Fan
Sideshow Collectibles: The Child Life-Size Figure
So you probably won't be able to get this little guy by Christmas, BUT – he's worth waiting for (trust me, we just got ours today!)
This Child Life-Size Figure, created in partnership with Legacy Effects, brings you the galaxy's most sought-after bounty. Lovingly referred to by audiences as 'Baby Yoda', the mysterious alien known as The Child or Grogu has quickly become the breakout fan-favorite of Star Wars™: The Mandalorian on Disney+. Now eager collectors can become a clan of two and bring home the asset as an incredible 1:1 scale Star Wars collectible, no tracking fob needed.
The Child Life-Size Figure measures 16.5" tall, standing on a simple ship deck base that lets this adorable alien steal all of the focus- along with the Mandalorian's ship parts. Inspired by its unique onscreen appearance, this mixed media statue features a tan fabric coat swaddling The Child as it gazes up with charming wide eyes, hiding the silver shift knob from the Razor Crest™ in its right hand.
Every inch of this incredibly lifelike figure has been meticulously detailed to recreate everything that Star Wars fans love about the young alien, from the fuzz on its wrinkled head to its irresistible pout, all the way down to its tiny, toddling feet. Collecting the galaxy's cutest alien has never been easier!
For The Little Fan
So what about for the little geek in your life? Check out one of these watches available from a variety of different fandoms – it's the perfect way to teach little geeks that they should be proud of who they are and what they love – and they can even literally where their geek pride on their sleeve!
My favorite of the above has to be the BB-8 Minifigure Link Watch ($25), because I mean it's BB-8. The watch comes with multi-colored, interchangeable links which allows for plenty of design possibilities for a unique watch that fits all wrist sizes.
That's one of the things I loved the most about LEGO growing up – and even now. It promotes and encourages creativity. You can create whatever your mind comes up with – whether it's following the directions – or doing something that is completely unique and outside-the-box.
For the Jane Austen Fan
Pride and Prejudice – Deluxe Edition
It's no secret that I'm a bit of a Janite (massive Jane Austen fan), and while Emma is my all-time favorite novel by Austen, Pride and Prejudice is a close second. While I already had a copy of this novel, this edition (which is designed and curated by Barbara Heller, a set decorator for film and television and the writer and director of award-winning short films) is something truly special.
Fans of the novel can immerse themselves deeper into the world of Elizabeth Bennet as they read through this edition which has pockets throughout the novel containing replicas of all 19 significant letters in the story, re-created with gorgeous calligraphy and painstaking attention to historical detail. Each replica letter is appropriate to the character who writes it and the moment in the story: from the handwriting, stationery, and folding style to the wax seal and the postmaster's stamps it would have acquired along its way.
Nothing quite captures the keen wit and vivid emotion of Jane Austen's novel better than her characters' correspondence. We know Mr. Collins's character before we meet him, thanks to his obsequious letter of introduction. Lydia's rash elopement is revealed in an urgent missive from Jane. And it is Mr. Darcy's painfully honest letter that forever alters Elizabeth's perception of him, and of herself.
This new deluxe edition of Pride and Prejudice published by Chronicle Books pays homage to the power of these epistles. And there simply isn't a more geek-out worthy of Pride and Prejudice than this one. It's a must-have for the Jane Austen fan in your life!
For the Harry Potter Fan
Harry Potter: A Pop-Up Guide to Diagon Alley and Beyond
Age doesn't matter when it comes to this pop-up book, at least not in my opinion! If you love Harry Potter, you'll be mesmerized by the complexity and coolness of this incredibly detailed pop-up book – which unfolds into a dynamic 3D diorama of Diagon Alley! Step into favorite storefronts like Ollivanders, Weasleys' Wizard Wheezes, and the Leaky Cauldron, plus other wizarding world locales like the Ministry of Magic and platform nine and three-quarters!
Pull tabs to rescue a Ukrainian Ironbelly dragon from the depths of Gringott or help Harry navigate out of Knockturn Alley after a Floo powder mishap. Learn facts and secrets from the making of the Harry Potter films throughout!
Here are a few of the highlights:
Dazzling Detail!: Pull dozens of tabs and explore intricate pops that bring Diagon Alley to life
Master Paper Engineer!: From the magical mind of Matthew Reinhart, creator of the Clio Award-Winning Pop-Up Guide to Hogwarts and one of the world's bestselling and most acclaimed paper engineers.
Learn Movie Secrets!: Includes dozens of behind-the-scenes facts and secrets from the set of the Harry Potter films!
Display and Play!: Unfold the book to create a 4-foot diorama of Diagon Alley! Recreate favorite scenes with the 14 character paper dolls including Harry Potter, Hermione Granger, Ron Weasley, Hagrid, and more!
Perfect Gift Fans and Families!: Make this holiday magical with the ideal gift that will delight Harry Potter fans and Wizarding World-loving families.
Regardless of age – you can't help but be in awe of this one!
For the Wonder Woman Fan (Or the Foodie/Cocktail Fan)
Wonder Woman: The Official Cookbook
Do you have a Wonder Woman fan in your life who also geeks out over cooking. For me (I love cooking!), combining fandom with a passion like cooking makes it all the more enjoyable! This new, officially licensed cookbook just debuted on November 17, and it includes over fifty vegetarian recipes inspired by all things Wonder Woman!
Illustrated with gorgeous full-color photography, this cookbook features over 50 delectable vegetarian recipes—including Paradise Island Pancakes, Justice League Lasagna, and Golden Lasso Peach Shortcake—for cooks of all skill levels. With simple recipe instructions, gorgeous photography, and prepared menus for delightful Wonder Woman–themed parties, this is the perfect cookbook to share with friends, family, and Amazon warriors both big and small!
For the Friends Fan (Or the Foodie/Cocktail Fan)
Friends: The Official Cookbook
Much like the Wonder Woman cookbook, the Friends: The Official Cookbook (from the same publisher – Insight Editions), is the show's first officially licensed cookbook.
This cookbook features over 90+ recipes recalling iconic moments from the show, from appetizers to main courses and from drinks to desserts, each chapter includes iconic treats such as Rachel's English Trifle, Ross's Moist Maker, Phoebe's favorite faceless foods, Chandler's Milk That You Chew plate and of course, Monica's Friendsgiving Feast.
Complete with step-by-step instructions, recipe modifications, and beautiful full-color photography, this charming cookbook is both a helpful companion for home cooks and a fun homage to the show that's always been there for you.
It doesn't matter if you're a seasoned chef like Monica Geller, just starting a catering business like Phoebe Buffay or a regular old food enthusiast like Joey Tribbiani, this cookbook offers a variety of recipes for chefs of all levels!
For the Classic Movie Fan (Or Wine Fan)
One of my favorite ways to do date night (especially during 2020), has been to curl up with my husband, a good bottle of wine, and a classic movie. Turner Classic Movies has made that activity all the more delightful with the TCM Wine Club, which brings you the best wines from around the world straight to your door – And pairs every bottle with a classic film seen on TCM.
Plus, receive exclusive movie-themed wines in every case! New for the 2020 holiday season: Jimmy Stewart Cabernet Sauvignon, Eartha Kitt Red Blend, and James Dean Pinot Noir. Club members can also look forward to future exclusives including The Blues Brothers Red Blend and Elvis Presley Cabernet Sauvignon.
Uncork the fun of movies and wine! And get all the details at www.tcmwineclub.com!
For the Music Lover
YH-E700A: Wireless Noise-Cancelling Headphones
Finally, headphones that adapt in real-time to your unique ear shape, wearing position, and environment (working from home with a constantly barking dog over here!), providing optimal sound quality wherever you go. Unique Yamaha noise-canceling technology analyzes and removes background noise while keeping the music signal pure and untouched, making these YH-E700A wireless noise-canceling headphones from Yamaha an absolute dream.
Here's the feature breakdown:
Listening Optimizer: optimizes the sound in real-time, adapting to you and your environment
Advanced ANC: Cut the noise, not the music with this Yamaha-exclusive
Active Noise-Cancelling technology that leaves your music pure and untouched
Ambient Sound: choose when you need to be aware of your surroundings
Listening Care: intelligent equalization for full-range sound at lower listening volumes, including dynamic monitoring of content and background noise levels
Bluetooth 5 with aptX Adaptive: stable wireless connectivity and premium streaming quality
Simple controls: make phone calls, activate Siri/Google Assistant, and control your music with easy-to-find buttons on the earcups
Take them everywhere: folding/swiveling earcup design and up to 35 hours of battery life
And that's it for our 2020 gift guide! What are on your holiday wish lists? Share your lists with us in our comment section below!
Happy Holidays!
*Disclaimer: Please note we did receive free products for some of the above items for review and consideration in our gift guide (no other compensation was made) – however, all opinions are our own and we stand behind them.