Blu-Ray Review: 'Nobody' on 4K Ultra HD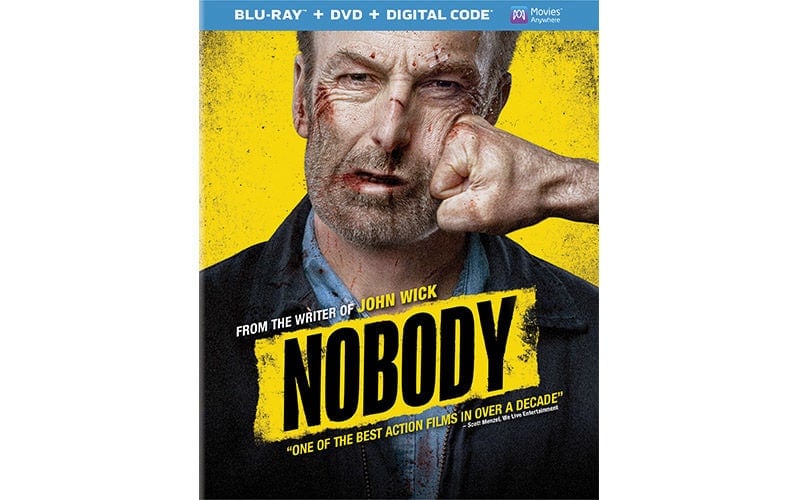 If you are a fan of the action-pack John Wick films or the Liam Neeson Taken films, I have just found the new must-see film for you.
Nobody stars Bob Odenkirk (Better Call Saul) in a fast-paced movie that' reminiscent of a video game in the way it just keeps going forward and doesn't seem to slow down at all. There is a good reason for this. The film is directed by Ilya Naishuller, who directed Hardcore Henry, which, if you haven't seen it, plays out like a first-person shooter video game. Nobody was written by Derek Kolstad, who has written the entire John Wick franchise. Between those two credentials, the style and outcome of this movie are not really a shock to anybody.
Let me get into the film. Hutch Mansell (Odenkirk) seems like a very ordinary man. He works in an office for his father-in-law, has a wife, two kids, and a life of tedium. One night his house is broken into, and he lets the burglar get away in what looks like a moment of weakness and fear. Later, he secretly radios his brother that he let them go because he could tell they were scared, and their gun was empty. Things an average person wouldn't really pick up on when their house is being robbed. The outcome of his is that his family thinks he is a loser and a failure and not much of a man. While on a bus, Hutch loses his cool and beats a group of gang members to a pulp. It turns out that one of the gang members is the brother is a Russian crime lord who is now coming after Hutch. After sending his family to safety, it is revealed that Hutch has a secret past (don't want to reveal too much) and must take on the Russian mob on his own, which he does quite well.
While watching, it is easy to see the pedigree of the filmmakers. Things like Russian mobsters and buying your way through the underworld in gold is something we've all seen in the John Wick films. In fact, I suspect this film is meant to take place in that same universe, and I would not be shocked to see a crossover film sometime in the future. Now, the one thing that I was not expecting was that Bob Odenkirk would be a good action star. He just doesn't have that look, and his roles don't usually reflect that kind of role either. But for some reason, it works in this film. His "everyman" quality plays to his role. He is supposed to be a guy you would never expect had skills that he possesses when he is in the office environment that looks like the place where he fits. When you see a traditional action star like Duane Johnson or John Cena, you immediately know they are the heroes and can fight, etc. This role serves as more of a sleeper that you wouldn't see coming in real life.
The 4K release is superb. Being such a new film, the original print was likely already at the highest quality, so it's not a surprise to see that the 4K transfer looks flawless. In a film with so much action, it does a great job keeping up with the motions and movement while maintaining focus. The balance of colors and depth are top-notch, and I didn't see any distortion or issues. The sound is nicely balanced with sound effects (namely gunshots and explosions) not drowning out the dialog nor the soundtrack. Overall, it's a near-pristine release.
If you're a fan of high-octane action with a lot of fun fight choreography, I would recommend this as a movie to add to your collection.
Nobody is currently available in 4K from Universal Pictures Home Entertainment.
Recommend

0

recommendations
Published in Featured, Movie Reviews, Movies