Netflix Orders 'That '70s Show' Spin-Off 'That '90s Show'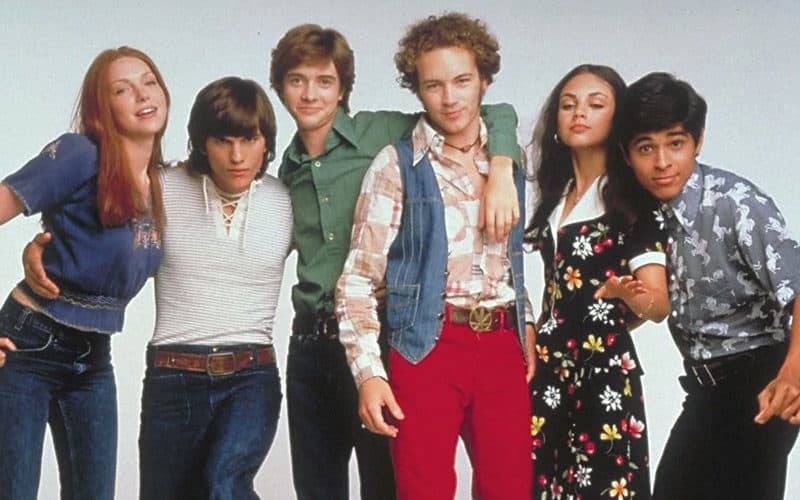 Netflix has officially ordered That 70s Show spin-off, That '90s Show. The sequel to the fan-loved Fox sitcom, which premiered in 1998, doesn't yet have a release date, but here's what we do know.
This won't be the first That 70's Show Spin-off. During the peak of the original series' popularity, an additional spin-off That '80s Show premiered in 2002. The series ran for 13 episodes before Fox ultimately cancelled the series.
What We Know About the That '70s Show Spin-Off
That '90s Show is a Netflix Original series that will be led by the co-creators of the original series, husband and wife team, Terry Turner and Bonnie Turner. The pair are returning as showrunners and bringing with them will be their daughter, Lindsey Turner, who will write for the series. Gregg Mettler, one of the original writers of That '70s Show is also returning.
The Plot of That '90s Show
The official description of the new series, courtesy of ProductionWeekly, reads as follows:
Set in Wisconsin in 1995, That '90s Show follows Leia Forman, daughter of Eric and Donna, who is visiting her grandparents for the summer where she bonds with a new generation of Point Place kids under the watchful eye of Kitty and the stern glare of Red. Sex, drugs and rock 'n roll never dies, it just changes clothes.
That '90s Show Cast Members
Two original cast members have been confirmed to be reprising their roles in the series. Both Debra Jo Rupp and Kurtwood Smith will return in the roles of Kitty Forman and Red Forman.
Rupp and Smith won't just be starring in the series either, they're also confirmed to executive producers on the project.
Smith shared the news on his IG feed. And he also noted that he's been keeping the project secret for awhile.
The role of Leia Forman has not yet been cast nor has the roles of other Point Place kids or teenage friends.
It is also unconfirmed whether or not we can expect to see Topher Grace (Eric Forman) and Laura Prepon (Donna Pinciotti) return. However, considering they are the parents of the lead, fans likely have an expectation to at least see them guest star in an episode or two.
As far as other That '70s Show cast members, including Ashton Kutcher, Mila Kunis, and Wilmer Valderrama, we do not know if they will be returning. Sadly, it's unlikely based on previous comments that both Kutcher and Valderrama have made.
It's also not likely that we'll see Danny Masterson, who played Steven Hyde, return either. In December of 2017, Netflix's The Ranch fired Masterson after multiple women came forward with sexual assault allegations. The actor maintains that he is not guilty, but since that time, Masterson has been charged with multiple counts of rape. His next hearing is in November of 2021.
That 90s Show Release Date and Trailer
We do not yet have a release date or trailer for the upcoming series. However, based on previous Netflix announcements, we've noticed that episodes drop about a year after a series begins production.
As of the time of writing this article, the series is in active development, but has not yet entered pre-production. There is no confirmation yet on when filming will begin on the first season.
15 Years Later
That '70s Show took its final bow on Fox in 2006, and now, 15 years later, the news of Netflix's new sequel series has been announced. A sizable amount of the fanbase that grew up That '70s Show were children of the 90s. Which makes this spin-off news is extra exciting.
Not to mention, many of the fans that grew up with the original series now have teenage children of their own, so the kids of a new generation get to experience life in the '90s through the same lens that so many of us experienced the lives of our parents who grew up in the 70s.
More News on That '70s Show Spin-Off
Keep checking back with FanBolt, as we'll be keeping track of the That '90s Show, news, cast announcements, productions updates, and the Netflix release date!
Are you excited for the That 70s Show spin-off, That '90s Show? Sound off in our comment section below and let us know your thoughts!