'Belfast' Movie Review: A Beautifully Moving Coming-of-Age Film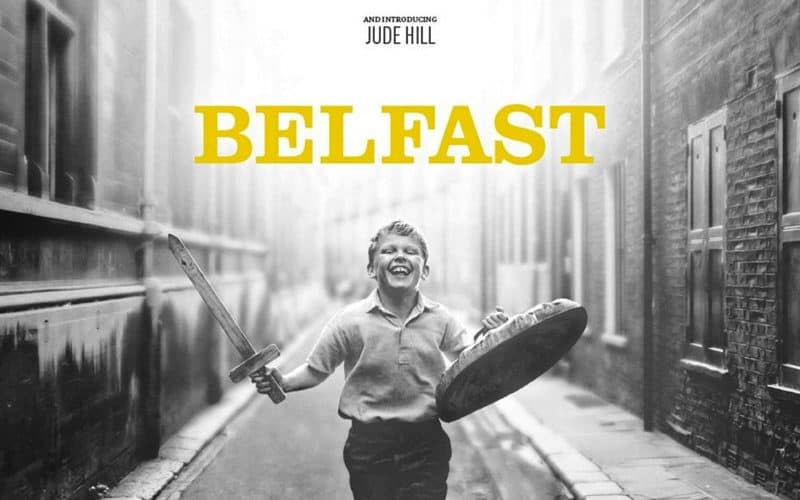 Belfast Movie Review
I'm a sucker for black and white films. So when I first saw the Belfast trailer, I knew this one would be one I had to see. And I'm glad to say it did not disappoint. While there may be bigger more expensive films vying for Best Picture this award season, few of them will have the amount of heart that this one has.
Written and directed by Academy Award nominee Kenneth Branagh, Belfast tells a beautifully poignant story of love, laughter, and loss – all through one child's eyes in the late 1960s, a time of social uproar in Northern Ireland.
Belfast Movie Trailer
Belfast Movie Review: What I Liked and Didn't Like
The film has an extraordinary degree of intimacy to it, considering that director Kenneth Branagh was born in Belfast in 1960. He lived there until he was 9, when he moved to England. Knowing this, you can't help but see Branagh in Buddy, the main character who Jude Hill brilliantly plays.
Branagh does a phenomenal job at crafting this semi-autobiographical coming-of-age story. Among the violence and tragedy, there's also a surprising amount of humor which helps to add a lightness to the more serious events that are transpiring.
The Cast
The real star of this film is newcomer Jude Hill. Hill was only 9 when he discovered that he was picked out of 300 kids for the lead role in this film. It's truly a rare moment when you see such talent from such a young actor who hasn't previously worked on the big screen. Focus Features will be campaigning Hill for Lead Actor for the upcoming award season, and he's absolutely a worthy contender.
Hill isn't the only noteworthy actor in Belfast, though. Golden Globe nominee Caitriona Balfe, Academy Award winner Judi Dench, Jamie Dornan, and Ciaran Hinds also star and deliver fantastic performances.
Technical Aspects
Belfast feels like an independent arthouse film, despite the accomplished cast and the fact that Branagh is behind the project. The film is stunningly shot with creative and emotionally impactful angles. Scenes that linger on Buddy as the focal point while other events unfold around him give you the feeling that you are truly watching this story from his perspective.
There's a creative use of color as well when Buddy and his grandmother attend a stage performance of "A Christmas Carol" and when the family watches Raquel Welch in "One Million Years B.C." as well as "Chitty Chitty Bang Bang."
At first, I was looking for a deeper meaning for the use of color in these scenes. Was Buddy seeing everything as black and white? Was this calling back to a church sermon where the preacher talked about there being only two roads, the good road and the bad road. And then the introduction of cinema and stage presented something new and full of hope?
After I realized the semi-autobiographical nature of the film, I realized that we were seeing the first moments of Branagh falling in love with entertainment and what would ultimately become his life. Little touches like the use of color paired with the more artistic and classic approach to telling this story are quite impactful.
Overall
Ultimately, Belfast is a story of growing up and saying goodbye to childhood. It's a moving and well-acted film that examines the choices families make in the wake of devastation and upheaval. Not to mention, it's Branagh's best movie in years, if not the best movie of his career.
Numerous film critics are already labeling this one as their pick for best film of the year, and while I'm not sure it will be my top pick, it will absolutely be in my top 10. Also, Jude Hill will be my pick for best breakthrough performance. I look forward to seeing what all is to come from this young talent in the years to come.
Belfast Movie Review:
Grade: A