25 of the Best Christmas Movies To Watch for the Holidays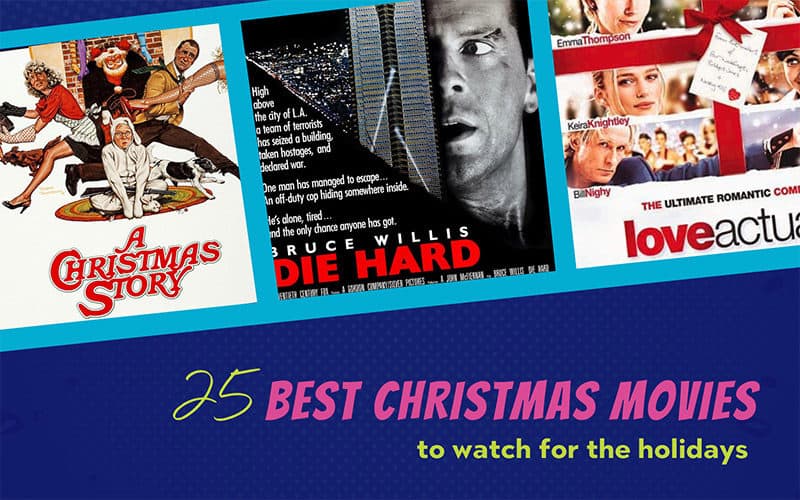 Tis the season to start enjoying the best Christmas movies the holiday has to offer! Whether you love the claymation classics or enjoy the box office blowouts, there's a holiday movie for everyone. If you're stumped on where to start, here are some of the best Christmas movies to get you into the holiday spirit.
Best Christmas Movies on Netflix
With Netflix being one of the most popular streaming services on the market, it's one of the best places to look for holiday movies! Here's a list of some of the best Christmas movies Netflix has to offer.
1. Father Christmas Is Back (2021) – Netflix
This new Netflix original Christmas film is currently ranking in the Top Ten Most Watched Netflix Movies. It follows four quarreling sisters who have their long-lost father suddenly appear for Christmas at the family manor. They need to learn what it means to be a family to make the most of this holiday miracle.
2. The Christmas Chronicles (2018) – Netflix
Starring Kurt Russell as a savvy Santa Claus, this movie features two kids who need to do all they can to save Christmas after crashing Santa's sleigh. Their Christmas Eve won't be calm, but it certainly will be bright.
If you can't get enough of this movie, you're in luck. Netflix has the sequel.
3. Christmas Inheritance (2017) – Netflix
This one is another Netflix original. Ellen's wealthy father instructs her to visit his hometown on a mission. When she arrives, she meets Jake, the man who manages an inn and has little use for outsiders visiting his small town.
4. A Christmas Prince (2017) – Netflix
A young journalist is offered a huge opportunity just before the holidays. Her publication sends her abroad in order to interview a prince who will soon become king.
5. Christmas Wedding Planner (2017) – Netflix
Need more Lily van der Woodsen in your life? Gossip Girl's Kelly Rutherford appears in this movie about a wedding planner whose biggest job yet is poised to be ruined by a private investigator. It's Say Yes to the Dress meets Hallmark holiday movie.
Funny Christmas Movies
Some of the best Christmas movies are the ones that make you laugh. Here are some comedies sure to bring joy to your home.

6. A Christmas Story (1983) – Hulu
A Christmas Story is extremely popular throughout the holiday season, even as a live musical. It follows the exploits of Ralphie Parker who wants nothing more than to evade his bullies and get a Red Ryder air rifle. Will he make it to Christmas in one piece or will he "shoot your eye out, kid"?
7. Noelle (2019) – Disney+
If you love SNL and musicals, you probably know Bill Hader and Anna Kendrick. They star in this film where Santa has two kids: Nick and Noelle.
Nick is poised to take over for Santa this Christmas, but when he crumbles under pressure, Noelle needs to take the reins and save Christmas.
8. Last Christmas (2019) – Rent from YouTube
What do you do when you're no longer the Mother of Dragons? Star in a Christmas rom-com with the star of Crazy Rich Asians, of course!
Emilia Clarke and Henry Golding star in this rom-com as a grumpy elf from a Christmas shop and a dream guy that seems too good to be true. Our editor reviewed this one in 2018 and absolutely adored it!
9. Elf (2003) – STARZ
This Will Ferrell classic is an iconic Christmas tradition for many families. It was even turned into a musical for live performances which premiered on Broadway in 2010.
Buddy was raised by elves, but he accidentally discovers that he is actually a human. He decides to go find his real dad and he shows everyone in NYC the true meaning of Christmas along the way.
10. The Santa Clause (1994) – Disney+
The 1994 film, starring Tim Allen as Scott Calvin, was the first of three films in the franchise. Scott was just a regular Joe who happened to cause Santa to fall off his roof on Christmas Eve. The resulting events see Scott assuming the identity of Santa and having to convince those that he loves of his newfound destiny.
11. National Lampoon's Christmas Vacation (1989) – HBO Max
Chevy Chases stars in the iconic role of Clark Griswold. All Clark wants is the perfect family Christmas, but as events unfold, things quickly go awry.
Christmas Movies to Enjoy All Year Long
A Christmas movie doesn't have to be all about Christmas. Here are some movies that involve Christmas, but don't revolve around the holiday so closely that you can't stand the sight of one more Christmas tree after your movie night.
12. Die Hard (1988) – Amazon Prime Video
Welcome to the party, pal. Yes, this Jake Peralta favorite certainly deserves the title of a Christmas classic.
Bruce Willis and Alan Rickman star in this film where NYPD officer John McClane finds himself and his family in a hostage situation on Christmas Eve. He quickly discovers that only he can save the day.
13. Love Actually – Rent from YouTube
While you can catch me enjoying Love Actually anytime, anywhere, it's especially sweet to enjoy around the holidays. This romantic comedy follows a variety of plot lines of different people experiencing the holidays in very different ways. I
t's a star-studded cast, including names like Keira Knightly, Alan Rickman, Hugh Grant, Colin Firth, and Billy Bob Thornton. It's a heartfelt movie that makes you cherish the connections you have with the people you love.
Because God only knows what I'd be without you.
14. The Nightmare Before Christmas (1993) – Disney+
This iconic Tim Burton film is perfect to watch all year round, but especially on Halloween or Christmas.
The stop motion movie features Jack Skellington, the scariest man in Halloween Town. However, he's tired of being scary all the time. He discovers Christmas Town and falls in love with the festivities, but not everyone is pleased with this new holiday spirit.
If you're a Schitt's Creek fan, you'll be delighted to know that Catherine O'Hara, the iconic Moira Rose, voices Sally and Shock. Tim Burton voices Zero the dog!
15. The Nutcracker and the Four Realms (2018) – Disney+
If you love watching The Nutcracker ballet, you'll enjoy Disney's take on the classic ballet-based tale.
16. Rise of the Guardians (2012) – Amazon Prime Video
This Guillermo del Toro film is distinct from his other work, as it's a movie made for kids. It's always interesting when he dives into making movies for children when he's so well known for creepy, bloody movies like Pan's Labyrinth.
In this universe, the happiness of children is defended by the Guardians: famous faces like Santa Claus, the Tooth Fairy, and the Easter Bunny. They must face a mysterious force that plans to steal the joy of children by stopping them from believing in the Guardians.
Best Christmas Movie Classics
These are the movies that have been around for decades. How much sweeter can Christmas get than sharing movies you loved as a child with the kids you have now?
17. It's a Wonderful Life (1946) – Hulu
Frank Capra's It's a Wonderful Life remains one of the most beloved Christmas stories of all time. Its premise heavily influences storytellers even today, in everything from It's a Very Merry Muppet Christmas Movie to political sketches on SNL.
George Bailey wonders if everyone would be better off without him. An angel appears to show him what the world would be like if he had never been born.
18. Santa Claus Is Comin' to Town (1970)
Narrated by Fred Astaire, this claymation classic explains the origin story of the man we now know as Kris Kringle and how he ended up in the North Pole.
19. The Year Without a Santa Claus (1974) – Rent from YouTube
Another claymation classic, The Year Without a Santa Claus starts when Santa Claus's doctor says that no one believes in him anymore and his hard work is taking a toll on his health. Santa decides to take Christmas off this year, so Mrs. Claus is determined to prove to her husband that the world needs him.

20. Rudolph the Red-Nosed Reindeer (1964) – CBS All Access
This version of Rudolph the Red-Nosed Reindeer is undoubtedly one of the best. With classic characters like Hermey the Misfit Elf, Sam the Snowman, and everyone on the Island of Misfit Toys, it's a staple of the holiday season.
21. How the Grinch Stole Christmas! (1966) – Peacock
There are plenty of remakes of The Grinch, including the Jim Carrey live-action and the 2019 animation, but the original illustration animation will always be a favorite for those who love the art style of the book.
22. A Charlie Brown Christmas (1965) – Apple TV
Nobody explains the meaning of Christmas quite like the classic Peanut characters. It's a heartwarming exploration of the true reason for the season.
Celebrating Black Stories at Christmas Time
The Christmas movies we enjoy shouldn't be as white as the Christmas Bing Crosby is dreaming of. Here are some movies that focus on Black stories during the holidays.
23. The Preacher's Wife (1996) – fuboTV
Whitney Houston and Denzel Washington shine in this 90s classic. Washington plays an angel who offers to help a preacher in the midst of a midlife crisis. He instead quickly falls for the preacher's beautiful wife, played by Houston.
24. The Holiday Calendar (2018) – Netflix
A photographer struggles to find success in her career. She inherits the family advent calendar and quickly discovers that it can predict the future.
25. A Madea Christmas (2013) – Rent from YouTube
When you think Black comedy, your mind likely turns to Tyler Perry. Perry's famous character Madea visits her niece's town for the holidays for this holiday film!
The Best Christmas Movies Are the Ones Your Family Loves
While these are some of the best Christmas movies of all time, what matters most is what movie brings your family together. It doesn't matter how popular it is. One of my favorite Christmas memories was watching all the classic clay stop motion movies that my mom recorded on a VHS back when she was a kid. The quality was terrible and it had ads for products that stopped existing long before I was born, but it never failed to get me in the Christmas spirit.
The best Christmas movies are the ones that put you in the spirit and bring your family together for the holiday season. We'd love to hear your favorite holiday movies as well! Sound off in our comment section below and let us know your faves!