'Outlander' Season 6 Release Date, Cast, and News Updates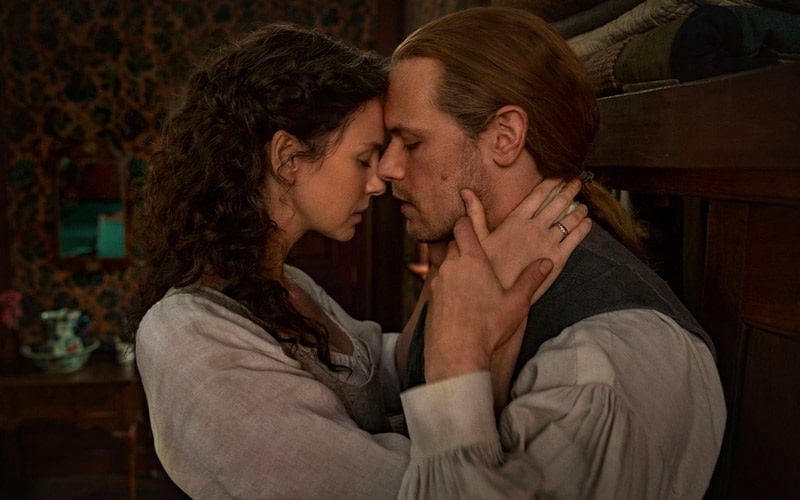 After the explosive events of the Season 5 finale, this Droughtlander has hit harder than most. Cast and crew promise that Outlander Season 6 will continue to engage audiences, just as the five previous seasons have before.
So when can we expect the next installment to our favorite show about time travel, romance, and history? Let's take a look at what we know so far.
The Production
It seems that the production crew was just as excited for Outlander Season 6 as the fans. Actor Sam Heughan, who plays the handsome Highlander Jamie Fraser, confirmed in a Twitter Q & A that production for Season 6 began before Season 5 even aired.
This news came in March 2020. So as you can expect, they had to pause production due to COVID restrictions. The challenges the cast and crew faced ultimately impacted the length of the season.
Showrunner Matthew B. Roberts stated that "Filming in 2021 has presented an unprecedented set of challenges which led us to the decision to truncate the season in order to bring the fans the most vibrant and dynamic season as soon as possible."
In return for our patience, they're offering an extended Season 7, which has already been greenlighted for production. Outlander Season 7 will feature 16 episodes, while Season 6 will only have 8. However, the premiere will be an extended 90-minute episode.
For reference, a traditional Outlander season is 12 or 13 episodes.
Production Delays
COVID wasn't the only cause for production delays. At New York Comic Con, Heughan shared how they had to reshoot parts of Season 6 to accommodate his on-screen wife's real-life pregnancy.
Caitriona Balfe, the actress who plays Claire Randall, and her husband Tony McGill welcomed their baby to the world on August 18, 2021. With filming wrapping in June 2021, she was quite far along in her pregnancy by the end of production.
Heughan said they used strategic angles to hide her pregnant belly and tried to get her major scenes finished up before she got "too big."
On the rest of filming, Heughan admitted, "It's been challenging. I think shooting through a Scottish winter during a pandemic, it was weird. We would go to work, especially at the start, and we didn't know what was going to happen."
Despite all the challenges, the cast and crew think they've put together something fans will love.
Outlander Season 6 Trailer
Starz revealed that the crew was wrapping up production in June 2021. And while the full trailer is not yet released, here is a teaser of what is to come!
Another wonderful tease that Starz provided for fans came on Thanksgiving. The network released the Outlander Season 6 opening credits set to a beautiful rendition of the "Skye Boat Song" by Raya Yarbrough and Griogair Labhruidh. It's absolutely beautiful. Take a look below!
The Season 6 Plot
So what challenges will the Fraser family have to overcome in Outlander Season 6?
It's been confirmed that Season 6 will loosely follow the sixth book of Diana Gabaldon's Outlander series. The book is named A Breath of Snow and Ashes.
Before Season 5, the show stayed true to covering one book per season. However, in Season 5, the writers took material from both book 5, The Fiery Cross, and book 6, A Breath of Snow and Ashes.
On the decision to switch up the source material pattern, screenwriter Ronald Moore said, "Every year we approach it fresh. Should we keep it a book a season? We've done that up until now. But we've talked about splitting books, and we've talked about combining them. We want to be free in the writers' room to pick and choose and do what feels most comfortable that year."
If the show plans to follow the books, how many more seasons can we expect? Author Gabaldon previously stated that she always planned on writing a 10 book series for Outlander.
However, at the launch of her latest book, Go Tell the Bees That I Am Gone, she admitted that this number could change. She said of her main characters, "It depends on Jamie and Claire. If they're not ready to die yet, I guess I will have to go on."
For those who haven't read the books, Heughan hinted that Outlander Season 6 will feature Claire's healing. The cast list also reveals that the Christie family will arrive and drive the plot.
What do we know for sure? Sam Heughan describes it as "small, but mighty."
New and Returning Outlander Cast
As far as the cast goes, Caitriona Balfe will return as Claire Randall. Sam Heughan will return as Jamie Fraser. Also returning, Sophie Skelton as Bree Randall, Richard Rankin as Roger Wakefield, and John Bell as Ian Fraser Murray.
New cast members will make their way onto the screen as well. The largest addition is the Christie family. Mark Lewis-Jones plays Tom Christie. Alexander Vlahos plays Tom's son, Allan Christie. And lastly, Jessica Reynolds plays Tom's daughter Malva Christie.
Fans of the iconic Lord John Grey panicked when they saw his actor David Berry post a photo with the caption, "Don't like goodbyes, tears or sighs" on Instagram on May 2, 2020.
Was Grey no longer a part of the Outlander universe? Or was he simply talking about ending a season?
Thankfully, on World Outlander Day, Berry was included in the interview montage, confirming that he will indeed appear in Season 6. This reveal makes sense, since his character does play a small role in the book A Breath of Snow and Ashes.
There are also talks that he might get his own spin-off show as well, but nothing is currently confirmed. There are books outside of the Outlander series that focus on Lord John's own plot line, so there is certainly material that could inspire a second show.
Outlander Season 6 Release Date
When wrapping filming in June 2021, Starz promised that "Droughtlander" would end in early 2022. It wasn't until November 22, 2021, that we got an official date.
Diana Gabaldon announced at her book launch for Go Tell the Bees That I Am Gone that Outlander Season 6 will premiere on Sunday, March 6, 2022, at 9pm ET/PT. We will just have to wait until then to see if the Revolutionary War will tear down what Claire and Jamie have built thus far.
We think Sam put it best on Twitter…
Are you excited for a new season of Outlander? Sound off in our comment section below!
———
Note: FanBolt is a participant in the Amazon Services LLC Associates Program, an affiliate advertising program designed to provide a means for sites to earn advertising fees by advertising and linking to products on Amazon. FanBolt does earn a small commission from qualifying purchases on Amazon links in this article.