8 of the Best Millie Bobby Brown Movies and TV Series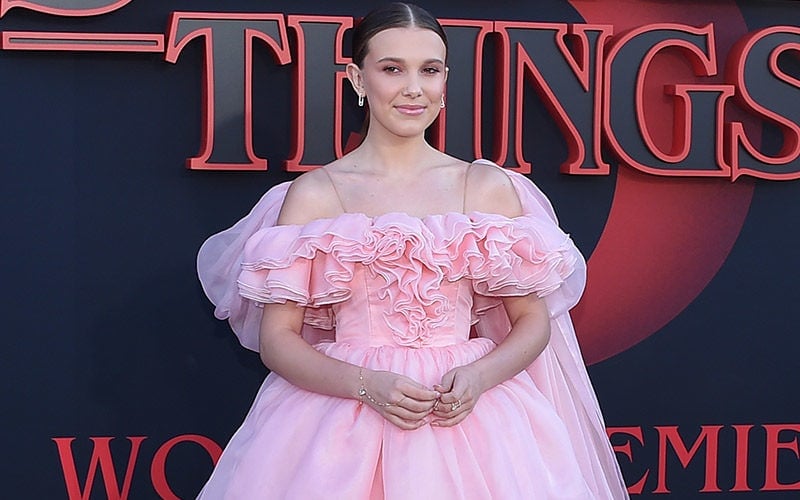 Stranger Things star Millie Bobby Brown has exploded in popularity since landing the role of Eleven. After her star began to rise with the Netflix original, she's gone on to become a model, owner of a beauty brand, and even a UNICEF Goodwill Ambassador.
Let's take a look at Brown's resume and look back on her best roles so far.
About Millie Bobby Brown
Millie Bobby Brown was born in Spain to English parents on February 19, 2004. She was born with partial hearing in one ear, and despite years of tubes, she is now completely deaf in one ear.
She began her career appearing in small roles in a variety of popular TV series, almost giving up after getting rejected for the Game of Thrones role Lady Lyanna Mormont.
But once she appeared in Stranger Things, she became an American sensation.
In addition to starring in and producing films, she was named on the Time 100 list of the most influential people in the world in 2018. That same year, she was appointed as a UNICEF Goodwill Ambassador: the youngest person chosen at that time.
In 2019, she launched her beauty brand "Florence by Mills," which is available at the UK pharmacy Boots.
One Episode and Recurring Roles
Before Stranger Things, Millie Bobby Brown worked on a variety of shows to fill small roles. Here are some of her recurring and one-time appearances.
Once Upon a Time in Wonderland
Young Alice
Brown played Young Alice in two episodes in the spinoff of the popular show Once Upon a Time. She was the younger version of Sophie Lowe's Alice.
This was her very first appearance on television at only 9 years old.
Intruders
Madison O'Donnell
Intruders only ran for one 8 episode season, and Brown was featured in all of them.
In this show, she plays the complicated role of Madison, a young girl, and Marcus Fox, a serial killer whose soul is trying to overpower Madison to take over her body.
NCIS
Rachel Barnes
Brown appeared in Season 12, Episode 6 of NCIS called Parental Guidance Suggested.
Rachel is the child of Navy SEAL Ryan Barnes and the now-dead psychologist Dr. Valerie Barnes. Dr. Barnes was murdered in her own home and after interviewing Rachel, the NCIS team realizes there's something dark going on with this young girl.
Modern Family
Lizzie
Brown briefly appears in one episode of Modern Family as a young girl named Lizzie. Her bike gets stolen by Manny Gelgado in the episode Closet? You'll Love It, in Season 6 Episode 17.
Grey's Anatomy
Ruby
In her one episode of Grey's Anatomy, Brown played the dramatic role of a young girl who had to save her mother through directions given over the phone by the ER.
Millie Bobby Brown's Rising Star
Once she made her mark in Stranger Things, it's been non-stop success for the star. Here are her current TV and film projects.
Stranger Things
Millie Bobby Brown plays the character Eleven in the Netflix series Stranger Things.
In Stranger Things Season 1, Millie Bobby Brown had less than 250 words of dialogue to work with. Additionally, her character was supposed to die at the end of the season as a sacrifice to save her friends. However, when the show got greenlit for more seasons so it wouldn't be stuck as a limited run, they decided to keep the character.
This turned out to be a wise decision, as Brown has had nothing but success with her role as Eleven.
She received two Primetime Emmy Award nominations and two Screen Actors Guild Award Nominations for Outstanding Performance by a Female Actor in a Drama Series; she's among the youngest women ever nominated for the award.
Godzilla: King of Monsters & Godzilla vs Kong
Brown's very first major film was Godzilla: King of Monsters in which she played Madison Russell, daughter of Dr. Mark Russell and Dr. Emma Russell. Emma and Madison get abducted by eco-terrorists at the beginning of the movie, and after Mark tries to find his daughter and ex-wife, it's revealed that Emma is also an eco-terrorist.
Brown reprises the role of Madison in the following sequel.
Enola Holmes
Millie Bobby Brown takes center stage as the titular character in this Netflix film. She holds her own among big names like Helena Bonham Carter and Henry Cavill as she plays Enola, the younger sister of Sherlock and Mycroft Holmes.
When her mother goes missing, Sherlock and Mycroft assume responsibility for their young sister and expect her to go to finishing school. Enola instead adventures out to follow the clues to her mother's disappearance, becoming an even bigger sleuth than her famous brother.
What to Look Forward to With Millie Bobby Brown
If you're a Millie Bobby Brown fan, you have a lot of content to look forward to in the near future. From features her family production company is producing to multiple Netflix deals, Brown has a steady stream of titles already in or entering production.
After the success of the first Enola Holmes, Brown will be reprising her role in Enola Holmes 2. Another Netflix project includes Damsel, in which she will star as Princess Elodie and will also executive produce.
She is also producing and starring in the film The Girls I've Been through her family's company PCMA Productions.
We're going to be seeing a lot more of Millie Bobby Brown in the near future! We're excited to see her latest projects as they premiere.
What's your favorite project of Millie Bobby Brown's? Sound off in our comment section below and let us know your thoughts.
And if you haven't checked out FanBolt's exclusive interview with Millie Bobby Brown from 2016 on the set of Stranger Things – be sure to do so!
Feature Photo Credit: Editorial credit: DFree / Shutterstock.com