Netflix Renews 'Emily in Paris' and the Cast Responses on Social Media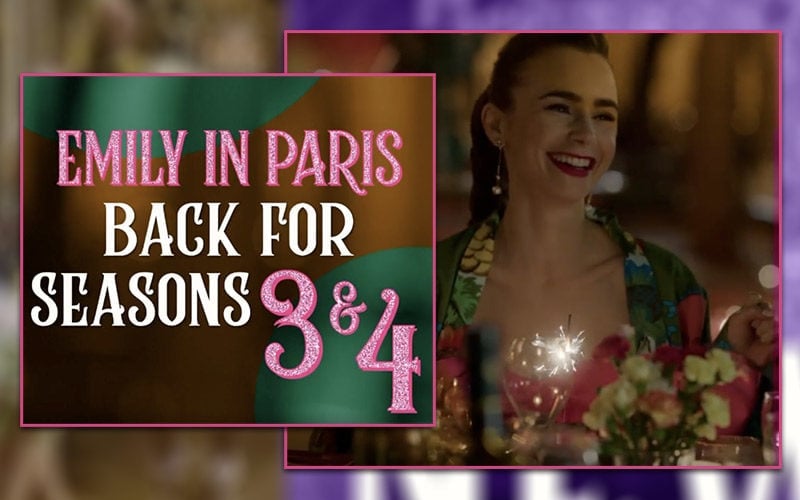 Did you binge Emily in Paris Season 2 over the holiday break? You're not alone. We did, too, along with millions of other fans of the Darren Star series.
The only downside to watching all the episodes in one day? Getting online to Google, "When is Emily in Paris Season 3 airing?" and being met with not a single result.
But we have good news, as of today, Netflix announced that they've renewed the American comedy-drama for Season 3 and Season 4!
Emily in Paris Season 2 Ratings Are Making News!
The Lily Collins-led series debuted its second season on December 22. And in the first week, fans had consumed 107.6M hours of it!
These numbers landed the series in Netflix's Global Top 10 list for English-language series. The only thing that beats it for that week was The Witcher Season 2, which fans watched 168M hours of during the same 7-day period.
How did that compare to Season 1? The first season of Emily in Paris was Netflix's most popular comedy series of 2020. It was watched by over 58M households in the first month alone!
The Cast Responses to Emily in Paris Season 3 and 4 Renewal News!
Once Netflix shared the news of the renewal, the cast took to social media to share and celebrate the news as well. Take a look at the Emily in Paris cast members and what they shared on Instagram shortly after the announcement.
Lily Collins
Lucas Bravo
Lucas Bravo (who plays Gabriel) shared the news in his Instagram Stories. He shared a link to the renewal article on Variety, but before that slide, he included a series of photos and videos from the set. Our personal favorite is below.
Ashley Park
Ashley Park shared the video that Netflix shared first on Instagram, announcing the news.
Camille Razat
Lucien Laviscount
We're still waiting on Lucien (Alfie) to share the news (as of the time that this publishes). So until then… here's one of our other favorite recent posts of his.
Samuel Arnold
Bruno Gouery
Philippine Leroy-Beaulieu
What Do We Know About Emily in Paris Season 3?
If you want to avoid spoilers for Season 2, we advise you to read no further. Consider this your warning from one fan to another.
While Season 3 details are still as thin as the foam on our skim milk latte, we do know a few things! The next season will return to the Studios of Paris, located on the outskirts of Paris, to film in spring and/or summer.
However, some additional locations are being explored by production as well, including London. This makes sense considering that cliffhanger with Alfie, who we know is headed back to the UK.
The Storyline
As far as the storyline, creator and showrunner Darren Star teased us a little bit in a recent interview with TVLine, saying, "She's faced with a major decision. She has reasons to pick a number of doors at the end of Season 2, and our challenge is deciding which of those doors she's going to choose and why."
"That's what Season 3 is going to be about. When you live in a foreign country, one of the questions is, where's your heart? Is it the place you came from, or the place you are at the moment? Emily is going to be struggling with that as well." Star continues.
But what about Gabriel? Is there any hope for the couple now that Gabriel has found his way back to Cami. And not to mention Cami has found her way into a new living arrangement with Gabriel?
"Whatever Emily opts to do professionally, it will be "really intertwined" with her personal life and her situation with Gabriel, "because it's her life, and she does have very strong feelings for Gabriel," Star shares.
But Star also said that fans shouldn't count Alfie out just yet. And, with the production looking at locations in London to film, it's clear that he's not out of the picture.
The Offer From Sylvie
The other major cliffhanger at the end of Emily in Paris Season 2 is that of Emily's career. We see Sylvie and Madeline (Emily's corporate boss from the States) clash a number of times throughout Season 2, and by the end of the Season, Sylvie is done. She quits Savoir and takes Luc and Julien with her.
However, Sylvie is quite done with the destruction she's causing at Savoir just yet. She invites Emily to lunch and offers her a job at the new agency she's starting. For Emily, this means a chance to stay in Paris, advance her career, and potentially have the life with the love she's been pushing away.
The Roadblock that is Gabriel and Cami's Relationship
Did we really think Season 2 was going to end all tied up in a bow? Emily and Gabriel, at last, happy and in love to live out their days forever?
Of course, we didn't.
As Emily went to share the wonderful news of her new job opportunity (and, more importantly, the fact that she was in love with him) with Gabriel, she discovered that he and Cami had not only gotten back together – Cami had moved in.
To put it mildly, it was a bit of a hiccup there for those of us that are shipping Gabriel and Emily.
When Will Emily in Paris Season 3 Release?
We're hopeful that with a two-season pickup from Netflix, that the series will film Season 3 and Season 4 back to back. So hopefully, the gap between those two seasons won't be as long as the one we're likely about to experience.
With production happening this Spring or Summer, it's safe to say that Emily in Paris won't be back before winter 2023 at the earliest.
Season 2 just wrapped production on August 4, 2021, which was roughly three and a half months until the season premiered. It was a tight turnaround time!
Fingers crossed that production on the new seasons goes as smoothly (and as quickly) as Season 2!
Did you watch Emily in Paris Season 2? Are you excited for Emily in Paris Season 3? Are you Team Gabriel or Team Alfie? Or Team Emily should focus on her career?
Sound off with your thoughts on the series below!