Amanda Brugel Reveals Her Theories for 'The Handmaid's Tale' Season 5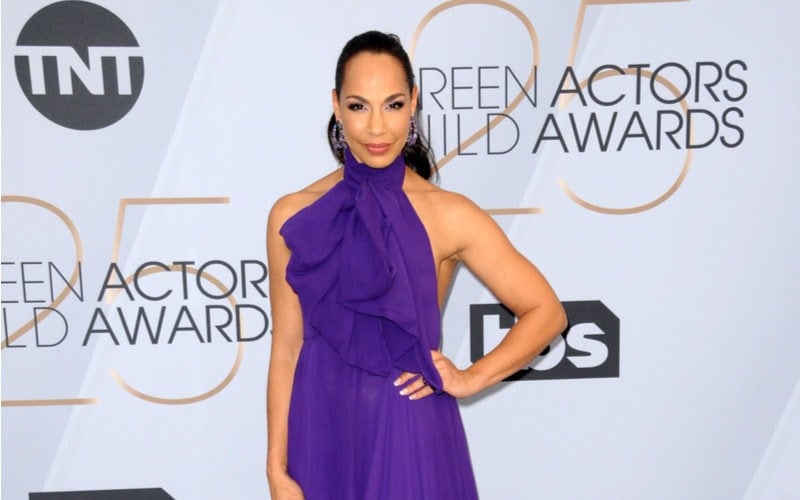 While fans are early awaiting The Handmaids Tale Season 5, production on the new season hasn't officially gotten underway yet. But that's not stopping some of the series' stars from speaking about their hopes for the new season.
Amanda Brugel, who plays Rita in the series, recently spoke revealing her hopes for the new season.
Amanda Brugel's Theories for The Handmaid's Tale Season 5
"My suspicion is that June will go on the run, or June will have to go into hiding. I think there'll be a target on her back," she revealed in an interview with Digital Spy.
What about what's in store for Rita? Gaining her freedom in Season 4 was a struggle for her. And Rita visiting Serena and Fred while in custody certainly didn't help her adjustment to newfound freedom.
Fans shouldn't expect that just because Rita has left Gilead that her instinct to take care of a child has vanished. After all, she did lose her son.
Rita's Journey Last Season
Rita was also a key witness in June's case against Fred and Serena Waterfords. And she recognized that the couple, specifically Fred was trying to manipulate her by calling her a "friend". Fred claimed that he was never cruel to her.
In episode 4 of Season 4, Rita discovers that Serena is pregnant. And Serena directly asks Rita to help raise the baby when the time comes.
Rita ends up corroborating June's statement and confirms that she was also seen as property in Gilead.
Rita and Serena's Future
"I also have a suspicion that my relationship – my ongoing relationship with Serena Joy – while complicated, will probably deepen because she is pregnant and because Rita… She does care about Serena Joy and the fact that there's a child there." Brugel continues. "Especially for my character, her only real purpose in Gilead was to raise children."
However, Brugel can't say for sure what direction The Handmaid's Tale Season 5 will go in. The scripts are kept secret, even from the cast.
"Most of the time, we don't get scripts until two weeks before we're shooting them," Brugel noted.
Serena's Future
We're still unclear on what will happen with Serena in Season 5. While we've watched her make plans for her freedom, there's still a possibility that she will have to face legal consequences for the role in the crimes committed in Gilead.
Perhaps we could see Rita end up adopting Serena's baby now that Fred is dead?
When Will The Handmaid's Tale Season 5 Premiere?
So when can we expect the Margaret Atwood drama to return to Hulu? Sadly, there is no official release date since filming for the new season hasn't officially begun.
Our best bet would be late 2022 or early 2023 at the earliest. But we'll keep you posted as more details surface!
Will Season 5 be the last season for the series? Hulu's Head of Scripted Originals recently told Deadline, "We haven't landed on an answer. I imagine we're going to be able to answer that question in the coming months."
Separately, showrunner Bruce Miller has admitted to The Hollywood Reporter that he's unsure if Season 5 will end the series.
"I know what the end is, and I'm not going to overstay my welcome, but I'm also not going to rush off if I don't have to because as long as I am writing for Elisabeth Moss, it really doesn't get much better."
Do you think The Handmaid's Tale should wrap things up in the fifth season? Let us know your thoughts and your hopes for Season 5 in our comment section below!
Recommend

0

recommendations
Published in Digital, Featured, TV, TV News