'Westworld' Season 4 Release Date, Cast, and News
Fans of the dystopian sci-fi series can't wait for the return of Westworld Season 4. Season 3 left us with society in disarray and a lot of unanswered questions, so Season 4 has a lot of explaining to do.
Before we dive into everything we know about what's to come for the hit HBO Max show, let's take a look at where the show left off.
Westworld Season 3 Recap
Since each season of Westworld gets released two years after the previous season, it's sometimes difficult to remember what went down during the last 8-10 episodes. Here's a quick recap to jog your memory about Westworld Season 3.
Westworld Season 3 picks up three months after the end of the bloodbath of the Season 2 finale. Dolores is on the run in the real world with some processing cores she escaped Westworld with.
She's living in neo-Los Angeles in the year 2053 and discovers what the world outside of the Westworld park is really like. She grows closer to Caleb and watches how AI-based lifeforms and lower-class people get treated.
At the same time, Maeve awakens in a different area of the theme park to discover she's stuck in the part based on World War II Fascist Italy. She kills herself in order to wake up in Operations, only to learn that Operations is just a virtual reality simulation.
Dolores has made it her goal to uncover the secrets of Rehoboam, an artificial intelligence program being developed by Incite.
The Season's Big Bag
Engerraund Serac, played by Vincent Cassel, acts as the big bad for Season 3. He's secretly the richest man in the world with a plan to buy out Delos and use the Rehoboam program.
Delores reveals to Caleb what the Rehoboam program really is: a predictive AI created to show the user the probable future of humanity in order to control it. We learn later that Serac uses it to identify "high risk" individuals who had the potential to destroy the world. He incarcerates them in order to stop them from doing so. He even imprisoned his own brother, Jean Mi, after discovering he was one such person.
Connells sends the data from Rehoboam to everyone on the planet. And the world descends into utter chaos as everyone discovers their predicted fate.
The Season 3 Finale
In the last episode, Maeve fights with Dolores to get the key for Serac and Dolores's body gets disabled. She brings the body to Serac, but Serac deletes her memories when she won't give him host data. During her last moments before Serac deletes all her memories, she is able to convince Maeve to turn on Serac. Maeve kills his men and manages to wound Serac in a gunfight. Caleb successfully deletes Rehoboam.
Bernard discovers that Dolores gave him the Sublime's key because the Rehoboam wasn't intended to stop the demise of society, just delay it. He enters into the Sublime in order to find the answer to rebuilding the society currently in chaos. He returns into his body at the end of the episode.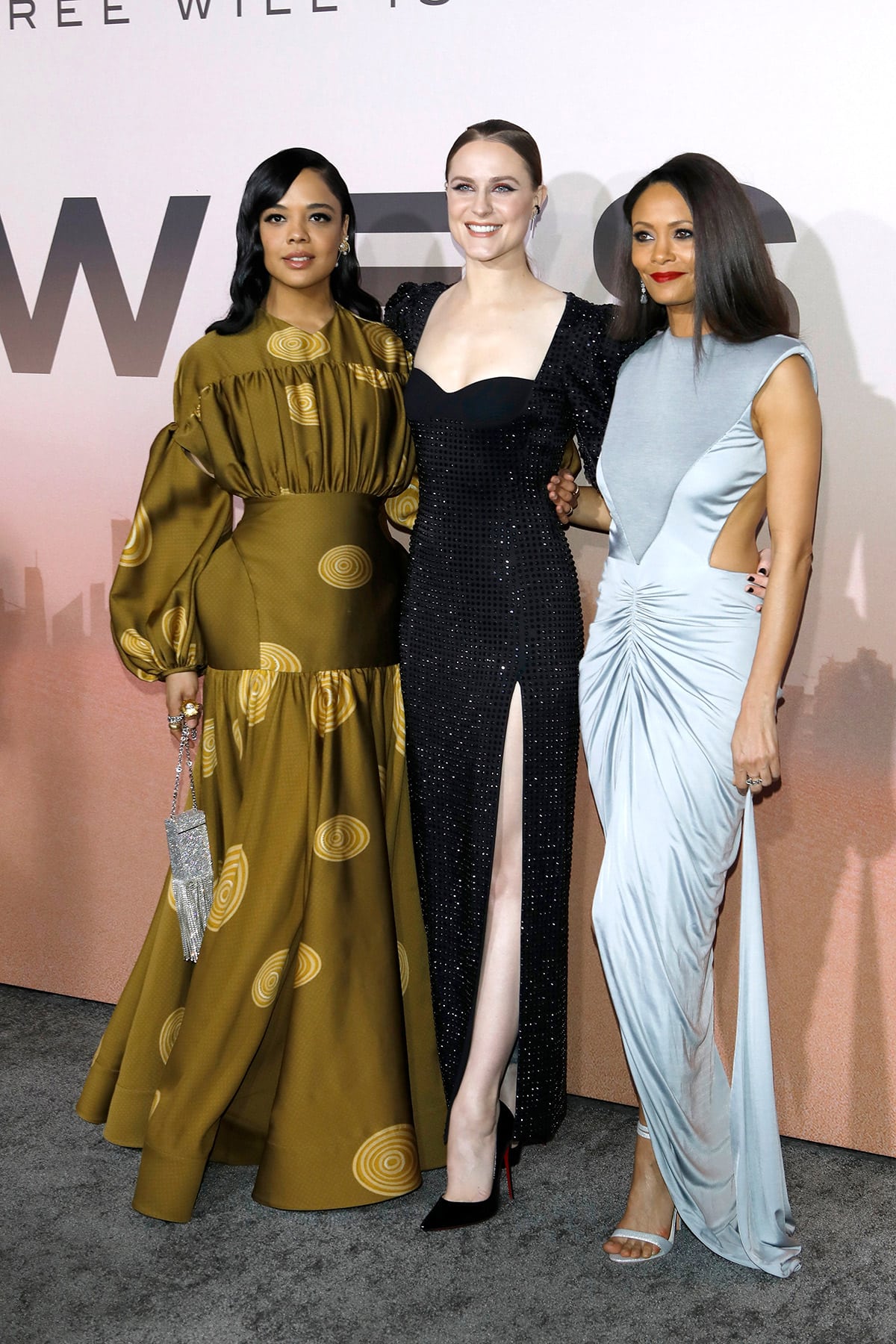 Westworld Season 4 Cast
The Westworld cast lucks out; even if their character dies, they have a high probability of returning in a different host body. Even though Evan Rachel Wood's Dolores gets deleted, she could return in a different form.
Westworld films the season episode by episode, so the actors don't know what's waiting for their characters at the end of the season. "I found out halfway through, or towards the end," Wood said of her character's demise. "We really find out the arc of our characters episode by episode. We get a general idea at the beginning of each season; they tell us where our characters are at, what their mission is, and then go." She says it's one of the reasons the show is "challenging to work on, but also what makes it exciting."
Co-creator Jonathan Nolan broke the news of her character's future demise to her over the phone. "He said that she was going to die. He was very blunt about it, and slightly cryptic about other questions I had, but confirmed that yes, the Dolores that we know is gone."
So the version we know is gone. But what about another version? Will Wood return as another manifestation of Dolores, one without the memories of her uprising?
Returning Cast
Characters we know for sure will appear in the next season include Thandiwe Newton as Maeve Millay, Jeffrey Wright as Bernard Lowe/Arnold Weber, and Aaron Paul as Caleb Nichols, as each was featured in the HBO Max sizzle reel.
In an interview on her thoughts about the Westworld Season 4 scripts, Newton said, "It's so good, man. For me, no truly, for me, it's got all the best elements from one, two, and three are here. It is so rich and there's something about the pandemic."
We're anticipating the return of Tessa Thompson as Charlotte Hale/Dolores Abernathy, Luke Hemsworth as Ashley Stubbs, Simon Quarterman as Lee Sizemore, and Rodrigo Santoro as Hector Escaton.
Adding to the returning cast, Prodigal Son's Aurora Perrineau will join. And Deadline reports that she will feature in at least five episodes.
Westworld Season 4 Trailer (First Look Teaser)
While a full trailer for Westworld Season 4 has not been released, clips of the upcoming season were released in a sizzle reel for what's to come on HBO Max in 2022 alongside many other highly anticipated shows.
At the :03 timestamp, we see a brief clip of Thaniwe Newton as Maeve. And at :21, we see the Man in Black watching a scared Caleb. Each clip is so brief that it's practically impossible to figure out where the next season will take us. All we know is that we can't wait to find out.
Along with the clips of Westworld Season 4, the highlight reel included the new seasons of:
His Dark Materials

The Nevers

The Flight Attendant

Raised by Wolves

Barry

Euphoria
New shows included:
Pretty Little Liars: Original Sin

Our Flag Means Death

Julia

The Time Traveler's Wife

(a TV series, not the 2009 film)

Gremlins: Secrets of the Mogwai

House of the Dragon,

a

Game of Thrones

spinoff

The Peacemaker,

a DC Comics spinoff of the 2021

Suicide Squad
Westworld Season 4 Release Date News
Since Westworld Season 4 got highlighted in the HBO Max promotional trailer for what's to come in 2022, we were sure the next season would arrive sometime this year. On February 16, 2022, Variety confirmed that the new season will premiere on HBO in Summer 2022. This schedule matches the previous 2-year release pattern, as they released Seasons 1, 2, and 3 in 2016, 2018, and 2020.
An exact premiere date has not been announced yet. But our bet is on mid-July release and a possible promotional push at San Diego Comic-Con 2022. We'll keep you posted as more details surface!