Outlander Season 7: Everything We Know So Far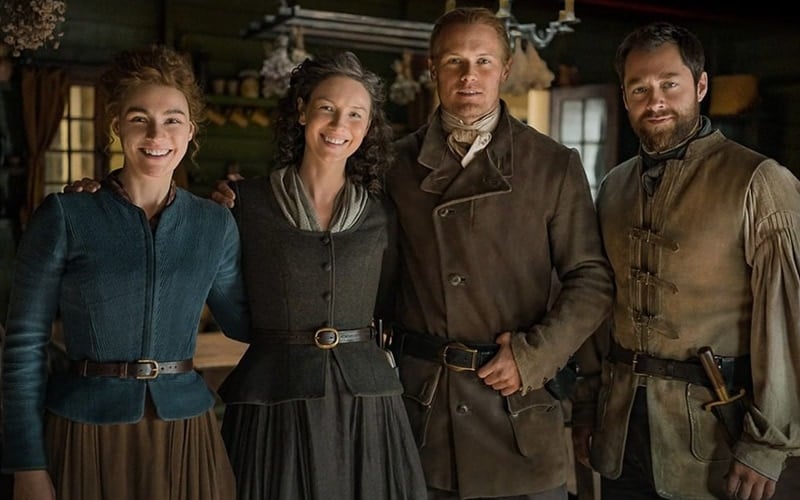 Starz's smoldering, time-traveling romance is on its way back for another installment. Fans won't need to experience too long of a Droughlander as Outlander Season 7 already started filming.
So what's up next for Jamie and Claire? Will we be rewarded for enduring a shorter Season 6? Will the season be based on the seventh book? Or will Season 7 signal the end of the show?
Let's talk about everything we know so far about Outlander Season 7.
Outlander Season 7: Announcement and Production
In March 2021, we learned that Outlander Season 7 was in the works. In response to the announcement, showrunner Matt Roberts said, "We are so excited Starz has given us the opportunity to continue the epic Outlander journey. We can't wait to get into the writers' room and start breaking Echo in the Bone and look forward to giving the fans another season of this exhilarating story."
So why did the network decide to renew the show? Apart from its dedicated fanbase, Starz's President of Original Programming explained that it falls in line with the type of stories the network wants to tell. Christina Davis said, "Starz is committed to investing in unapologetic, bold premium storytelling that amplifies diverse voices and shines a spotlight on women in front of and behind the camera through our #TakeTheLead initiative. The hit series 'Outlander' embodies everything about our initiative including a powerful female lead character and an amazing team of storytellers. We look forward to following the adventures of Claire and Jamie in America during the Revolution as well as more time travel during this next season."
A year and a bit later, Outlander Starz announced that they began production. A social media post from April 2022 read, "As we devour Season 6, they're already cooking up Season 7! The cast and crew are back at it – #Outlander Season 7 is in production!" With the post, we got a photo of Claire, Jamie, Brianna, and Roger all decked out in their Fraser's Ridge period clothing.
Caitríona Balfe, the actress that plays Claire, posted,"Here we go …. Season 7!!!!!! What????? Hard to imagine what we thought might be one season in 2013 is still going and we have all you amazing fans to thank!!!!!" Sam Heughan, her on-screen husband, wrote "Wait!!! Is that @Outlander_STARZ season…. 7!?!?!? Yazzz."
The cast returned to the gorgeous Scotland countryside to start filming the 7th season.
What to Expect from Outlander Season 7
For those of you who don't know, Outlander is based on the book series by Diana Gabaldon. If you want to have an idea of where the show is headed in Season 7, you'll have to check out An Echo in the Bone. It's the seventh book in her Outlander series.
If you've followed the show so far, you know that production complications in 2021 led to a shorter Season 6. As they based the sixth season on A Breath of Snow and Ashes, the writers plan to wrap up that book's plot in the beginning of Outlander Season 7.
So where does An Echo in the Bone take our beloved characters? The book moves you between America, London, Canada, and Scotland. Each character will need to decide where their loyalties lie as the world approaches the American Revolution.
Will Outlander Season 7 Be the Last Season?
So now that we know what events in history our characters will endure, an even larger question looms: is Outlander Season 7 the finale of the series?
As of yet, different parts of the cast and crew are split on the answer.
On one hand, star Caitríona Balfe hinted in an interview that this season will serve as the end of the tale. She explained, "We will have hit the almost 10-year mark by the end of [season 7], which feels like a nice kind of time frame, but we don't know, those decisions are far above my pay grade."
On the other hand, executive producer Maril Davis has been quoted as saying "We'll keep making this until Claire and Jamie are a hundred. Honestly, we will. There are still many more books to go. And if Starz and Sony are willing, we're willing, and if the actors are willing, we'll keep going." This quote dates back to the Television Critics' Association press tour a few years ago, so opinions may have changed. However, with the immense popularity of the show and the hushed talks of a spinoff series for Lord John Grey, we don't think that fans need to worry that Outlander Season 7 is the last you'll see of this cinematic universe on screen.
Outlander Season 7 Cast
So who will return for Outlander Season 7?
It's without question that we'll have Caitríona Balfe as Claire Randall Fraser, Sam Heughan as Jamie Fraser, Sophie Skelton as Brianna Randall, and Richard Rankin as Roger Wakefield. They were featured in costume on the Starz announcement that production began.
We enjoyed David Berry's Lord John Grey in Season 6, so we hope to see his return in Season 7 as well. If the producers want to create a spinoff show for him, it makes sense to keep viewers engaged in his story.
As far as the rest of the cast, we're still unsure of who will return for Season 7. First, we need to see who survives Season 6!
Outlander Season 7 Release Date Speculation
So when will we get to enjoy Outlander Season 7?
Because of production difficulties, we got a shortened Season 6 with only 8 episodes. However, we're getting an expanded seventh season to make up for it. But when will these 16 episodes air?
We may not need to wait that long. Deadline reported that we could see Outlander Season 7 as early as late 2022 or early 2023. We'll keep you posted as more details are announced!
Recommend

0

recommendations
Published in Featured, TV, TV News