'Castle' Cast: Where Are They Now?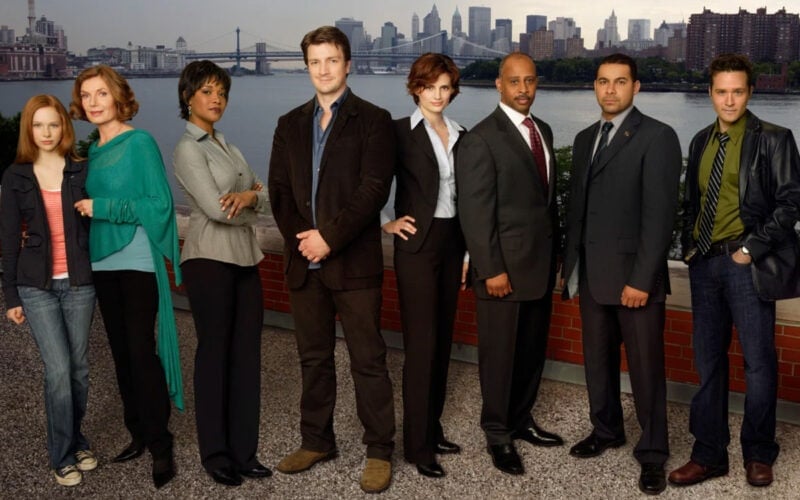 Since the series finale aired in 2016, the Castle cast has gone on to explore countless film and television projects. While some have stayed in the cop show genre, others have moved on to major films. And others have done voice acting in video games and podcasts.
If you don't remember the show, Castle followed a famous mystery writer, Richard Castle, as he became involved with the NYPD's 12th precinct. A copycat killer uses his books as inspiration for murder and he has to work with Detective Kate Beckett to solve the case. While she at first protests his involvement, he uses her as inspiration for a new character, Nikki Heat. As he shadows her, they slowly start to connect and eventually become lovers.
So here's what's happening with each of the main characters of the Castle cast since the series aired its finale on May 16, 2016.
The Cast of Castle
Nathan Fillion
Richard Castle
Nathan Fillion, the actor behind the show's titular character, is perhaps the busiest of the Castle cast. Before he starred in Castle, he was best known for his role in the cult-following fan-favorite Firefly as Captain Malcolm Reynolds.
So what has he been up to since 2016? When Castle wrapped, he also finished recording the voice of Preston Northwest for the Disney animated show Gravity Falls.
His other voiceover work since 2016 includes Cars 3, Rick and Morty, Big Mouth, Reign of the Supermen, and video games Destiny 2, Con Man: The Game, and Starfinder.
His television shows include Santa Clarita Diet as Gary, Con Man as Jack Moore, A Series of Unfortunate Events as Jacques Snicket, Modern Family as Rainer Shine, and The Venture Bros. as Brown Widow. He starred as T.D.K in 2021's The Suicide Squad.
In 2022, you saw him as John Nolan in The Rookie, 42 / Octopus in Resident Alien, and various roles in Robot Chicken. 
And fans of Brooklyn Nine-Nine should have recognized his swaggering mug in his Season 4 Episode 14 cameo on Serve & Protect. He played an actor named Mark Devereaux playing a detective on a cop show within the cop show. It felt like a humorous homage to his work on Castle.
Stana Katic
Detective Katherine 'Kate' Beckett
Stana Katic played the female lead in Castle, a strong detective that eventually fell for Richard Castle. As the show wrapped up in 2016, she had a TV movie called Sister Cities air where she played Carolina.
The Rendezvous also premiered in 2016, where she played Rachel Rozman. She's only been in one TV show since Castle, which was Absentia as Emily Byrne.
She had her fair share of movies in addition to The Rendezvous and Sister Cities: Lost in Florence, The Possession of Hannah Grace, A Call to Spy, and Justice Society: World War II, where she voiced Wonder Woman. The latter was her most recent IMDB credit.
Jon Huertas
Detective Javier Esposito
When Castle ended in 2016, Jon Huertas moved along to an even more successful TV series. He played the role of Miguel Rivas on This Is Us.
While filming for the hit NBC series, he played minor roles in other TV series like Con Man (alongside Nathan Fillion), Elementary, and The Rookie. He has a couple of short films that premiered as well.
Additionally, he has starred in a number of films, including Altered Perception, Imprisoned, Initiation, and Prisoner's Daughter.
He's also exploring roles behind the camera. As he's directed an upcoming episode of The Company You Keep, and serves as an executive producer and writer on the upcoming comedy Blue Tags, which is still in development.
If that's not enough, according to IMDb he's also attached to produce the upcoming projects White But Not Equal, The Trap, and 4 Days in Mexico. The latter will also see him in the role of writer and director.
Seamus Dever
Detective Kevin Ryan
Seamus Dever has stuck mostly to TV shows, including Legion, Take Two, MacGyver, Titans, The Rookie (with Nathan Fillion), and NCIS: Los Angeles.
He's also starred in a handful of short films. And in 2023, he stars in Invitation to a Murder. The mystery thriller's cast is led by former The O.C. star Mischa Barton.
Tamala Jones
Medical Examiner Dr. Lanie Parish
Like Seamus Dever, Tamala Jones has also done a lot of TV work since Castle ended. She's appeared in Rebel, Speechless, SEAL Team, L.A.'s Finest, a different show named Rebel, 9-1-1: Lone Star, and The Rookie with other Castle cast members Nathan Fillion, Seamus Dever, Jon Huertas and Molly Quinn.
She has two films in post-production, including Something Here and Ordinary Angels. The latter will have Jones starring opposite Hilary Swank and Amy Acker.
Ruben Santiago-Hudson
Captain Roy Montgomery
Since Ruben Santiago-Hudson left the Castle cast in 2014, he's had more time to rack up more material on his resume. The year he left, he appeared in Selma as civil rights activist Bayard Rustin.
Like a number of his Castle castmates, Santiago-Hudson has also chosen to stick mostly with TV shows. His series include The Good Wife, Public Morals, The Family, Designated Survivor, The Quad, Billions, and David Makes Man. And, in 2023, he stars in the CBS series East New York as Officer Marvin Sandeford.
Molly Quinn
Alexis Castle
After playing Alexis Castle, Molly Quinn has done everything from podcasts to movies, to TV shows to shorts to video games, and even a rap battle as Hermione in Princess Rap Battle.
She's played Molly Quinn in Guardians of the Galaxy Vol. 2, Marisa in The Last Rampage, Valerie in Newly Single, Mrs. Grady in Doctor Sleep, Mary in Agnes, and Denise in Ways & Means. Additionally, she's appeared on the Hoot Gibson: Vegas Cowboy and Welcome to Night Vale podcasts. 
And of course, she's also appeared in The Rookie with other Castle cast members. 
What's Molly Quinn up to in 2023? She's in pre-production on Generation Angst, where she'll star alongside Tara Reid and Henry Thomas. She's also an executive producer on 2023's Lovely, Dark, and Deep.
Susan Sullivan
Martha Rodgers
Susan Sullivan also chose to stick with mostly television projects after Castle. She's worked on The Real O'Neals, The Kominsky Method, Big Hero 6: The Series, Last Man Standing, and Smartphone Theatre.
Her most recent projects include 2022's Diary of a Spy, The Drop, and The Grotto. 
Penny Johnson Jerald
Captain Victoria Gates
Like Ruben Santiago-Hudson, Penny Johnson Jerald left the Castle cast early. Since leaving in 2015, she lent her voice to Justice League: Gods and Monsters Chronicles and starred in the short Celeste's Dreams.
Additionally, she's been in Media as Jackie Jones, Parker's Anchor as Laurie, and The Lion King, where she voiced the character Sarafina.
Her most notable recent TV role is that of Dr. Claire Finn on the TV series The Orville. 
The Castle Cast: What's Next
So many of the Castle cast have such bright careers, not just Nathan Fillion and Stana Katic (Castle and Beckett).
Did any of these careers surprise you? Which cast member do you think has worked on the most interesting projects? What fan-favorite character do you wish had more material produced? Let us know in the comments!