Caitriona Balfe Opens Up About Filming "Intense" 'Outlander' Season 7
With Outlander Season 6 airing its finale a little over a month ago, fans are ready a month into another doughtlander. But series star Caitriona Balfe promises it will be well worth the wait!
"What we know now is we have this great season seven picked up, and it is going to be 16 episodes." Balfe (who plays Claire Fraser) shares in a recent interview with Digital Spy.
"We are all in a little way girding ourselves to have the stamina to be able to do that because we will be shooting for 13 months pretty much, which is going to be really intense," She continues. "So, to be honest, to think beyond that doesn't really serve us and those decisions are not in our hands anyway, so we'll see!"
While filming on all 16 episodes wouldn't technically have to wrap before a Season 7 premiere. If we do the math, production did start this season in late March. This would mean they would wrap on the episodes in late April, or early May 2023.
"There's a lot going on next season." Balfe tells Entertainment Weekly in a separate interview, "What we can say is there will definitely be conclusion to some of this, some of these threads will have been tied up early on."
"And we will then have a lot of new characters join that are going to be very meaningful to the series."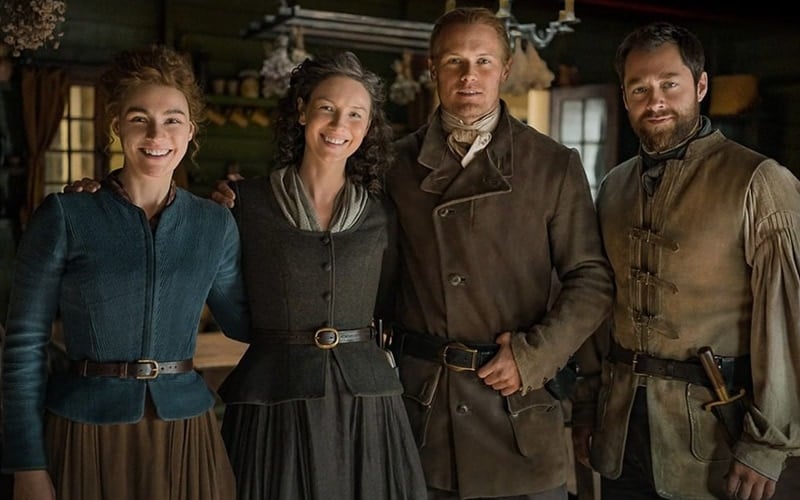 Where Will Outlander Season 7 Pick Up?
According to star Sam Heughan (who plays Jamie Fraser). We will pick up right where left in the Season 6 cliffhanger.
"We pick up shortly after with the end of last season, which is a great cliffhanger," Heughan revealed to Us Magazine.
Season 6 left us in a pretty intense situation. Jamie and Claire were separated and Claire was being taken to Wilmington where she will face trial for her alleged crimes (Malva's death).
Outlander is based on Diana Gabaldon's best-selling book series, and Outlander Season 7 will specifically be based on her book "An Echo in the Bone." Starz hasn't announced a release date yet, but as soon as they do, we'll let you know.
What you do think of Caitriona Balfe's promise for an intense Season 7? Are you excited for Outlander Season 7? What did you think of Season 6? Sound off in our comment section below!
Featured Photo Credit: DFree
Recommend

0

recommendations
Published in Featured, TV, TV News