Tom Holland and Zendaya: Everything We Know About the MCU Couple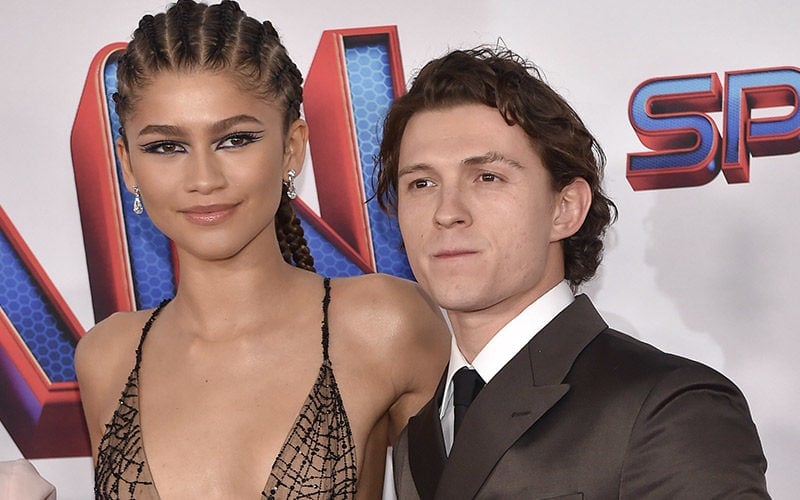 Both on and off screen, Tom Holland and Zendaya have an undeniable chemistry. Years before they confirmed their relationship statuses, rumors of a possible romance ran rampant.
Here are some of the career and personal highlights from both Zendaya and Tom over the past few years.
Tom Holland and Zendaya Careers
Zendaya rose to fame as an actress well before Tom Holland. She started out as a Disney Channel star alongside Bella Thorne as the character Rocky Blue in Shake It Up. She also starred in crossovers on Good Luck Charlie, along with shooting several Disney Channel music videos. She also played Sequoia in an episode of A.N.T. Farm.
She then starred in non-Disney Channel music videos like Bad Blood and Versace on the Floor. She then got cast as MJ in Spider-Man: Homecoming, and then as Anne Wheeler in The Greatest Showman. Among other TV appearances and various roles, she's made headlines as the star of hit series Euphoria as Rue Bennett. Recently, she starred in Dune and currently is working in production for Dune: Part Two.
Tom Holland worked on a few projects before joining the MCU, but his breakout role was as Peter Parker in Captain America: Civil War. He's stayed quite busy, appearing in a whole bunch of Marvel movies as the young superhero, but he's made time for projects like The Devil All the Time as Arvin and the movie adaptation of video game Uncharted as Nathan Drake.
Are Tom Holland and Zendaya Dating?
In 2016, Marvel cast Tom Holland as the next Spider-Man with Zendaya as MJ. In 2017, Tom said in an interview that he considered Zendaya his best friend. He told People, "We are like the best of friends. She's so great and amazing…I'm a little worried [about dealing with fame … but] Zendaya is super famous and she's been through this and I just call her up and say, 'How do I manage being famous?' I'm very glad I have a friend like her."
During the 2017 press tour, they both denied any dating rumors. From 2019 to 2020, they both date other people: Zendaya and Jacob Elordi, a Euphoria co-star, and Tom and Nadia Parkes, a British actress.
But like the two Spider-Mans before him, Tom Holland fell in love with his Spider-Man co-star. Tobey Maguire and Kirsten Dunst dated in secret in 2001, but eventually parted ways. Andrew Garfield and Emma Stone dated for four years until finally calling it quits in 2015.
Despite producer Amy Pascal sitting them down and warning against falling for each other, their deep friendship turned to romance in 2021. Pascal mentioned, "I gave the same advice to Andrew and Emma. It can just complicate things, you know? And they all ignored me." We're glad they did, because Tom and Zendaya are just about the cutest, most wholesome couple in Hollywood.
It's Official: Tom Holland and Zendaya Are a Couple
Paparazzi captured the two kissing in a car, and Tom Holland and Zendaya could no longer deny the rumors. Later on, he reflects on this intrusion of privacy, saying in an interview, "One of the downsides of our fame is that privacy isn't really in our control anymore, and a moment that you think is between two people that love each other very much is now a moment that is shared with the entire world. I've always been really adamant to keep my private life private, because I share so much of my life with the world anyway. We sort of felt robbed of our privacy."
In September 2021, they made it Instagram official.
Zendaya And Tom Holland Cutest Moments
Ever since, we've been getting adorable moments of them spending time together, whether it's looking stylish on the red carpet or going to a hockey game in matching jerseys. Here are some of our favorite moments of Zendaya and Tom Holland.
Fashion Forward Couple Moments
No one can deny that Zendaya brings it on the red carpet. But this Marvel star looks even better with some Tom Holland arm candy.
Hockey Game Romance
Arguably one of the cutest moments of their relationship was when they stepped out in New York City's Madison Square Garden for a Rangers game. While watching them enjoy hockey was cute, the best part was their custom matching Rangers jerseys with the number 96 (their birth year) and each other's names on the back.
Press Tour Interviews
Once they confirmed their relationship, Holland and Zendaya had no problem being a cutesy couple in interviews promoting Spider-Man: No Way Home.
Instagram Posts
From posts celebrating the other's 25th birthday to commenting hearts on each other's posts, you only need to go to Zendaya and Tom's Instagrams to coo over the adorable couple.
Zendaya and Tom Holland: Hollywood's Cutest Couple
People that love love have to fawn over Tom Holland and Zendaya's relationship. You can just tell that they genuinely love each other, and we couldn't be happier for the Spider-Man co-stars. We can't wait to continue to watch their love grow. Hopefully, someday we'll get to enjoy photos from an unforgettable wedding between the two stars.
Featured Photo & Event Photo Credit: DFree
Recommend

0

recommendations
Published in Celebrity, Celebrity News, Featured