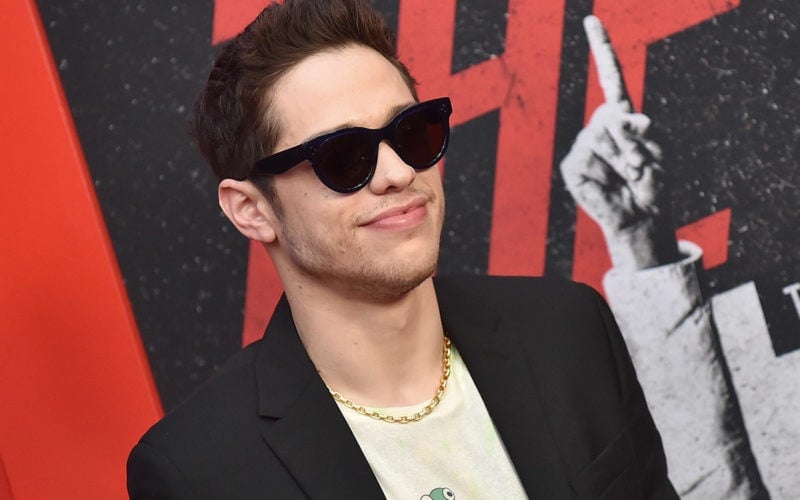 Pete Davidson is an American comedian, writer, and actor. He started his career in early 2010, having supporting and minor roles in Friends of the People, Brooklyn Nine-Nine, Wild'n Out, and Guy Code. After which, he became a cast member of NBC's Saturday Night Live for eight seasons, from 2014 to 2022. With all his gigs and appearances, it can be worth noting how much Pete Davidson's net worth is.
Personal life
The son of Amy and Matthew Davidson, Pete Davidson was born on Staten Island in New York City on November 16, 1993. At seven, Pete lost his father during the 9/11 attacks. His father was a firefighter in New York City who died during his service in the 9/11 tragedy.
Before joining the entertainment industry, he attended high school at St. Joseph by the sea and Tottenville before transferring to Xaverian High School in Brooklyn, where he graduated in 2011. Furthermore, he attended college for one semester at St. Francis College, located in Brooklyn Heights. After finishing a semester, he pursued a career in comedy shows full-time. Initially, he tried out stand up comedy at sixteen during a dare made with his friends at a bowling alley in Staten Island.
Davidson lived in New York's Brooklyn Heights in October 2015. By 2019, he lived with his mother in Staten Island, a house they bought together. Once he purchased a house in 2020, he moved into his home on Staten Island in April 2021.
Health
Pete Davidson had Chrohn's disease at 17 of 18. He received intravenous treatments and used medical marijuana for recreational and pain management. Reports said he would fail to work on SNL without the medications. However, in 2017, he announced on his social media account about quitting drugs and being sober for the first time in eight years. He also clarified over a podcast with Marc Maron that he may still use marijuana, but he cut it back considerably.
Career
Davidson might have started in 2010, but the earliest appearance he had on screen was on the third episode of Failosophy. It's a comedy series by MTV that premiered on February 28, 2013.
He then appeared in PDA and Moms, which is the third season installment of another comedy series named Guy Code. That same year in June, his first standup aired through Gotham Comedy Live on Comedy Central.
He made special standup appearances until he joined Saturday Night Live during its 40th season premiere. He was the youngest cast member debuting at the age of twenty.
Davidson's debut on SNL earned positive critical reviews with the style sketch of Indiana Jones as one of his notable skits. The stint in SNL significantly provided a leap to Davidson's net worth.
In February 2020, he released Alive from New York, a standup special streamed through Netflix. In May of the same year, Davidson co-wrote and starred in The King of Staten Island. He became one of the nominees for The Comedy Movie Star of 2020 for the King of Staten Island.
Comedy Style
Davidson is famous for his comedic ways of using his own life. Furthermore, some of his comedic styles employ various aspects of his life, like vulgar confessions and brutal truths. These approaches make him more relatable to his audiences.
He touches on different topics like relationships, his awkward high school experience, etc. Additionally, he also jokes about some sensitive subjects like the loss of his father, Matthew, during the 9/11 attack.
Pete Davidson's career thrived on his uniqueness and comedic style. Additionally, it's one of the reasons why he stayed long enough with Saturday Night Live. More importantly, it is one of the significant factors of Pete Davidson's net worth.
Relationships
Pete Davidson dated some of the more prominent personalities in the entertainment industry. From 2015 until 2105, he dated comedian Carly Aquilino. From 2016 to 2018, David dated Cazzie David, whose father is the comedian Larry David.
In May 2018, he started dating famous singer Ariana Grande. In June 2018, Pete Davidson confirmed his engagement with Ariana Grande.
Currently, Pete Davison has been dating reality star Kim Kardashian since November 2021. Their relationship started when Kardashian hosted SNL in October 2021.
During the show that she hosted, the two did an Aladdin-themed skit. Furthermore, they even shared a kiss. Several days after Kardashian's appearance in SNL, reporters spotted her and Davidson walking, holding hands.
In their relationship's early stages, both insisted that they were just friends. Moreover, they tried to make things strictly casual. During these times, Kim Kardashian just recently broke up with Kanye West. However, the two ended all the rumors as they confirmed their relationship on November 19, 2021.
Pete Davidson's SNL salary
When looking at Pete Davidson's net worth, one needs to check his salary on SNL. As with any celebrity net worth, his stint with the show was one of his career highlights. With this, it will indeed affect his overall net worth.
Davidson started with SNL as a main cast member in 2014, earning $15,000 per episode where he appears. Considering he appears at least once on all twenty-one episodes in a year, he would earn approximately $315,000 per year. In most cases, the highest-paid SNL member makes around $25,000 per episode.
Real Estate
Besides his excellent showing on Saturday Night Live, Pete Davidson also bought some properties, especially homes for him and his family. In 2016, Davidson purchased a house in Staten Island for his mother worth $1.3 million at Staten Island, New York.
Meanwhile, in December 2020, he bought himself a condo worth $1.2 million. The property gives a view of the water just some blocks from his mother's home.
How much is Pete Davidson's Net worth?
As of 2022, Pete Davidson's net worth amounts to $8 million. His net worth combines various films, stand-up specials, and his stint on Saturday Night Live, etc. These gigs and appearances broadened his net worth as an entertainer, which allowed him to benefit significantly.
Photo Credit: DFree
Recommend

0

recommendations
Published in Celebrity, Celebrity Net Worth