Where is Chandler Riggs (aka Carl Grimes) from 'The Walking Dead' Now?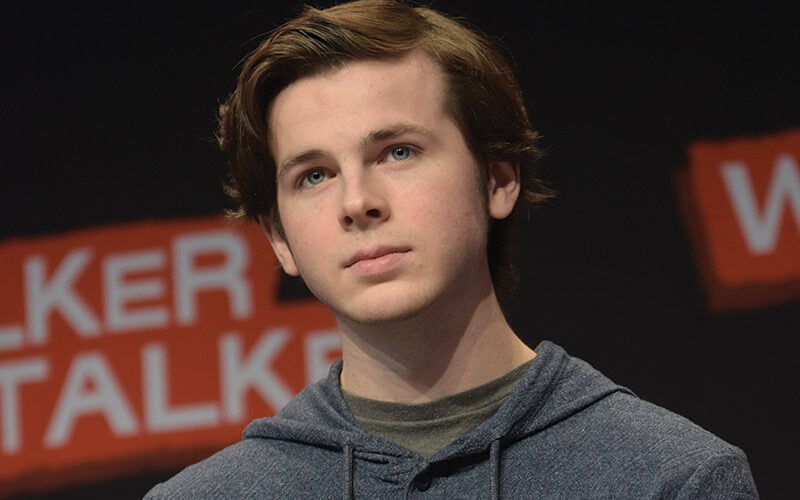 Chandler Carlton Riggs is an American actor and D.J. best known for his role as Carl Grimes on the hit AMC series, The Walking Dead, where he first won the hearts of fans in 2010. 
After 11 seasons, the series airs its finale episode on November 20th, 2022. After that, there are a number of spinoffs in the works. But fans will never forget some of the most notable characters, including Gabriel Stokes, Morgan Jones, Shane Walsh, Lori Grimes, Hershel Greene, and of course, the father-son duo of Rick and Carl Grimes. 
Riggs' work on this series earned him a Young Artist Award and three Saturn Awards. However, despite the show's success and Chandler Riggs' popularity, he was suddenly axed from the series.
Indeed, it came as a surprise for fans who have watched his character grow for eight seasons. However, he and his family were more than shocked to know the show's decision to kill his character even before the series finale. 
So what happened to Chandler Riggs?
Of all the comic books Robert Kirkman created, The Walking Dead is arguably the most popular. For Rick Grimes' son Carl, death was unexpected. This was what happened on the eighth season of the show when Riggs' character Carl Grimes was shockingly killed from the series.
Carl was seen to be the post-apocalyptic world's future. Not to mention, Carl doesn't die in the comics. He actually plays a fairly large role in how the comics wrap up.
There's a lot of speculation as to why Riggs' character was removed from the show. It wasn't because Riggs was ready to leave The Walking Dead or because his character ran out of stories. Some believe it was because Scott M. Gimple, the former showrunner, had to give Rick Grimes motivation to keep Negan around. Others believed that it may have been more of a personal reason between the series and Riggs, as Rigg's father, William Riggs expressed on social media.
However, whatever the reason may have been, Riggs' time on the series came to a close when a walker bit Carl. And the story played out with Carl telling his father that he could see a future where Negan and the saviors live in happiness and harmony. As a result of the dream of dead Carl, Rick promised his son to work towards making that dream a reality. 
Gimple revealed to The Hollywood Reporter that the axing Riggs from the show "has everything to do about the story." He continued that it was tough to let go of a character adored by many viewers.
We'll never know for sure what happened.
Riggs was planning to start college at that time his character died in the series. He even purchased a home in Georgia, where the location of the show's filming was happening. His education wouldn't have been an issue for filming any more than it was when he was in high school. But the only thing we can say for sure, was that Carl's death was completely outside of Riggs' control.
How much did Chandler Riggs make on The Walking Dead?
At age 10, Riggs was selected to play Carl Grimes in The Walking Dead. The rest, as they say, is history. He grew up before viewers' eyes, appearing first in The Walking Dead's pilot episode titled "Days Gone By" and staying with fans for eight seasons. In fact, during his stint from seasons one through eight, he was one of the richest child actors in the industry during his time.
So how much did he make on the series? This question appears to be one of the most asked about Riggs when it comes to online searches.
He had a net worth of approximately $2 million when he was working on the series. As of 2020, that number was closer to $8million, according to Audacy. Almost all of them came from working for The Walking Dead. Additionally, he made around $30,000 per episode, according to ComicBook.com. Initially, he was cast to appear on the show for seven episodes. However, AMC renewed its contract.
Unlike the other characters in the show, like the prisoners, Carl Grimes, played by Riggs, was one of the highest-paid as he's part of the leading cast members.
Despite being killed during season eight, Riggs' character returned from the grave in a way (not literally). During the final episode of season eight, Carl Grimes read a letter to Rick and Negan. It was Riggs' voiceover with a mournful image of Rick while reading his son's letter. 
How old is Chandler Riggs now?
Riggs is now 22 years old, with his birthday falling on June 27, 1999. As with any character in the group, Carl Grime earned the attention and hearts of many. After he departed from The Walking Dead, he joined the ABC drama series called A Million Little Things. It follows a group of friends who had to grapple with the aftermath and effects of their friend's suicide. Riggs played the character of P.J. believes that a particular group member is his biological father.
Despite not being on TWD anymore, Chandler Riggs remains to be a fan of the series. His shocking exit from the show has not dimmed his enthusiasm for the series. In 2020, he expressed his excitement about how the show will unfold and close on its eleventh and final season. 
Being a DJ
Riggs' talent isn't just limited to acting. He also started DJing in 2017 in several events around the United States. In December of the same year, he even released his first song called "Hold Up" under "Eclipse," which is his stage name. He appeared in the film Inherit the Viper and Only, both in 2019.
Additionally, awards and nominations were testaments of his excellent portrayal of The Walking Dead. In total, he earned nine nominations in two different award-giving bodies. Five of those nominations, he won. 
Upcoming Projects
Riggs played a recurring role in the television series A Million Little Things. During his meeting with Motor City Comic Con fans in May 2022, he revealed that between projects he does a good bit of charity work, live streaming on Twitch, and the funds raised go to a different charity each month.
We'll keep you posted on Chandler Riggs' upcoming projects as more news surfaces!