Kevin Hart's Net Worth in 2023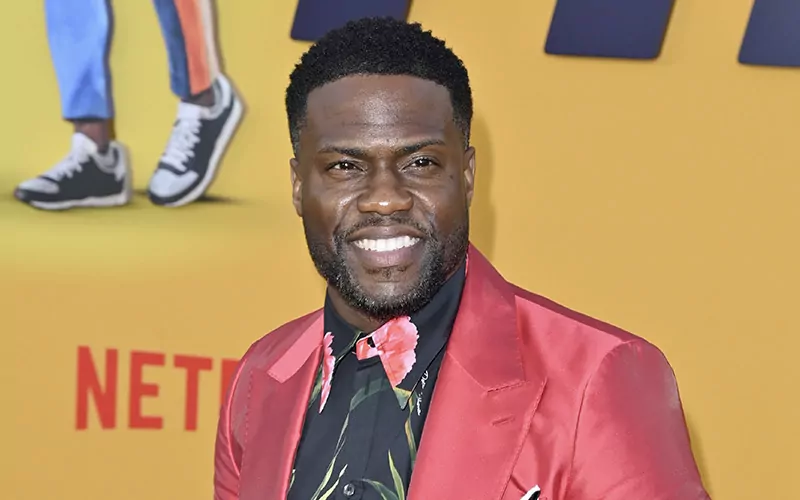 Kevin Hart is best known for his movie roles in Ride Along, Jumanji: Welcome to the Jungle, and Central Intelligence. Since starting his career in Hollywood in the early 2000s, Hart has appeared in over 90 movies and television series.
Though, it's not just his acting career that's contributed to his massive career success. Kevin Hart's net worth is also impacted by his work writing and producing. His comedy tours, underwear line, streaming service, and numerous brand partnerships also significantly impact his financial success.
From starting out working for minimum wage as a shoe salesman to becoming the huge star he is today, read on to discover Hart's most successful projects.
Where Did Kevin Hart Grow Up and Go to College?
Kevin Darnell Hart, famously known as Kevin Hart, was born on July 6, 1979, in Philadelphia, Pennsylvania. Raised by his mother, Nancy, Hart and his older brother, Robert, had a humble upbringing. Nancy was a systems analyst at the University of Pennsylvania, specifically assigned to the Office of Student Registration and Financial Services.
Hart's attended George Washington High School, followed by a brief stint at the Community College of Philadelphia. However, he chose to drop out and move to New York City, leaving behind traditional education to pursue his dreams. Before embarking on his successful career in comedy and entertainment, Hart spent some time working as a shoe salesman in Boston.
How Much Has Kevin Hart Made from His Comedy Career?
Kevin Hart's beginnings in comedy were far from smooth sailing. As a matter of fact, he had experienced quite a bit of rejection and booing from audiences during his first few gigs. His first attempt to entertain an audience with his comedy was at Philadelphia's The Laff House. It did not go very well.
During that time, Hart was trying to copy the style of comedians that he looked up to. This included the likes of Chris Tucker, Dave Chappelle, Eddie Murphy, and Jerry Seinfeld. But he soon realized that imitation is not going to get him far. Despite the rocky start, Hart remained undeterred. He continued to refine his craft, eventually gaining recognition and winning several comedy competitions.
He eventually found himself on the comedic stage and that was when success started knocking at his door. While doing his own style, he went on Comedy Central and gave spectacular performances that were a hit with the audience, like I'm a Grown Little Man in 2009 and Seriously Funny in 2010. By this time, Kevin Hart's net worth from his comedy was estimated at $10.2 million, and growing very quickly.
How Much Has Kevin Hart Made from His Comedy Tours and Shows?
In 2011, Hart went on his comedy tour called Laugh at My Pain, which was a colossal success. Because of this tour, Kevin Hart's net worth increased by $15 million.
And it's all uphill from there. From 2015 to 2016, he performed at 168 shows worldwide for his What Now? tour. From 2017 to 2018, he had his Irresponsible Tour that included 119 shows.
How Much Does Kevin Hart Make Per Movie?
Although his first interest in show business was all about becoming a stand-up comedian, his series of successes quickly spiraled into a fast-growing acting career as well. Soon after his name started to become known in the comedy circle, that was also the time that Hart began getting movie roles.
From his first film project, the TV movie North Hollywood, to his first major movie, 2003's Scary Movie 3, Kevin Hart's fame would start a steady climb over the upcoming years with his like 2004's Soul Plane, 2005's The 40-Year Old Virgin, and 2010's Little Fockers.
Think Like A Man
In 2012, Kevin Hart's net worth got a $10.5 million boost (including bonuses) from his work in Think Like a Man. The movie, which also starred Chris Brown and Gabrielle Union, was another box office hit for Hart. With a budget of just $12 million, the Will Packer-produced film grossed over $96 million worldwide.
Ride Along Movies
In 2014, Hart starred opposite Ice Cube in the action-comedy Ride Along. Hart plays security guard Ben Barber in the film. His character has to prove himself to his girlfriend's brother, James (Ice Cube), who happens to be a top police officer. So to impress James, Ben joins him on an eventful 24-hour patrol of Atlanta.
With a budget of $25 million, the movie earned $154 million worldwide. The film's success was enough to green-light the 2016 sequel, which with a budget of $40 million, grossed $124 million worldwide.
Central Intelligence (2016)
In 2016, Hart starred as Calvin Joyner in Central Intelligence. With a budget of $50 million, the movie grossed $217 worldwide.
The movie was also a sizable boost to Kevin Hart's net worth, as he reportedly earned $87.5 million for the film, which was more than his co-star, Dwayne Johnson.
The Secret Life Of Pets
Hart has also done some voice work throughout his career. And in 2016, he provided the voice for Snowball in The Secret Life of Pets. With a budget of $75 million, the movie went on to gross $894 million. The film's success makes it Hart's second-highest grossing film.
Hart also returned for the 2019 sequel, which, with a bduget of $80 million, grossed $431 million worldwide.
Other voice acting roles include Hart's work as George Beard in the movie Captain Underpants: The First Epic Movie and 2022's DC League of Super Pets, where Hart lends his voice to the character Ace the Bat-Hound.
Jumanji: Welcome to the Jungle
A significant boost to Kevin Hart's net worth came with the Jumanji franchise. 2017 brought the reboot of 1995's Jumanji. And Hart took on the role of Franklin "Mouse" Finbar.
The movie, which also started Dwayne Johnson, Jack Black, and Karen Gillan, is Hart's highest-grossing film of his career. With a budget of $90 million, the movie grossed more than $963 million worldwide.
Forbes listed Hart as the 6th highest-paid celebrity in 2017, with him making $32.5 million for the year. It's reported that Kevin Hart's net worth got a $10 million bump from Jumanji: Welcome to the Jungle.
Jumanji: The Next Level
In 2019, Hart reprised the role of Mouse for Jumanji: The Next Level. With a budget of $125 million, the movie earned more than $800 million. The film's success makes it Hart's third-highest-grossing film.
On an episode of The Late Late Show with James Cordon, Hart revealed that he made between $25 to $30 million from the Jumanji sequel thanks to a backend deal he negotiated before signing on to the project.
What Is Kevin Hart's Recent Projects?
Since 2018, Hart has also started producing films, starting with Night School. Some of his other projects as a producer are Fatherhood and The One and Only Dick Gregory, both of which also starred him as an actor.
In 2022, Hart starred in Netflix's Me Time opposite Mark Wahlberg. Then in 2023, Hart starred opposite John Travolta in Die Hart, which premiered on Amazon. And, most recently, in August 2023, Hart starred in Back on the Strip, opposite Wesley Snipes.
What Are Kevin Hart's Other Business Ventures?
Also adding to Kevin Hart's net worth is a number of successful business ventures. Aside from being highly successful as an entertainer, Hart is also quite a talented businessman, entrepreneur, and angel investor.
He even has his own ventures company, Hartbeat Ventures, where he serves the founder and managing partner. He manages 19 investments and has had one exit. Additionally, he's partnered with a number of other investors on various endeavors. Those individuals include Mark Cuban, Sean Combs, and 194 other investors.
He also owns his own production company, Hartbeat Productions, which has produced a number of Hart's comedy specials. And most recently, the company has produced Me Time and The Man from Toronto for Netflix.
In 2017, Kevin Hart invested heavily in the renowned underwear brand Tommy John. He began collaborating with them and created the Rose Gold collection. Quite interestingly, the commercial to launch this new line, which is available at Macy's, also starred Kevin Hart as the model.
The following year, Hart started his own comedy streaming service that he called Laugh Out Loud. The network has been very successful. To date, it already boasts hundreds of millions of viewers from all over the world. The LOL network even has its own radio show on Sirius Satellite Radio.
Hart also has quite a few brand ambassadorships and endorsement deals with some biggest global brands in the world today, such as Wrangler, Samsung, Mountain Dew, and AT&T. He's also a brand Brand Ambassador for PokerStars, appearing in their ad campaigns and promotional content over the years.
One of Hart's most recent ventures is a fast-food restaurant, Hart House, that is 100% plant based. As of 2022, there are two locations of Hart House in California, with a third location in the works in Hollywood.
Kevin Hart's Real Estate Investments
Also contributing to Kevin Hart's net worth is an impressive real estate portfolio. Hart draws a parallel between real estate investing and the board game Monopoly, noting that it's all about quantity and then renting those properties out.
Whenever he gets a paycheck from a project, Hart immediately starts diving up the funds, setting aside money for the IRS first, then splitting the rest in half. Then that half gets split into half again, with one portion going to Hart and the other going to real estate investing. That way, he always has funds available when a deal comes around that interests him.
To highlight some of his personal properties, in 2021, Hart and his wife purchased a $7 million dollar for a 16.3 acre estate in Calabasas. The new property was neighboring to a home the couple already owned. In 2015, Hart spent $1.35 for the original lot and then spent nearly $2 million building a Spanish-style villa.
Kevin Hart's Personal Life
Kevin Hart's first marriage was to comedienne Torrei Hart, with whom he has two children. The marriage ended in 2010 after 7 years. Though, the two are still on good terms. He even gifted her a luxury car for her birthday in 2015.
In 2016, Hart married actress and model Eniko Parrish. They have a son, Kenzo Kash, and a daughter, Kaori Mai.
With his hard-earned money, Hart likes to purchase expensive cars. He is known to have purchased an $800,000 1970 Plymouth Barracuda for his 40 birthday, and a $300,000 Ferrari 488 the year before.
Additionally, he also has a collection of luxury watches, including a number of Rolexes ranging from $14,550 to more than $650,000. Hart's collection is worth upwards of $3 million.
And lastly, Hart is also a poker player. Having played in a number of major tournaments, Hart has recored earnings of $47,828.
What Is Kevin Hart's Net Worth Today?
As of 2023, Kevin Hart's net worth is estimated at $450 million. And while his work as an actor largely impacts that number, his work producing and writing, his comedy tours, his real estate portfolio, and other business ventures also considerably affect that number.
Fans of Hart can look forward to seeing him next in Lift and Borderlands. IMDB lists both projects as being in post-production with a 2024 release date. And Ride Along 3 is also in the early stages of development. The project will reunite Hart and Ice Cube.
Additionally, it is rumored he'll star in 2027's Monopoly. And if that wasn't enough, according to IMDB Pro, he has more than 25 additional projects in various stages of development.