Where is Emily Kinney (aka Beth Greene) from 'The Walking Dead' Now?
Since Beth Greene stopped appearing regularly on The Walking Dead, actress and musician Emily Kinney has certainly kept herself busy. Between appearing in other shows and focusing on her music career, things haven't slowed down since Beth Greene met her end in Season 5.
But what is the actress up to now? Has she kept in contact with any of her Walking Dead costars?
Let's take a look at what Emily Kinney has been up to since her road on The Walking Dead ended.
Emily Kinney Before The Walking Dead
Before Emily Kinney joined The Walking Dead, he was just a girl from Wayne, Nebraska with a dream. Kinney was born in 1985 and moved around a lot with her family. She attended NYU for a semester, and in 2006, she graduated from Nebraska Wesleyan University with a B.A. in theatre. Like many wanting to pursue theatre full time, she moved to New York to pursue a career in acting.
he worked in coffee shops to make ends meet, and began her professional acting career at 21 when she got cast as Anna in Spring Awakening.
Kinney got her first TV role as Emily on The Big C. She guest starred on Law & Order: Criminal Intent as Jeannie Richmonds. Her first film was Aunt Tigress where she played Gina. Following a string of cameos and smaller roles, Kinney got her big break as Beth Greene on The Walking Dead.
Beth Greene on The Walking Dead
During her time on the series The Walking Dead, Emily Kinney played Beth Greene, a Christian teen who served as a hopeful inspiration to her group. Soft-spoken and sweet, Beth was the daughter of Hershel Greene, a veterinarian, and farmer. She was a half-sister to the character Maggie.
When she loses her mom, Beth attempts to die by suicide but decides to live. She must overcome her sheltered origins in order to survive in The Walking Dead universe. She grows close with Norman Reedus's character, Daryl Dixon.
In Season 4, Officer Dawn Lerner captures her character. During the beginning of Season 5, the group works together to rescue her from her abduction, only for her to die.
However, Season 5 is not the last time we see Beth. After she dies, we see her in Tyreese's vision as he succumbs to a walker bite. She then returns in Season 9 for Andrew Lincoln's last episode as Rick falls into a lucid state.
In addition to acting on the show, she also collaborated with Lauren Cohan on a single in the Original Soundtrack called The Parting Glass.
Original Plans for Beth's Character
During Fandemic's "Fallen Heroes" panel, Emily Kinney revealed that the showrunner Scott Gimple had a unique look in mind for her character. Since she had been abducted for quite some time, Gimple wanted her to shave parts of her head. In the show, Beth had a big scar on her face, but Gimple wanted it to be on her head with parts of her hair missing. She told him that she was willing as long as her character stuck around for a bit.
Kinney said at the panel, "'Okay, sure, as the dedicated actress, I would love that. However, if you're thinking we might kill her off soon, please, no, because I would like to get another acting job after this.'" When she saw the script later, she noticed her head wasn't shaved but didn't immediately realize that meant her character would die. Unfortunately, Beth did not survive, but fortunately, Kinney kept her hair.
Norman Reedus and Emily Kinney's Friendship
When a show intertwines your story with another character's, you get the opportunity to connect with someone you may have never connected with. On the outside, the gruff-looking Norman Reedus and petite Emily Kenney don't look like they'd run in the same circles. But when The Walking Dead stuck the two characters together, the two actors became fast friends.
When Emily's character Beth reached her violent end, she had to distance herself from the cast to emotionally move on. It's difficult to see the cast and crew that have become your family continue making a show your character is no longer a part of.
However, Kinney and Reedus reconnected when Kinney turned to podcasting during the pandemic. She featured Reedus on an episode of her show My Caffeine Withdrawal. Kinney revealed that the reason she reached out was she sees hummingbirds as a sign that leads her where she's supposed to go. Reedus posted a video of a hummingbird to his Instagram and she knew it was time to reconnect.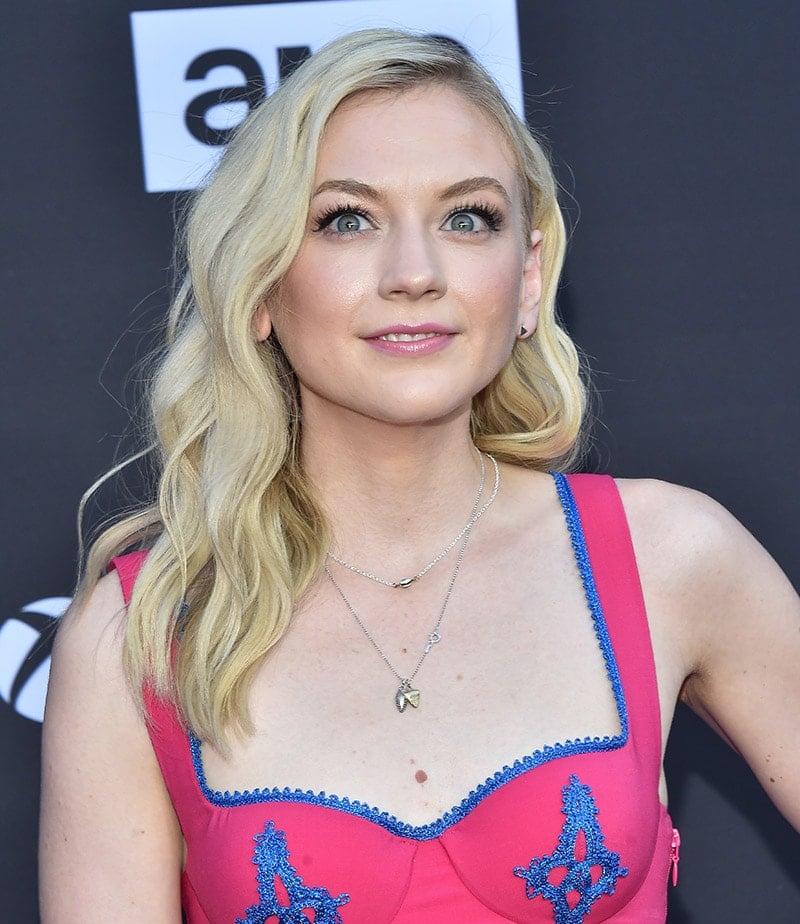 Emily Kinney's Work After The Walking Dead
Once Emily Kinney left The Walking Dead, her career was far from over. She went in the opposite direction from her goody-two-shoes Christian sweetheart and joined the third season of Masters of Sex as Nora. Nora volunteers herself as a sex surrogate for the Masters and Johnson's research.
he then joined the Arrowverse as Brie Larvan, also known as the Bug-Eyed Bandit on The Flash and Arrow TV shows. Brie used to work for Mercury Labs, directing a team developing robotic bees. She lost her job after coworkers reported her for experimenting on them for military use, rather than for their intended agricultural purposes. Brie becomes the Bug-Eyed Bandit when she decides to use them for revenge after getting fired.
In 2015, she took a break from TV and went on tour for the first time to promote her album The Is War. In 2018, she released her second album, Oh Jonathan.
he then appears in Messiah, a show about a man with a following who claims to be sent from God. A C.I.A. officer is committed to discover if he truly is the Messiah or just a con artist. Kinney appears in the recurring role of Staci Hardwick.
This year, Emily Kinney took part in The 24 Hour Musicals, an ambitious experience where creators "from Broadway, film and TV come together to write, compose, rehearse and perform four original musicals within a 24-hour time span at the Bourbon Room."
Emily Kinney's Upcoming Projects
Emily Kinney's most current project is a film called The Enormity of Life where she stars as Jess.
The film follows Casey, a man who hits rock bottom and plans to die by suicide. He receives a phone call about an unexpected inheritance and decides to put off his plans. Along the way, he meets "a quirky single mother" named Jess and her "precocious, yet troubled, young daughter…who happens to have an unhealthy obsession with mass shootings." Casey's mother with bipolar disorder goes missing, and he enlists the help of Jess, her daughter, and his sister Missy to go find her.
Are you an Emily Kinney fan? If so, sound off below and let us know what your favorite Emily series and movies are! Or better yet, your favorite Emily Kinney song!
Featured Photo Credit: Kathy Hutchins