George R.R. Martin Got COVID-19 at San Diego Comic-Con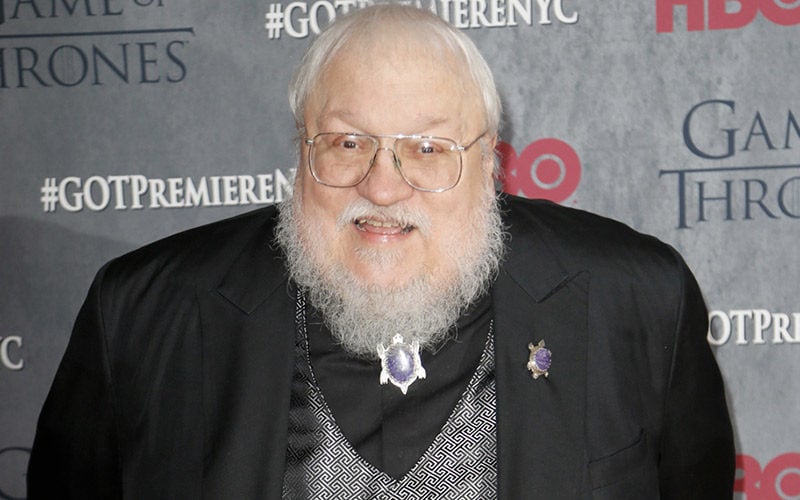 For most convention-goers, you cross your fingers you don't get the infamous con crud. But in 2022, that concern has been replaced by COVID. And George R.R. Martin is the latest to have tested positive.
The Game of Thrones writer was forced to miss the House of the Dragon premiere last night after testing positive for COVID-19. And it was HBO and HBO MAX's chief content officer Casey Bloys who informed attendees of the news.
"I was going to start today by introducing George R.R. Martin and tell you how great it is to have George on the journey with us." Bloys states.
"Unfortunately, George got COVID at Comic-Con, so he's not here. I think he's feeling fine, so nothing to worry about." Bloys continues.
George R.R. Martin had posted a video to social media yesterday confirming the news, calling it an unfortunate announcement.
"Yesterday, when I got up in the morning, I tested positive for COVID," Martin states. "A little light when on, said positive. I didn't believe it at first because I didn't feel bad. We did it again. It said positive. We did it a third time with a different test. It said positive."
"So I guess I'm positive," Martin sighs. "Which means I have to quarantine."
Martin goes on to list out some events he's had to cancel and others he won't be able to attend. And he assures fans that his symptoms are minor, including some sniffles and coughs every once in awhile.
George R.R. Martin's COVID Video
It's clear from Martin's mannerisms in the recording that he really wanted to attend the GOT spin-off series premiere last night in Los Angeles. But he thanks fans for their concern and notes he'll be back as soon as he can.
House of the Dragon
In the meantime, the House of the Dragon 10-episode Season 1 is set to premiere on August 21 and is set a few hundred years before the events depicted in Game of Thrones.
Fans of Martin will be aware that Viserys ruled Westeros around 100 years after Aegon's Conquest. His two children, Rhaenys and Aegon II, went on to fight a civil war over the throne that was famously known as the Dance of Dragons.
House of the Dragon is based on Martin's companion book Fire Blood and HBO ordered it straight-to-series.
'Game of Thrones' regular Miguel Sapochnik directed the pilot and additional episodes and acted as showrunner alongside Ryan Condal, who
created the upcoming show with Martin.
The network is also working on a trio of prequels which will all be set before the events depicted in the fantasy drama series – which ended in
2019 after eight seasons – and will tell the stories of characters who played vital roles in the history of the world explored by the novels. Two of the projects have the working titles '10,000 Ships' and 'Flea Bottom'.
The third spin-off, 9 Voyages, is being developed by Rome co-creator, Bruno Heller, and will focus on nautical adventurer Lord Corlys Velaryon
aka The Sea Snake.
We'll keep you posted on George R.R. Martin as well as the upcoming series in the GOT-universe. Are you excited for the spinoffs? Or for the last Game of Thrones book (which we know is supposed to end differently than the series)? Sound off in our comment section below and let us know your thoughts!