Carrie Underwood Net Worth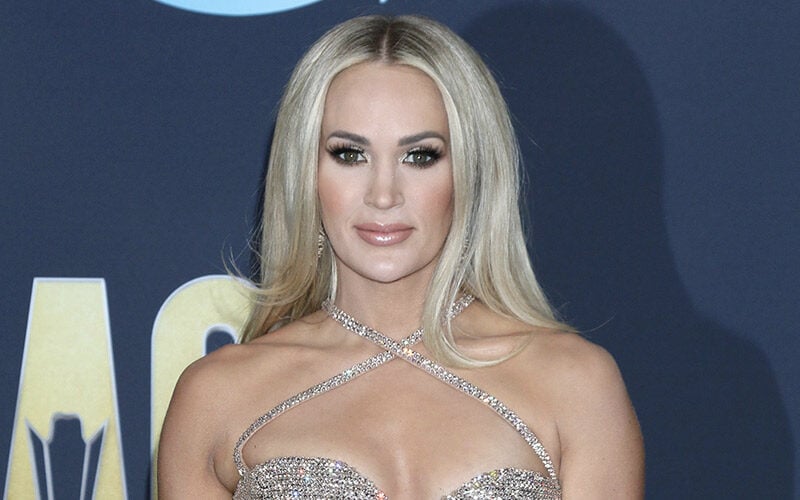 Carrie Underwood is an American singer who rose to fame on the hit reality series American Idol. When she won the fourth season of American Idol in 2005, she instantly became a household name. And since then, she's been one of the most successful country music singers of the last decade and a half
Over the years, she's released nine studio albums, one greatest hits album, and 29 singles. And adding to the success of those numbers are her concert tours, merchandise sales, and more. So it's not surprising that Carrie Underwood's net worth has been steadily growing since the early 2000s. Continue on to discover Underwood's most successful ventures, songs, and endorsement deals and follow her music career from her American Idol debut until now.
Early Life
Carrie Marie Underwood was born in March 10, 1983, in Muskogee, Oklahoma. Her mother, Carole, was an elementary school teacher. And her father, Steve, was a paper mill worker. She grew up on the family farm in rural Checotah, along with her older sisters Shanna and Stephanie.
When Underwood was five years old, she was diagnosed with ADHD and had to take medication that she still takes to this day. As a child, Underwood used to sing at their local church, the First Free Will Baptist Church.
After some encouragement from local supporters, Underwood's family took her to Nashville to try getting a record contract. Capitol Records showed interest. However, no deal was signed.
After graduating from high school, Underwood attended Northeastern State University. She. would compete for Miss Northeastern State University in 2003 and would come in second for the title. Underwood earned her bachelor's degree in mass communication in 2006, with a major in journalism. And she graduated magna cum laude.
American Idol
In 2004, a 21-year-old Underwood successfully auditioned for the fourth season of American Idol. She was the grand winner for the season.
According to reports, Carrie Underwood's net worth is the highest among all musicians that have competed in the popular singing competition. She is closely followed by fellow AI alumnae Kelly Clarkson and Jenifer Hudson.
Albums and Singles
Underwood released her debut album, Some Hearts, in 2005. It topped the US Country Chart and placed second on the Billboard 200. It also went on to become 8x platinum certified in the United States. Some Hearts sold 9 million copies and generated over $10 million of revenue for Underwood in 2005.
Her following albums also did very well in sales and received critical acclaim. Carnival Ride earned $3.5 million in 2007 and Play On made $2.4 million in 2009. The Play On concert tour earned $18.4 million on the first leg alone. By the end of the concert series, ticket sales were up to $66 million and Carrie Underwood's net worth was skyrocketing.
All Underwood's albums so far, including the subsequent albums Blown Away, Storyteller and Cry Pretty were all chart toppers in the US and Canada. In addition to the massive success of her albums, Underwood also had plenty of singles that topped the charts. Some of the more popular ones are Inside Your Heaven, Jesus Take the Wheel, So Small, Cowboy Casanova, Something in the Water and Church Bells.
Awards and Recognition
Underwood started collecting awards almost as soon as she released her first album. Inside Your Heaven, her first single fresh after Idol, quickly topped the US Billboard Hot 100. It also won awards for Top-Selling Hot 100 Song of the Year and Top-Selling Country Single of the Year. Not surprisingly, Underwood also won the Country Single Sales Artist of the Year.
In 2006, her next single Jesus Take the Wheel earned her the Single of the Year and Top New Female Vocalist at the Academy of Country Music Awards. The song also won her the Female Video of the Year and Breakthrough Video of the Year at the CMT Awards.
As well, the American Music Awards gave her the Breakthrough Artist of the Year Award. The song would later go on to win her Grammy Awards for Best Female Country Vocal Performance and Best Country Song.
In 2008, Underwood became the youngest inductee into the Grand Ole Opry. The following year, she was inducted into the Oklahoma Music Hall of Fame.
In total, she has won seven Grammy Awards, 13 American Music Awards, 14 Academy of Country Music Awards, 11 Billboard Music Awards, and countless nominations. She has also been nominated for a Golden Globe for Best Original Song.
Endorsement Deals
On top of her musical achievements, Carrie Underwood's net worth has also been massively impacted by various brand endorsement deals. Over the years, she has signed lucrative contracts with some of the biggest global brands, including Nintendo, Target, Olay, Skechers, Almay, Hershey's and Dick's Sporting Goods. Nicole by OPI had also enlisted Underwood for the launch of 14 nail polishes.
In 2015, Underwood took her partnership with Dick's Sporting Goods to a higher level. With their involvement, she created a new brand of fitness clothing that she named Calia by Carrie Underwood. The collection not only added to Carrie Underwood's net worth, but it also gave her a profitable outlet for her talents as a fashion designer.
Underwood has also been singing the NBC Sunday Night Football opening theme song since 2013.
Personal Life
Underwood is married to NHL player Mike Fisher. They started dating in 2008, were engaged by the end of the following year and married in July 2010. Their eldest son, Isaiah Michael, was born in 2015 and their youngest, Jacob Bryan, was born in 2019. In the gap between the births of their children, Underwood had three miscarriages.
Growing up on her parent's farm, Underwood developed a strong love for farm animals. She couldn't fathom the idea of eating any of their animals so, at age 13, she became a vegan. In 2005 and 2007, she was named by PETA as the World's Sexiest Vegetarian.
Carrie Underwood's Net Worth Today
As of 2022, Carrie Underwood's net worth is estimated at around $140 million. With 66 million records worldwide sold, 28 #1 singles recorded, and seven albums certified Platinum or Multi-Platinum by the RIAA, there's no slowing Underwood down. In fact, she's the highest-certified female country music singer of all time for digital singles.
What's next for Underwood? She has a tour, The Denim & Rhinestones Tour, ticking off in February 2023, with 26 dates currently listed on her website. Furthermore, the singer is also donating $1 from every ticket sold to the Tunnel to Towers Foundation.