Jerry Seinfeld's Net Worth: How the 'Seinfeld' Star Became One of the Richest Comedians in the World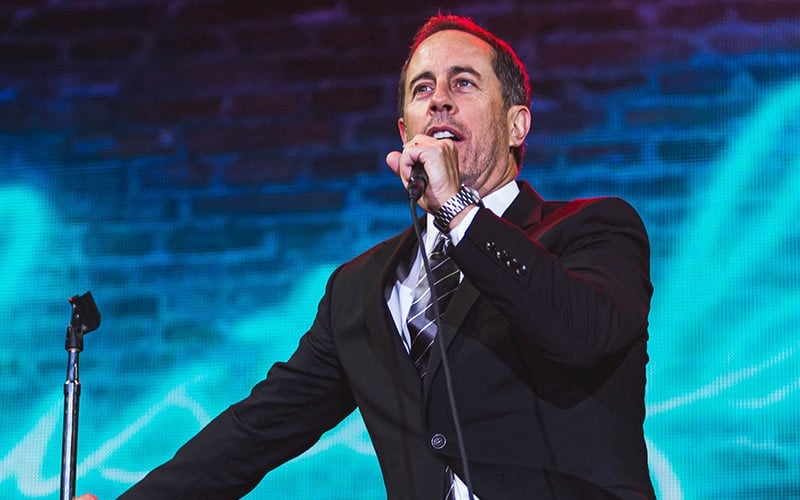 Jerry Seinfeld is best known for his work on Seinfeld, one of the most successful and profitable TV series of all time. He's one of the biggest names in comedy and television history.
Throughout his career, Jerry Seinfeld's net worth has steadily grown. But his financial success hasn't just come from his work on screen. From acting to producing to his stand-up – not to mention a rather impressive car collection – Seinfeld is one of the richest comedians in the world.
Read on to find out how he earned his largest salaries, what he's spent his money on, and trace his career from stand-up comic to now.
Early Life
Jerome Allen Seinfeld was born in Brooklyn, New York City on April 29, 1954. His mother, Betty Hosni, was a Syrian Jew. His father, Kalman Seinfeld, was Hungarian-Jewish and worked as a sign painter. Seinfeld also has one older sister named Carolyn.
Seinfeld was raised in the hamlet of Massapequa in New York and graduated from Massapequa High School. He started his college degree at the State University of New York at Oswego. But after completing his second year, he transferred to Queens College, City University of New York. This was where he completed his degree in communications and theater, graduating in 1976.
Stand Up Comedy
While at university, Seinfeld participated in college productions that spurred his interest in stand-up comedy. He joined open mic nights and performed his routine regularly. In fact, he spent almost 15 years as a well-known stand-up comedian before he appeared on television. He went on tours and was earning a decent amount of money during this from his comedy gigs.
In 1981, he was featured as a guest on The Tonight Show Starring Johnny Carson. The audience and Carson loved him and he was invited for several subsequent episodes. Other talk shows also took notice and invited him as well, including Late Night with David Letterman. In 1987, HBO aired the first of Seinfeld's many comedy specials, entitled Stand-Up Confidential.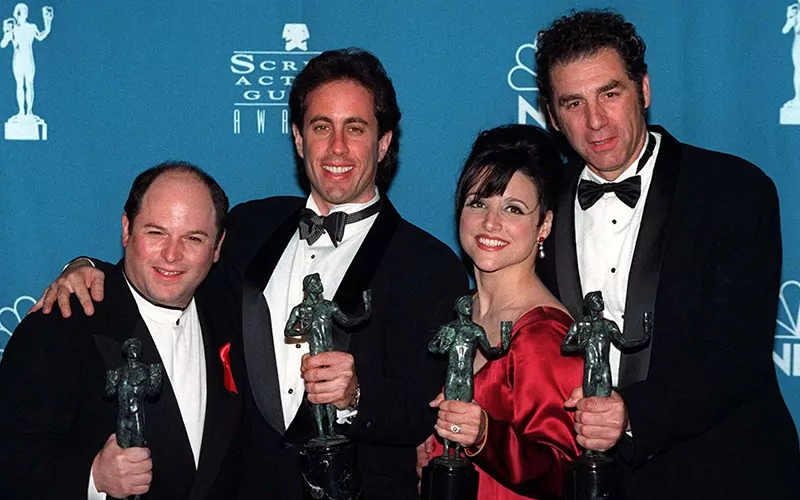 Seinfeld
In 1989, the show that would eventually be known as Seinfeld was born. It was initially called The Seinfeld Chronicles and was a collaboration between Seinfeld and Larry David, a Saturday Night Live writer. The resulting show ran for 9 seasons, with a total of 180 episodes. To this day, Seinfeld is considered by many to be the best show in the history of TV syndication.
For the first season of the show, which only included five episodes, Seinfeld was paid $20,000 per episode. For the succeeding two seasons, he got double the amount per season, or a total of $3.5 million. Then for seasons 4 to 6, Seinfeld's salary was up to $100,000 per episode. Needless to say, Jerry Seinfeld's net worth was increasing significantly at this point!
During the 7th and 8th seasons, he was getting $500,000 per episode. And for the 9th season, Seinfeld became the first TV celebrity ever to be paid a $1 million per episode salary.
All in all, Seinfeld's salary earnings from the show is $60 million, which is equivalent to $100 million today if you adjust for inflation. NBC offered to pay Seinfeld $5 million per episode for the 10th season of the show. However, the deal did not push through.
Seinfeld Syndication
While his salary was massive at this point, that's not the sole cause of the rapid growth of Jerry Seinfeld's net worth. That credit actually belongs to his syndication earnings. Initially, Seinfeld and Larry David owned 7.5% of the backend equity points for the show. This doubled after new negotiations as the show became more popular.
When the show was syndicated in 1998, Seinfeld came out with earnings of $225 million. As of today, these earnings have increased to at least $800 million, if you add the merchandise and DVD revenues.
In 2015, Hulu bought Seinfeld for $180 million, earning $27 million each for Jerry and Larry. In 2019, Netflix bought the show for $500 million, easily adding $75 million to Jerry Seinfeld's net worth.
Acting Career
Seinfeld became quite popular to the younger audiences when he voiced the character of Barry B. Benson in the Bee Movie in 2007. Seinfeld was also one of the writers and producers of the movie. The film earned nominations for Animated Film at the Producers Guild of America Awards and for Favorite Animated Voice at the Kids Choice Awards.
Before doing Bee Movie, Seinfeld had appeared in cameo roles in the comedy films Eddie, Good Money and Pros & Cons. He also appears in several documentary films such as Quality Balls: The David Steinberg Story, Tom's Restaurant, Dying Laughing, If You're Not in the Obit, Eat Breakfast.
Personal Life
Jerry Seinfeld has been married to author and philanthropist Jessica Sklar since 1999. Together, they have three kids – daughter Sascha (born 1999 and pictured above), and sons Julian Kal (born 2003) and Shepherd Kellen (born 2005).
Prior to getting married, Seinfeld had dated fashion designer Shoshanna Lonstein. When their relationship started, Seinfeld was 37 and Lonstein was only 17 years old (and still attending high school). While they said their relationship was only a friendship until Lonstein turned 18, they did date for approximately 4 years, from 1993 to 1997.
Car Collection
Seinfeld owns a massive collection of more than 150 cars, including 45 Porsches. He used to house his collection at the Santa Monica airport back when he was doing Seinfeld. He eventually purchased a Manhattan property on the Upper West Side, for about $1.4 million, to build a garage for all his cars.
Real Estate
Seinfeld and his wife Jessica have acquired a number of properties across the country over the years. One of their biggest purchases is a $32 million oceanfront estate at the East Hampton. The property includes a private baseball diamond and a garage that houses 22 cars.
The couple also owns a $4 million Manhattan townhouse that serves as their primary residence in New York. They stay on the 19th floor that overlooks Central Park. Additionally, they also have two adjacent estates in Telluride, Colorado that spans 26 acres and 17 acres. Both properties were listed for sale in 2021, one of which was listed for $14.95 million.
Jerry Seinfeld's Net Worth Today
Jerry Seinfeld's net worth today is estimated at about $950 million. A huge reason for his massive net worth is Netflix's acquisition of the show Seinfeld. All his revenue channels considered, Seinfeld makes upward of $50 million annually.
Next up for Seinfeld is Unfrosted, a Netflix project he is starring in as well as directing and producing. The film will tell the story of business rivals Kellogg's and Post as they compete to create a cake (Poptart) that would change breakfast forever. The project has an impressive cast attached to it, including James Marsden, Melissa McCarthy, Amy Schumer, Hugh Grant, and Christian Slater – just to name a few.
Unfrosted, which is now in post-production, filmed entirely in Los Angeles, California. This was revealed by the tax credits that were announced for the project. The movie is claiming $14.2 million in tax credits, which means that the project is expected to spend $69.4 million in qualified spending.