Sandra Bullock's Net Worth: How the 'Speed' Actress Became One of the Highest Paid Actresses in the World
Sandra Bullock is best known for her roles in hit movies like Speed, Miss Congeniality, and Gravity. She started her acting career in Hollywood in the late 1980s. And since that time she's won the hearts of fans – and no shortage of awards, starring in more than in more than 55 films and television series.
In 2014, she was the world's highest-paid actress, according to Forbes. However, it's not just her success in front of the camera that's responsible for her financial success. Sandra Bullock's net worth is also impacted by her work as a producer, and brand ambassador, her real estate investments, and her other business ventures. Read on to find out how much she earned from her biggest movies and trace her career from its start until now. 
Early Life
Sandra Bullock was born in Washington, DC. She was raised in Nuremberg, Germany, and in Vienna and Salzburg, Austria. Her father was in charge of the Army's Military Postal Service in Europe. And later he would take a job back stateside working with the Army Materiel Command, before later becoming a contractor with the Pentagon. Bullock's mother was an opera singer and voice teacher and also had an additional daughter, Bullock's sister, Gesine Bullock-Prado.
While attending East Carolina University, Bullock performed in various theater productions, including Three Sisters and Peter Pan. She received her Bachelor of Fine Arts in Drama in 1987.
Moving to New York City, Bullock found herself appearing in a series of minor roles in independent films and a lead role in NBC's TV version of Working Girl. She maintained a steady roster of various roles in 1993.
Demolition Man
Eventually, she landed her first breakthrough in the 1993's Demolition Man. Bullock starred in the film alongside Sylvester Stallone and Wesley Snipes. Unfortunately, the movie wasn't a box office success. With a budget of $57 million, the movie only made $58 million worldwide.
Speed
After her big break, her next films would become cult classics to her fans. One of those films was her role as Annie Porter in the 1994 blockbuster Speed, where she starred alongside Keanu Reeves.
While she didn't receive a big paycheck from the film, as she was reportedly only paid $600k for the role, the film was a huge box office success. With a budget of only $30 million, the movie went on to gross over $350 million worldwide.
Speed 2: Cruise Control
Sandra Bullock's net worth got a big boost with the film's 1997 sequel, Speed 2: Cruise Control. This time around she was reportedly paid $11 million for her role.
While the anticipation for the film was high, it wasn't a huge box office success. The film only grossed $164 million worldwide against its budget of $160 million.
While You Were Sleeping
Between the two Speed films, Bullock starred in the much-adored While You Were Sleeping alongside Bill Pullman and Peter Gallagher. The 1995 rom-com was a huge hit, earning more than $182 million worldwide against a budget of $17 million.
Bullock was paid $1.2 million for her role as Lucy.
The Net
In 1995, Bullock starred in the crime thriller The Net alongside Jeremy Northam and Dennis Miller. On a budget of $22 million, the film grossed over $110 million.
The Net wasn't a huge payday for Bullock, either. She had likely signed onto the film before the success of 1994's Speed became apparent, as she was only paid $250k for her as Angela Bennett.
A Time To Kill
In 1996, Bullock received the Best Breakthrough nomination during the MTV Movie Awards for A Time to Kill. Bullock starred opposite Matthew McConaughey and Samuel L. Jackson in the Joel Schumacher-directed film. And with a budget of $40 million, the film grossed more than $152 million worldwide.
Bullock's net worth got a reported boost of $6 million from the film.
Hope Floats
Bullock starred in director Forest Whitaker's Hope Floats in 1998. She took on the lead role opposite Harry Connick Jr. With a budget of $30 million, including an $11 million salary for Bullock, the film was a box office success, grossing more than $60 million domestically and a total of $81 million worldwide.
With over 20 films that debuted in the 1990s, Sandra Bullock's net worth got a solid kickstart at the beginning of her career. And while the paychecks for earlier projects, such as Speed and The Net, are low in comparison to what she would make in the 2010s, Bullock had established herself as one of Hollywood's most sought after actresses.
28 Days
Bullock starred alongside Viggo Mortensen in 2000's 28 Days. The film followed newspaper columnist Gwen Cummings, played by Bullock, who was forced to enter a drug and alcohol rehab after ruining her sister's wedding. With a budget of $43 million, the comedy-drama made just over $62 million globally.
The project earned Bullock another sizable paycheck, this time for a reported $12.5 million.
Miss Congeniality
One of Bullock's most memorable roles also came in 2000, the action comedy Miss Congeniality. In the film, Bullock plays F.B.I. Agent Gracie Hart who has to go undercover in the Miss United States beauty pageant in order to prevent a group from bombing the event.
The movie was a massive box office hit, grossing over $212 million against a budget of $45 million. It was also a profitable project for Bullock, as she was reportedly paid $13 million for the film. At the time, this was the highest paycheck of her career.
Murder By Numbers
In 2002, Sandra Bullock's net worth got another sizable bump, this time with a paycheck of $15 million for Murder By Numbers. The mystery thriller, which also starred Ryan Gosling, wasn't a huge success at the box office. The film only grossed $56 million globally against its production budget of $50 million.
Though, the film did ignite a new romance. Bullock, who was 37 at time, and co-star Gosling, who was 21 at the time, dated from 2001 to 2003.
Miss Congeniality 2: Armed & Fabulous
With the success of 2000's Miss Congeniality, it wasn't surprising that work on a sequel was quickly given a greenlight. And in 2005, the film's sequel, Miss Congeniality 2: Armed & Fabulous, hit theaters.
While not as big of a hit as the first film, the sequel was still a success, grossing $101 million worldwide against a budget of $45 million. Bullock reportedly made yet another record-breaking paycheck, her highest for a film ever at the time, $17.5 million.
The Blind Side
The successes kept rolling in for Bullock, and the next major success would be 2009's The Blind Side. The movie wasn't just a huge box office success, it also won Bullock the Best Actress Oscar award in 2010.
The movie told the story of Michael Oher, played by Quinton Aaron, who was a homeless and traumatized boy that became an All-American football player and first round NFL draft pick. Bullock played Leigh Anne Tuohy in the film, the woman whose family takes in Oher to help him reach his greatness.
With a production budget of $29 million, the film grossed more than $309 million globally. Bullock took a bit of a pay-cut upfront to be in the film, agreeing to a $5 million salary. However, that included a cut of the backend profits plus a share of the DVD and pay-TV revenue.
The Heat
In 2013, Bullock starred in the Paul Feig-directed action comedy The Heat. Starring opposite Melissa McCarthy, the film was yet another success. Grossing over $229 million globally against a budget of $43 million.
It was another big pay day for Bullock as well, as she was paid $10 million for her role as Ashburn.
Gravity
Grossing even more at the box office was 2013's Gravity, which made $748 million worldwide. (This includes profits from the 2020 re-release of the film in 56 markets.) The sci-fi thriller premiered during the 70th Venice Film Festival, and there was no shortage of love for the film from critics.
According to IMDB, Sandra Bullock's net worth got a reported whopping $70 million boost from the film, which included a salary of $20 million plus a percentage of backend profits. Her co-star in the film, George Clooney, also had a similar pay deal, with a $20 million salary plus a portion of backend profits.
As of 2023, Gravity is Bullock's second highest grossing film.
Minions
In 2015, Bullock would lend her voice to the character of Scarlet Overkill, the villainess in the animated movie Minions. As of 2023, the movie is Bullock's highest-grossing project, earning nearly $1.16 billion worldwide against a budget of $74 million.
It's reported that Bullock received another $10 million paycheck for work on the film.
Bird Box
In 2018, Bullock starred in the sci-fi mystery Bird Box. The Netflix project was based on the novel by Josh Malerman. It told the story of the aftermath of a horrific unseen presence that has driven most of the world to commit suicide. Bullock plays Malorie, a mother who is desperately trying to get her two children to safety.
IMDB reports that Bullock received a $10 million salary for her work in the film.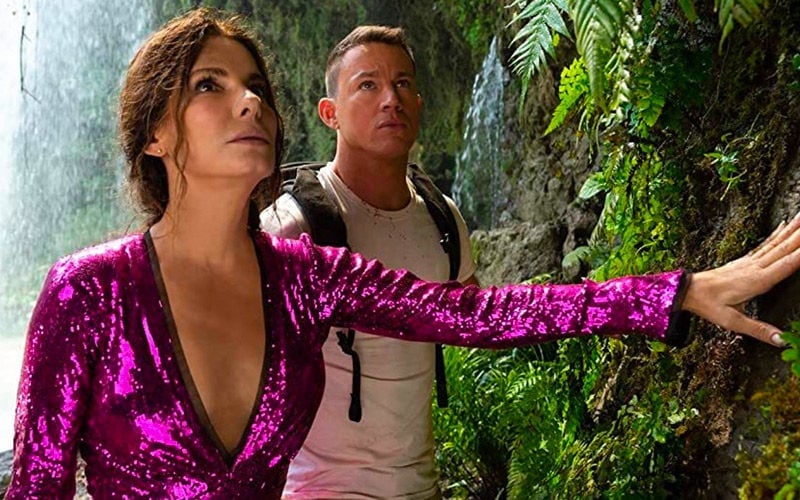 The Lost City
In the spring of 2022, The Lost City was released. The action-adventure saw Bullock starring opposite Channing Tatum, Brad Pitt, and Daniel Radcliffe. With a budget of $68 million (including a $20 million salary for Bullock), the movie grossed over $190 million globally.
Bullet Train
Also in 2022, Bullock starred in Bullet Train. The action comedy, which also starred Brad Pitt and Aaron Taylor-Johnson, was based on the book of the same name by Kôtarô Isaka.
With a production budget of $85.9 million, the movie grossed just shy of $240 million worldwide.
Producing
In 1995, Bullock ventured into producing content and launched her production company, Fortis Films. She has both starred in and produced a number of films, including Practical Magic in 1998, Miss Congeniality 2: Armed and Fabulous in 2005, and All About Steve in 2009.
Fortis Films' most recent release is 2022's The Lost City, also starring Sandra Bullock alongside Channing Tatum and Daniel Radcliffe.
Additionally, Bullock became an executive producer on ABC's sitcom George Lopez which aired from 2002 to 2007, where she also make a number of guest star appearances.
Business Ventures
Sandra Bullock's net worth is diversified between her producing and acting work. However, Bullock also has business outside Hollywood as well. She's owned a few restaurants in Austin, Texas.
In 2006, she launched the Bess Bistro in the lone state. However, it eventually closed down its operations in September 2016. She then opened Walton's Fancy and Staple in 2009. The restaurant specializes in gourmet sandwiches, fresh-baked bread, and sumptuous sweet treats.
Bullock's restaurant ventures serve as her outlet to express herself outside of the entertainment world. Adding that actors are basically "a tiny piece in this big corporate mechanism that needs chemistry and divine intervention." In contrast, she considers the restaurants as really hers.
Even if her restaurants aren't as lucrative as acting, she still considers the two essential parts of her career. She revealed in Austin American Statesman in 2009 that her acting gigs are to fund what she does in Austin.
Real Estate
Over the years, Sandra Bullock has also invested in various properties, which contributed to her net worth. According to Architectural Digest, the award-winning actress has approximately seventeen homes across the United States.
She started venturing into real estate properties in 2001 with a three-bedroom villa in Hollywood Hills worth $1.49 million. She leased for about $15,000 to $18,500 a month before eventually selling the villa for $2.95 million.
She would then purchase a Victorian mansion worth $2.24 million in New Orleans. Also, she has a $16.19 million house in Beverly Hills and another $8.5 million home in Malibu. She eventually added another $2.7 million home, also in Beverly Hills.
Additionally, Bullock has several homes she leases out, including her two condo blocks.
With her real estate portfolio, it is expected that Bullock owns nearly $80 million worth of real estate properties alone.
Personal Life
Sandra Bullock has two adopted children, Louis, 13, and Laila, 10, who she raised with her long-time partner, Bryan Randall. The couple first met in 2015, when he photographed Louis' birthday.
In August 2023, Randall passed away after a three-year-long battle with amyotrophic lateral sclerosis (ALS – also known as Lou Gehrig's disease).
Prior to her romance with Randall, Bullock married motorcycle builder Jesse James in 2005. The marriage had no shortage of drama with cheating scandals involving James. In 2010, Bullock filed for divorce.
Earlier in her career, she was also romantically involved with fellow actor Tate Donovan, Matthew McConaughey, Ryan Gosling, and football player Troy Aikman.
Sandra Bullock Net Worth Today
As of 2023, Sandra Bullock's net worth is estimated at $250 million. While that number is largely impacted by her acting career, it's also affected by her investments and business ventures.
Bullock has said that she's looking forward to taking some breaks. During a 2022 interview with The Hollywood Reporter, she explained that she wants to have less scheduled and spend more time with her family. She added that she's "so burned out" and generally not capable of making healthy and wise decisions with her jam-packed schedule.
That being said, Bullock currently has eight projects in development, most of which are still in the early stages of development. Several projects will have her in the role of executive producer, while others will have her back in front of the camera, including the crime thriller Vigilance and Let Her Speak which will have her in the role of Wendy Davis.