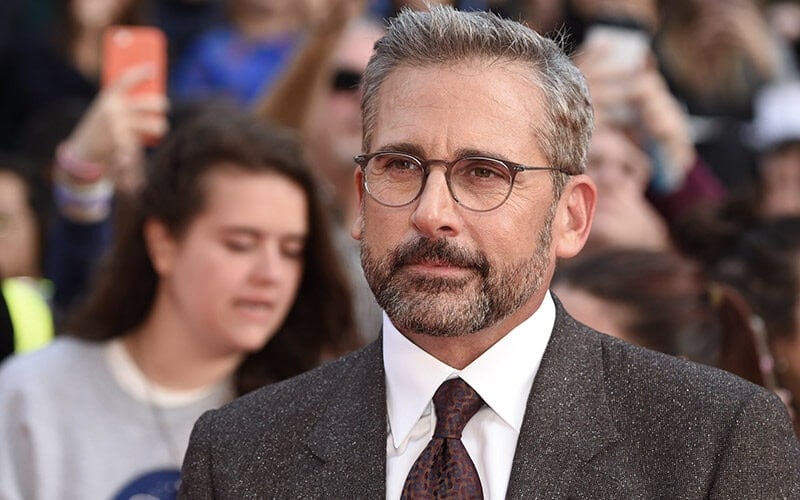 Steve Carell is an American-born comedian and actor best known for his role in NBC's The Office as Michael Scott. Having started in Hollywood in the early 1990s, Carell has more than 80 acting credits to his name.
But it's not just his big and small screen work that has contributed to his success. Steve Carell's net worth has been impacted by his work as a producer, as well as real estate investments and other ventures. Read on to discover Carell's most successful endeavors and trace his career from its beginnings until now.
Early life
Steven John Carell was born in Concord, Massachusetts, on August 16, 1962. He is the youngest son of Edwin Carell, an engineer, and Harriet Theresa. His father had Italian and German roots, while his mom was of Polish descent.
Carell enrolled at Nashoba Brooks School and The Fenn School during his early years. The Carell family occasionally performed, with Steve playing the fife. And later, he would also experienced join a reenactment group portraying the 10th (North Lincoln) Regiment of Foot.
Carell attended Middlesex School for his high school education, where he played lacrosse and ice hockey. In fact, for a period of time, Carell actually wanted to play in the NHL.
When it came time for college, Carell pursued a history degree at Denison University in Granville, Ohio, where he graduated in 1984. While at Denison, he joined Burpee's Seedy Theatrical Company, an improvisational comedy troupe. "Sapphire Steve Carell" became his DJ name while working at the college radio station WDUB.
Acting Career
Before becoming an actor, Carell worked briefly as a USPS mail carrier for four months in 1985. He's described it as one of the hardest jobs of his life. As he would hand reply to notes that children had written to Santa. And it would take so long to do that he would be delivering mail until 10pm at night.
When it came to showbiz, one of Carell's earliest gigs was a TV commercial for Brown's Chicken in 1989. Then, two short years later, Carell would make his film debut in Curly Sue in 1991, portraying the minor role, Tesio.
He had a handful of appearances on various TV shows over the next few years. And in 1996, he scored a minor role in The Dana Carvey Show, a comedy that aired on ABC. Carell voiced Gary of the Ambiguously Gay Duo for the series. The other half of the duo, Ace, was voiced by Stephen Colbert.
Saturday Night Live and The Daily Show
Although the series only lasted seven episodes, the show kickstarted the actor's rise to fame. Saturday Night Live later picked up the segment, and Carell and Colbert continued to voice the character Gary and Ace.
From there, Carell was cast in several other shows, including Over the Top (1997) and Watching Ellie (2002-2003). And his early television breakout role was right around the corner with his The Daily Show persona from 1999 to 2005. He portrayed a clueless news correspondent, which was always a fan favorite.
And a year before everything changed, he starred in a 2004 comedy film with Will Ferrell titled Anchorman: The Legend of Ron Burgundy. The Adam McKay-directed film grossed $90 million worldwide on its $26 million budget.
The Office and 40-Year-Old Virgin
In 2005, everything changed for Steve Carell. First, the widely popular NBC Mockumentary The Office debuted. The series was a US remake of the hit British show with the same name.
In the series, Carell plays Michael Scott, the regional manager of Dunder Mifflin. The show follows the everyday lives of the staff in the mid-sized paper company.
In 2006, The Office got renewed for a second season despite the first one gaining mediocre reviews. The renewal was partly due to the success of Carell's 2005 film The 40-Year-Old Virgin. Carell wrote the film along with director Judd Apatow. And the wildly successful film went on to gross $177 million worldwide on its $26 million budget. It's estimated that Carell earned $500,000 for appearing in the film.
The renewal decision was a smart choice by studio bosses, as the series became a huge hit, with Carell winning a Television Critics Association Award and Golden Globe Award.
Additionally, the show also scored six nominations for the Primetime Emmy Awards. Carell, a member of the Writers Guild of America (WGA), wrote two episodes of the series, Survivor Man and Casino Night, the latter winning a WGA award.
It's reported that Carell received $87,000 for the first two seasons of The Office. Then, in Season 3, that changed to $175,000, and eventually up to $300,000 per episode.
Carell would also receive additional compensation for his work as a director and producer on the series and his writing work for the episodes he penned. Not to mention, with The Office in syndication, the entire cast receives residuals.
Leaving The Office
In 2010, Carell announced his departure from the show due to his contract expiring. He had also expressed his desire to focus on the big screen and wanting to make more movies.
Carell's last episode, Goodbye, Michael, aired in April 2011. Though, he did return briefly to reprise his role in the series finale.
Film career
Carell belongs to Hollywood's "Frat Pack" composed of personalities appearing in films together. The "Frat Pack" was a name given to a group of comedy actors who have appeared in the highest-grossing comedy films since the mid-90s. Among the group are other famous actors, including Ben Stiller, Will Ferrell, Jack Black, and more.
In 2007, during a production hiatus from The Office, Carell starred in Evan Almighty, the sequel to 2003's Bruce Almighty. The Jim-Carrey-led Bruce Almighty, in which Carell had also starred, had been massively successful at the box office, earning $484 million on its $81 million budget. To date, it's still Carell's sixth most successful film of all time. However, Evan Almighty didn't perform well, only grossing $174 million on its $175 million budget.
Also, in 2007, Carell starred in the film Dan in Real Life alongside Dane Cook and Juliette Binoche. The film earned $68 million worldwide on a $25 million budget.
In 2008, Carell starred in the film Get Smart as Maxwell Smart. The movie adaptation of the same-named TV series achieved a whopping $230 million in gross sales worldwide on its $80 budget.
Next came Date Night with Tina Fey in 2010. And the same year, Carell also appeared in Dinner for Schmucks alongside Paul Rudd.
2010 also brought the film franchise that would have the largest impact on Steve Carell's net worth. Carell returned to voice acting in the popular animated film Despicable Me.
Despicable Me
Carell voiced Gru, a supervillain-turned-dad to three orphaned daughters. Audiences fell in love with the characters and the film. And it went on to gross $543 million worldwide on a budget of $69 million. As of 2022, it's still Carell's fifth most successful film of all time.
In fact, all of Carell's top five highest-grossing films are from the Despicable Me franchise. With 2015's Minions being the highest grossing, making $1.16 billion on a $74 million budget. It's followed closely by 2017's Despicable Me 3, which also grossed over $1 billion worldwide on an $80 million budget.
For 2022's Minions: The Rise of Gru, it's reported that Carell was paid $12.5 million, which equals roughly 15% of the film's overall $80 million budget. The studios had no problem recouping their investment though, as the film grossed $893 million worldwide.
Needless to say, the Despicable Me franchise has been a significant contributor to Steve Carell's net worth and overall success. And the franchise isn't done yet. There's already a Despicable Me 4 in the works in which Carell will return to voice Gru again.
Recent Films
Aside from the world of voice acting and comedy, Carell has also appeared in numerous dramatic film roles. In 2014, he starred in Foxcatcher, which premiered at the Cannes Film Festival. While the film didn't make back its initial budget of $24 million, as it only grossed $19 million, it was nominated for a slew of awards. Carell also received his first Oscars nomination for his lead performance in the film.
2015 brought The Big Short, which grossed $133 million worldwide on its $28 million budget. The Adam McKay-directed film was nominated for numerous awards, and it would take home the Academy Award in 2016 for Best Writing, Adapted Screenplay.
The Morning Show and Space Force
Steve Carell's net worth also gets a boost from his recent small screen work. He returned to the TV scene with The Morning Show in 2019 with Jennifer Aniston and Reese Witherspoon. The production began filming for the third season on August 16, 2022.
In 2020, Carell actor signed a deal with Netflix for the comedy series Space Force. And Carell has credits as creator, alongside Greg Daniels, and producer for the show. The series was canceled after its second season. However, the comedy did set a record for talent play, as Carell's deal with Netflix earned him $1 million per episode.
Additional Investments
Carell owns Carousel Productions, with its TV operations managed by former producers from The Daily Show. The company has 11 titles in various stages of development. And many of those projects will see Carell in front of the camera as well.
In February 2009, Carell purchased Marshfield Hills General Store. The store is run by Carell's sister-in-law and is filled with a number of "typical folksy food items" such as sweet potato butter and orange marmalade. Carell and his wife, Nancy, still spend their summers in the small town of Marshfield.
Real Estate and Cars
Steve Carell's net worth is also impacted by his real estate investments. In 2010, Carell and his wife purchased a home in Toluca Lake, California, for $5.1 million. The couple also owns a home in Massachusetts, where he and his wife both purchased a summer home in 2005.
Aside from real estate, Carell is also a bit of a car geek. From driving an Audi A8 to a Porsche 911 Turbo, which currently retails for $150,000.
Personal Life
Steve Carell married Nancy Walls, a Saturday Night Live alumna, on August 5, 1995. And they are doting parents to two children, Annie and Johnny.
It's rare to find such true love in Hollywood. But Carell speaks of his wife with such admiration. During a visit to Atlanta in 2018 for Welcome to Marwen, Carell spoke openly to fans at an after-screening Q&A.
Carell admitted that when he saw his wife walking down the aisle towards him on his wedding day, he felt enormous relief. He knew his partner would be by his side for the rest of this crazy adventure called life.
True love seems rare in Hollywood. But some stars are lucky enough to find it through all the industry's challenges. Steve and Nancy Carell appear to be among the lucky ones.
Steve Carell's net worth
As of 2022, Steve Carell's net worth is estimated at $80 million. Between his ongoing residuals from The Office and his current acting and producing work, Carell's net worth will only continue to rise in the coming years.
Fans of Carell can see him currently in FX's The Patient as well as the upcoming Wes Anderson flick, Astroid City, alongside Tom Hanks and Margot Robbie. In addition, Carell is currently filming Imaginary Friends, which is written and directed by fellow Office star John Krasinski. He'll star in the film opposite Ryan Reynolds and Phoebe Waller-Bridge.
Carell will also return to voice Gru again in Despicable Me 4, which has a planned release date of 2024, according to IMDB. And if that wasn't enough, Carell currently has more than 17 projects in various stages of development.
Recommend

0

recommendations
Published in Celebrity, Celebrity Net Worth