Woody Harrelson Net Worth
Woody Harrelson is an American actor best known for his role in the first season of HBO's True Detective, The People Vs. Larry Flynt, and Zombieland. Since starting his career in Hollywood during the 1980s, Harrelson has appeared in more than 100 television series and movies.
Though, it's not just his acting career that has contributed to his massive success. Woody Harrelson's net worth has also been impacted by his work as a producer, his cannabis dispensary, and his real estate investments. Read on to discover Harrelson's most successful projects and trace his career from its start until the present day.
Early Life
Woody was born Woodrow Tracy Harrelson on July 23, 1961, in Midland, Texas. His mother, Diane Lou Oswald, is a secretary. Meanwhile, his father, Charles Voyde Harrelson, received a life sentence after he killed U.S. District Judge John Wood Jr. in 1979. He had been hired by drug kingpin Jimmy Chagra to kill the Judge for $250,000. The Harrelson patriarch would later die from a heart attack in his cell at Colorado's Supermax federal prison in 2007.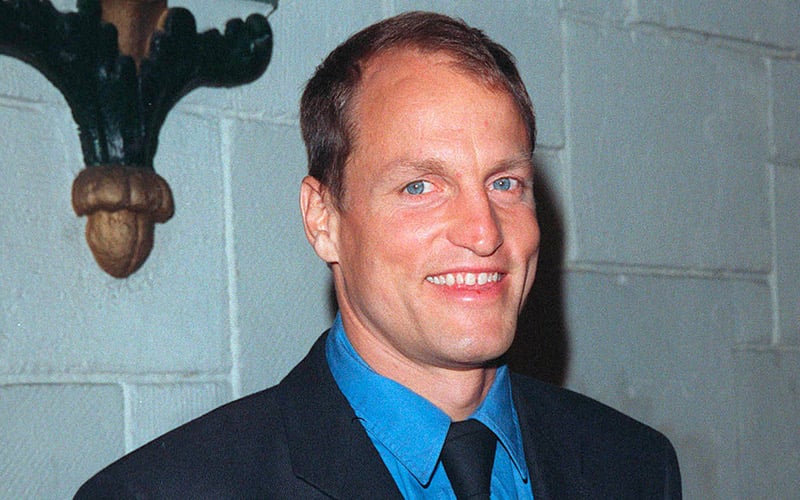 With his two brothers, Woody Harrelson was raised in a Presbyterian household. Their family was poor and only relied on their mother's wages. Harrelson moved to his mom's native city in Lebanon, Ohio, in 1973. There, he also attended Lebanon High School and eventually graduated in 1979.
Harrelson studied theater and English at Hanover College in Indiana and graduated in 1983. While studying, he became a member of a fraternity, Sigma Chi. And it was during his college years that he became friends with future U.S. Vice President Mike Pence.
Acting Career
While Harrelson did have an uncredited role in the late 1970s, his acting career really got started in 1985 when he joined NBC's Cheers. He took on the part of bartender Woody Boyd in the sitcom. From season four to eight, his work on the series would earn him five Emmy Awards. And in 1989, he would win one.
Coincidentally, his character in the show was also from Hanover, Indiana, where he attended college.
In 2014, Harrelson received another nomination for the Primetime Emmy Award for Outstanding Lead Actor, this time in a Drama Series. This time, it was for his portrayal as Marty Hart in the True Detective in 2014.
Moving from Cheers to the Big Screen
While salary details from Cheers is limited, it's reported that Ted Danson made $500,000 per episode during the peak of the series. Yahoo estimates that if Harrelson made the same, then that half a million would be worth roughly $1.25 million today.
While he was filming Cheers, Harrelson was also working on his career. He appeared in the comedy movie Wildcats in 1986 alongside Goldie Hawn. The film went on to make $26 million worldwide on a $5.4 million budget.
Success in the 1990s
White Men Can't Jump
Harrelson and Wesley Snipes, who also debuted in Wildcats, would reunite a few years later for the film White Men Can't Jump in 1992. The film would gross $90 million worldwide, and $14 million of that was on opening weekend.
Indecent Proposal
In 1993, Harrelson starred in the film Indecent Proposal with Robert Redford and Demi Moore. It became a box office hit, grossing over $265 million globally on a $38 million budget.
Natural Born Killers
The next notable role for Harrelson was that of Mickey Knox in the 1994 crime film Natural Born Killers. The Oliver Stone-directed was written in part by Quentin Tarantino film, and though it wasn't a huge box office success, it is considered one of Harrelson's most known roles. With a budget of $34 million, the flick grossed just over $50 million.
While Woody Harrelson's net worth was steadily climbing at this point of his career, his biggest box office successes were still roughly two decades out.
The People vs. Larry Flynt
In 1996, Harrelson appeared in The People vs. Larry Flynt. He would play the lead character Larry Flynt, who was the Hustler magazine publisher. Harrelson would receive nominations for Best Actor at the Screen Actors Guild, Golden Globe Awards, and Academy Awards for his work in the film.
Harrelson continued to tackle roles on the big and small screen for the next decade. But it wasn't until 2007 that another massively successful film was added to his resume.
No Country for Old Men
Harrelson took on the role of Carson Wells in the crime thriller No Country for Old Men in 2007. The film eventually won Best Director for Ethan and Joel Coen, and Best Picture. And the cast would take home Outstanding Performance by a Cast for the Screen Actors Guild.
Zombieland
Harrelson's next hugely successful film was 2009's Zombieland. Harrelson received an estimated $8 million, which would gross $102 worldwide on its $23 million budget.
The movie's success paved the way for the 2019 sequel Zombieland: Doubletap. The second film also saw box office success, making $122 million worldwide on a $24 million budget.
The Hunger Games
The film franchise with the largest impact on Woody Harrelson's net worth would be The Hunger Games. All four films are amongst Woody Harrelson's highest-grossing movies.
The first film, 2012's The Hunger Games, is his fifth most successful film at the global box office, making $694 million worldwide on a $78 million budget.
The second film, 2013's The Hunger Games: Catching Fire, would make $865 million globally on a much higher budget, $130 million. To date, this is Harrelson's biggest box office success.
The next book in the series that films are based on would be split into two films, The Hunger Games: Mockingjay – Part 1 and Part 2. With a budget of $125 million for Part 1 and $160 million for Part 2, both films would gross over $650 million worldwide.
Harrelson starred as Haymitch Abernathy in the dystopian action films, and while the original series has come to an end. More films are on the way, including 2023's The Hunger Games: The Ballad of Songbirds and Snakes.
Though Harrelson isn't a part of the cast of the upcoming film, he does have hopes that maybe there will be a sequel focused on Effie (played by Elizabeth Banks) and Haymitch's romance at some point in the future.
Recent Work
After The Hunger Games franchise wrapped for Harrelson in 2015, he would star in 2016's Now You See Me 2, a sequel to the successful 2013 film, Now You See Me. The sequel wasn't as successful as the original film. But it still did well at the box office, making $335 million worldwide on a $90 million budget.
In 2018, Harrelson would join the Star Wars universe as Beckett in Solo: A Star Wars Story. The standalone anthology film would underperform globally, though it did make its money back, making $392.9 million on a $275 million budget.
Also, in 2018, fans saw Harrelson in Venom, his second highest-grossing film to date, making $865 million at the box office on a $100 million budget. And the 2021 sequel, Venom: Let There Be Carnage, also makes Harrelson's top 10 highest-grossing films, coming in at number seven. The film grossed $506.8 million on a $110 million budget.
Theater
Also worth mentioning, though not a huge factor in Woody Harrelson's net worth, is his theater work. Early in Harrelson's career, he also performed in a number of plays. He was a standby from 1985 to 1986 in Biloxi Blues. And in 1999, he starred as Bill Starbuck in The Rainmaker.
Eventually, he would direct his own play called Furthest from the Sun in 1999. And, as of 2022, the last time Harrelson starred stage show was the Off-Broadway play, Bullet for Adolf, which closed less than two months after it opened. The play was not well-received by New York critics.
Cannabis Dispensary
In May 2022, Harrelson launched a cannabis dispensary called The Woods WeHo in Los Angeles, California.
Harrelson has been a long-time advocate for the legalization of marijuana. And in May 2022, he launched a cannabis dispensary called The Woods WeHo in Los Angeles, California. He has good company in the venture, having partnered with Bill Maher, Thomas Schoos, Michael Berman – as well as the founders of the dispensary chain, Ebra, Jay Handal and Devon Wheeler.
However, the process of launching his own dispensary wasn't an easy one. In fact, in 2016, Reuters reported that Harrelson's application to open a medicinal dispensary in Hawaii had been denied.
Real Estate
Another large contributor to Woody Harrelson's net worth his real estate investments. He c0-purchased a hotel, Inn at Black Olive, in Baltimore for $4.5 million after the property had declared bankruptcy.
Harrelson also owns a home in Hana, Maui, Hawaii, that is valued at $1.95 million. The secluded 8.5-acre property was bought in two different transactions, one in 1999 and the neighboring lot in 2022.
Personal Life
In 1985, he married playwright Neil Simon's daughter, Nancy Simon. Initially, the marriage was not supposed to be serious. They even planned to divorce the following day but ended up staying married for the next ten months.
A year after the divorce, he met Laura Louie, and they eventually married in 2008. Louie worked as his personal assistant when they first met. Now, she is a co-founder of Yoganics, an organic food delivery service. The couple currently resides in Maui, Hawaii, and has three daughters.
When it comes to hobbies, Harrelson is a big fan of chess. In 2018, he attended the World Chess Championship between contender Fabiano Caruana from America and champion Magnus Callsen from Norway. Apart from being a spectator, he made the ceremonial first move for the chess game.
Woody Harrelson's Net Worth Today
As of 2022, Woody Harrelson's net worth is estimated at $70 million. Between his earnings from his previous acting work, his producer work, his cannabis dispensary, and all his upcoming work, Harrelson's net worth will only continue to rise.
Fans of Harrelson can see him next in Neon's Triangle of Sadness, which is scheduled for an October release. And then in HBO's The White House Plumbers, alongside The Leftovers' Justin Theroux and Game of Thrones' Lena Headey. The project is a five-part mini-series that tells the true story of E. Howard Hunt (played by Harrelson) and G. Gordon Liddy, Nixon's own political saboteurs and Watergate masterminds.
Harrelson is currently filming Searchlight Pictures' Suncoast alongside Laura Linney. And in addition to these upcoming projects, he has two projects in pre-production as well as five projects in various stages of development.