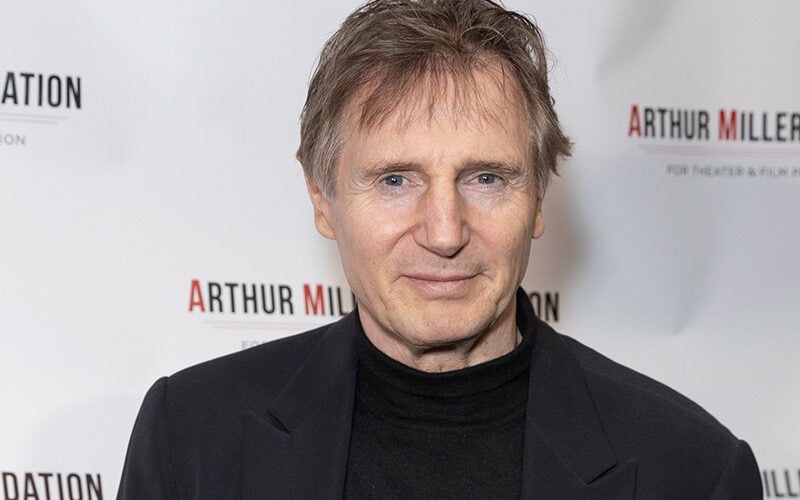 Liam Neeson is an Irish-born actor best known for his movie roles in the Taken film franchise, Schindler's List, and Love Actually. Since started in the industry in the late 1970s, Neeson has more than 145 acting credits to his name.
Though, it's not just his work on the big screen that has contributed to his massive success. Liam Neeson's net worth has also been impacted by his work as a producer along with his real estate investments. Read on to discover his most successful projects and follow his career from the beginning until now.
Early Life
Liam John Neeson is the son of Katherine Neeson, a cook, and Bernard Neeson, a school caretaker. He was born on June 7, 1952, in Ballymena, Northern Ireland. He got his name Liam from a local priest, the family being devout Catholics.
Neeson fondly recalls that his love of drama first surfaced during his school days at St Patrick's College in Ballymena from 1963-1967. But slightly before then, at age nine, he began training at the All Saints Youth Club to develop his boxing skills. He attained several regional wins until he quit when he was 17 years old.
During Neeson's teenage years, he acted in a number of school productions. And after high school, he briefly studied physics and computer science at Queen's University Belfast. However, he dropped out to work at Guinness Brewery, followed by variety of other jobs over the next few years.
Acting Career
In 1976, Neeson joined the Lyric Players' Theatre in Belfast and made his 1978 film debut with Pilgrim's Progress. He moved to Dublin in the same year, appearing in plays at the Abbey Theatre and Project Arts Theatre.
Neeson scored a small part in 1980's Excalibur, an Arthurian film where he played 'Sir Gawain'. He relocated again after the film to London so that he could again work in theater.
The Bounty
In 1984, he played a role in The Bounty alongside Anthony Hopkins and Mel Gibson. The movie wasn't a box office success, only grossing $8.6 million against a budget of $25 million.
The Mission
He also appeared in 1986's The Mission co-starring Robert De Niro and Jeremy Irons. Much like The Bounty, this flick wasn't a box office success either, only grossing $17.5 million globally against a budget of $24 million.
It was also around this time that Neeson moved to Hollywood to take on bigger roles. And while Liam Neeson's net worth was still relatively small at this time, that would change with his film roles in the 1990s.
Schindler's List
After seeing Neeson perform on Broadway in Anna Christie, director Steven Spielberg offered him one of the biggest roles of his career, 'Oskar Schindler' in Schindler's List. Spielberg's 1993 holocaust film would put Neeson on the map.
The movie, which had a budget of $22 million, when on to gross $322 million worldwide. And while it was a success, this one doesn't even crack the top 10 for Neeson's highest grossing films of all time.
Additionally, Neeson gained critical acclaim with his performance, earning him a Golden Globe nomination as well as Academy Award nomination for Best Actor. And IMDB notes that his net worth also got a nice little bump from the movie with a $1.5 million salary.
The role paved the way for Neeson to tackle even bigger roles, including Jedi Master Qui-Gon Jinn in Star Wars: Episode I – The Phantom Menace.
Star Wars: Episode I – The Phantom Menace.
Another sizable boost for Liam Neeson's net worth came in 1999 with Star Wars: Episode I – The Phantom Menace. He was reportedly paid $2.5 million for the role, which also earned him Saturn Award nomination and numerous positive reviews. And while not all Star Wars fans were crazy about the film, it was a massive success at the box office, making more than $1 billion worldwide on its $115 million budget. The film still currently sits in the third spot for Neeson's all time highest grossing films.
Neeson's role as Qui-Gon Jinn in the Star Wars universe continues even to this day, as he has voiced the character in Star Wars: The Clone Wars series and 2019's Star Wars: Episode IX – The Rise of Skywalker. And he even had a small, though uncredited part to play in 2022's Disney+ series, Obi-Wan Kenobi.
In 2001, Neeson narrated documentary films including Journey into Amazing Caves and The Endurance: Shackleton's Antarctic Adventure. Then, in 2002, he starred in Gangs of New York, where he reportedly made $2 million. And in the same year, he also appeared in K-19: The Widowmaker, where he reportedly made $3 million.
Love Actually
In 2003, he played a widowed writer in Love Actually, a film that has become a holiday movie night tradition for many. With its $40 million budget, the film surpassed $245 million worldwide.
Next up for Neeson was his role as Alfred Kinsey in Kinsey. The 2004 film is one of movies Neeson is most known for. However, it's not one of his biggest financial successes. The film grossed just over $17 million worldwide on its $11 million budget.
The film was nominated for a slew of awards though, including a nomination for Golden Globe nomination for Best Actor for Neeson.
Batman Begins
In 2005, he joined the cast of Batman Begins as a villain. The film was massive success, making $374 million worldwide on a $150 million budget. As of 2023, the film is Neeson's 10th highest grossing film of all time.
Neeson was reportedly paid $2 million for the role.
The Chronicles of Narnia
Also in 2005, he would lend his voice to Aslan in The Chronicles of Narnia: The Lion, the Witch and the Wardrobe. The film would go on to be Neeson's fourth highest grossing film of all time, making $745 million on a $180 million budget.
Next up, in 2008, Neeson also lent his voice to the video game Fallout 3. The game gained high praise, shipping 4.7 million copies worldwide.
The Taken Movies
Also in 2008, he starred in the first Taken film. These films, three in total, would have a significant impact on Liam Neeson's net worth. He played a retired CIA operative chasing after enemies who kidnapped his daughter.
The film had a conservative budget of $25 million, $5 million of which was reported to be Neeson's salary. The film went on to gross more than $225 million worldwide.
Taken's success would spur 2012's Taken 2, which Neeson reportedly received $15 million for. The movie was another massive success, making $376 million on a $45 million budget. The film is Neeson's ninth highest-grossing film as of 2023.
Needless to say, the success spawned yet another film, 2014's Taken 3. This one was also a huge success, with a budget of $48 million the film made $326 million at the global box office. Neeson was paid in the neighborhood of $20 million for the film, according to Deadline.
The Dark Knight Rises
The Dark Knight Rises would become Neeson's most financially successful film to date. The 2012 film, which was the last of Christopher Nolan' Dark Knight trilogy, made over $1 billion worldwide.
Other Box Office Successes
Taken opened more opportunities for Neeson to join big-budget Hollywood movies. He returned as the voice of Aslan in The Chronicles of Narnia: Prince Caspian in 2008.
In the next year, the Irish actor would lend his voice to Ponyo on the Cliff by the Sea, an anime film by Hayao Miyazaki. With a $34 million budget, the anime made more than $200 million worldwide, and took home a number of awards.
Neeson would also appear in the erotic thriller Chloe in 2009, and then as John "Hannibal" Smith in The A-Team in 2010. In that same year, Neeson played Zeus in Clash of the Titans. The 1981 remake achieved a worldwide gross of $493 million, making it Neeson's fifth highest grossing film of all time. Neeson would make $5 million for his work on the film.
The actor lent his voice yet again in the 2014 film The Lego Movie, appearing in The Nut Job the same year as well.
Personal life
Nelson met Helen Mirren on the set of Excalibur and dated for four years. He then met Natasha Richardson through Anna Christie and married her in 1994. The couple welcomed two sons, Michael, and Daniel. They bought an estate in Millbrook, New York in August 2004.
However, Natasha passed away in 2009 from an epidural hematoma due to a skiing accident. As a tribute to his late mother, Neeson's son Michael legally changed his last name to Richardson.
Neeson holds Irish, British, and American citizenship, although he identifies primarily as Irish. He is one of UNICEF Goodwill Ambassadors and is also a supporter of several charitable organizations.
Real Estate
Neeson and Richardson invested in a Central Park West Apartment in 1994. Reports stated the value to be at $1.4 million when they purchased it. Later in 2010, the actor sold the house for $1.35 million.
Additionally, he has a 34,000 square foot estate in Upstate New York. Neeson bought the estate in 1994 before his marriage to Richardson.
Liam Neeson's Net Worth 2023
As of 2023, Liam Neeson's net worth is estimated at an impressive $145 million. And that number is still actively climbing with no shortage of movies on the horizon.
According to IMDB, Neeson has three films in post-production and nine additional projects in various stages of development.
Fans can see Neeson next in the western thriller In the Land of Saints and Sinners, which will release later this year. And then in the action thriller Retribution alongside Stranger Things' Matthew Modine.