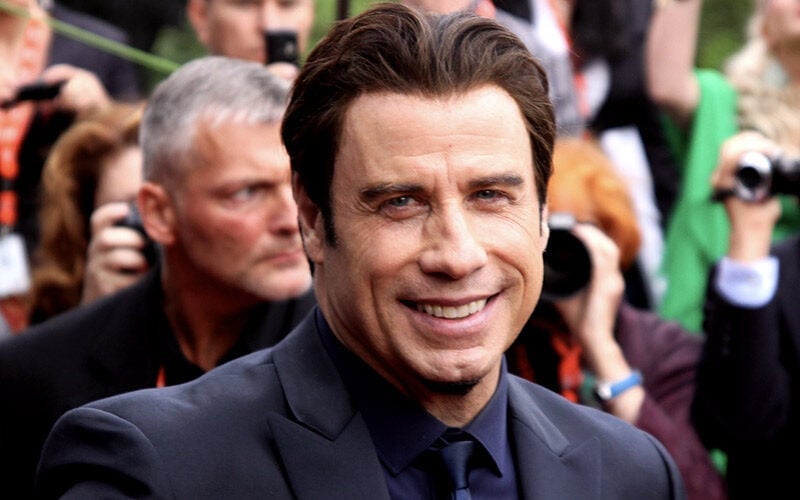 John Travolta is an American-born actor best known for his roles in Grease, Saturday Night Fever, and Pulp Fiction. He started his career in film and television in 1972, and since then, he's appeared in more than 85 projects.
While Travolta has appeared in some incredibly successful films, it's not just his work on the big screen that has contributed to his financial success. John Travolta's net worth has also been impacted by his work as a producer, a singer, and his real estate investments. Read on to discover Travolta's most successful projects and follow his career from its start until now.
Early Life
John Joseph Travolta was born on February 18, 1954. He grew up in an American-Irish neighborhood describing the household as predominantly Irish in culture. And while he grew up practicing the Catholic faith, he converted to Scientology at 21. 
Travolta is the youngest of six children raised in Englewood, New Jersey, by parents Salvatore Travolta and Helen Cecilia Burke. His father was an American football player in a semi-professional league and eventually worked in a tire company. Meanwhile, his mother was a singer-actress who appeared in The Sunshine Sisters before entering academia.
Despite his mother being a teacher, Travolta dropped out of high school at 17. This was also around the time when he started exploring the world of acting.
Acting Career
After dropping out of high school, John Travolta traveled to New York City, where he landed a role as a cast member in the musical Grease and on Broadway in Over Here!. After this, he moved to Los Angeles to pursue opportunities on the big screen.
Carrie
He first appeared on-screen as a guest star in one episode of Emergency! in 1972. However, his first significant film appearance wouldn't be until the 1976 horror film Carrie. With a budget of just $1.8 million, the movie earned more than $33 million worldwide.
Welcome Back, Kotter
Slightly before appearing in Carrie, Travolta starred as Vinnie Barbarino in the hit ABC series Welcome Back, Kotter. In this series, his sister, Ellen, also occasionally appeared. Travolta appeared in 82 episodes of the series from 1975 until 1979.
Music Career
While many know Travolta through his acting, he's also a recording artist. In 1976, his single Let Her In peaked at number 10 on the Billboard Hot 100 chart. Over the years, he's continued making music. His This Christmas album, which was his last, was in collaboration with Grease co-star Olivia Newton-John.
Saturday Night Fever
In 1977, Travolta starred as Ton Manero in Saturday Night Fever. The film was a massive box office success, grossing over $237 million on a $3 million budget. To date, it's Travolta's seventh highest-grossing film.
His role in the film also earned him an Academy Award nomination for Best Actor.
Grease
The highest-grossing film of Travolta's career was 1978's Grease, where he starred alongside Olivia Newton-John. The musical would earn $396 million worldwide on its $6 million budget.
The Look Who's Talking Movies
In 1989, Travolta starred in the romantic comedy Look Who's Talking alongside Kirstie Alley. The film grossed over $297 million worldwide against its $7.5 million budget. The movie's financial success paved the way for the 1990 sequel Look Who's Talking Too, which wasn't nearly as successful as the first film, only grossing $47 million worldwide.
In 1993, a third film in the franchise was released, with a budget of $22 million, Look Who's Talking Now only made $10 million globally.
Pulp Fiction
By 1994, John Travolta's net worth and stardom steadily rose with each film he released. And Quentin Tarantino's Pulp Fiction was no exception. Travolta's role as Vincent Vega was iconic and led to Travolta being nominated for an Academy Award.
The film, which also starred Samuel L. Jackson and Bruce Willis, was wildly successful at the box as well, grossing over $213 million on a budget of $8 million. However, Travolta's salary from the film wasn't nearly as successful, he reportedly only made $150,000 for his work in the movie.
Get Shorty
In 1995, Travolta starred in Get Shorty as Chili Palmer. On a budget of $30 million, the film grossed $115 million worldwide. Travolta's performance in the movie also earned him a Golden Globe Award.
Phenomenon
1996 brought Phenomenon, where Travolta starred as George Malley. On a budget of $32 million, the film grossed $152 million worldwide. The film tells the story of an ordinary man who sees a bright light come down from the sky, after which he discovers he has super-intelligence and telekinesis.
Michael
The same year, Travolta starred in Michael opposite Andie MacDowell. Making $119 million worldwide, the film tells the story of two tabloid reporters checking out a report that the Archangel Michael is living with an old woman, only to discover that it's true.
Travolta reportedly made $12 million for the role.
Face/Off
In 1997, Travolta starred opposite Nicolas Cage in Face/Off. With a budget of just $80 million, the movie grossed $245 million worldwide. As of 2022, it's Travolta's sixth highest-grossing film.
Battlefield Earth
2000 brought the sci-fi action adventure Battlefield Earth. Unfortunately, it was one of Travolta's biggest flops at the box office, only grossing $29 million worldwide on a $73 million budget.
Bolt
2008's Bolt is John Travolta's second-highest-grossing film, making $310 million on its $150 million budget. Travolta lends his voice to the titular character in the movie, Bolt.
The Fanatic
Over the last decade, John Travolta's net worth has steadily risen with each new project he's taken on. His finical success over the years has allowed him to do less mainstream projects, such as 2019's The Fanatic, which his friend (and fellow Scientologist), Fred Durst, wrote and directed.
With a budget of $18 million, the film only grossed $3,153 from the 52 theaters it played in.
Real Estate & Other Ventures
John Travolta's net worth also includes a number of real estate investments he's acquired over the years. In 1993, he invested purchased a Los Angeles home in the Brentwood neighborhood. The house features a tennis court, eight bathrooms, seven bedrooms, a swimming pool, and a large playground. Travolta and his wife sold the property in 2020 for $18 million.
In 2019, Travolta purchased a Spanish-style home in Calabasas for $2.65 million.
In 2021, Travolta listed his Islesboro, Maine home for sale for $5 million. He and his wife Kelly had purchased the property in 1991, not long after they had tied the knot. Later in 2021, the property was removed from the market. It's unclear if it sold off-market or if Travolta decided not to sell the property.
Outside of Los Angeles, Travolta and his family also own a mansion in Clearwater, Florida, which was purchased for $4 million.
Personal Life
Travolta dated several celebrities before he married actress Kelly Preston in 1991. The couple met while filming The Experts in 1988. And they had three children together, Jett, Ella Bleu, and Benjamin Travolta.
An unfortunate incident happened on January 2, 2009, when their son Jett Travolta died from a seizure. It was during Jett's Christmas vacation in the Bahamas. In memory of Jett, he launched the Jett Travolta Foundation to help children with special needs.
Tragedy struck again more than a decade later, when Travolta's wife, Kelly Preston, succumbed to breast cancer at age 57.
Travolta also loves the sky, having received his pilot's license in 1978. He owns four aircraft, which also add to his net worth. Additionally, he became a Qantas Airways ambassador in 2002.
Travolta's property in Ocala, Florida, sits right at Jumbolair Airport. The property has a runway and taxiway right to Travolta's house.
Since joining the Church of Scientology, Travolta has participated in various humanitarian initiatives. For example, after the Haiti earthquake in 2010, he participated in various relief efforts with other celebrities. He reportedly used his Boeing 707 to transport supplies, doctors, and volunteers to disaster-hit areas.
John Travolta's Net Worth 2022
As of 2022, John Travolta's net worth is estimated at $250 million. While his acting work accounts for a large portion of his net worth, it's also impacted by his real estate investments along with his work as a singer and producer.
Fans can currently see Travolta in the action thriller Paradise City, opposite Bruce Willis. The film released on November 11, 2022. Travolta will also star in 2023's American Metal, which is currently in post-production.