'Emily in Paris' Season 3: News, Cast, Release Date, and More!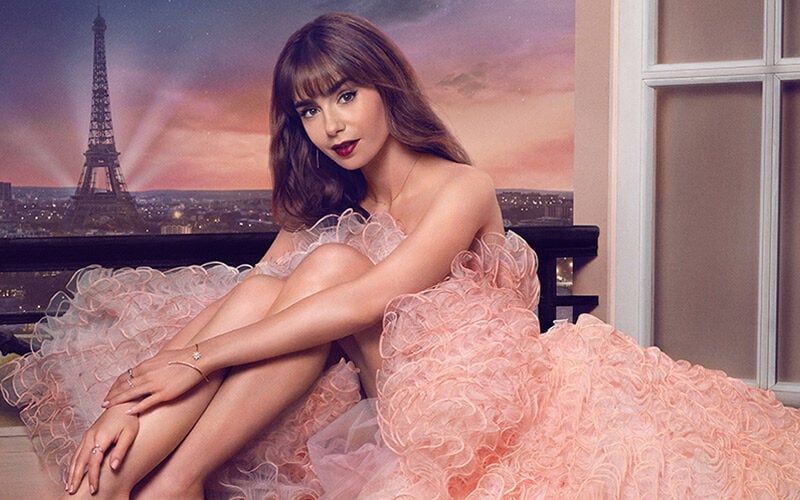 Emily in Paris Season 3 is just a few weeks away. And we couldn't be more excited! Also worth celebrating, Netflix has released a new full-length trailer for the series which returns on December 21, 2022!
Emily faced a number of crossroads at the Season 2 finale, both professionally and personally. Which path will she take? Will she pursue her true love or make it work with a runner-up? And will she leave the city she loves for her old stomping grounds, or will she make it work abroad?
Here's everything we know about the upcoming Emily in Paris Season 3!
The Production
Only a month after Season 2 dropped, we learned that Netflix gave Emily in Paris Season 3 the green light. Not only that, but Season 4 has the guarantee as well. The Emily in Paris Insta posted, "Say 'bonjour' to 3 & 4! EMILY IS OFFICIALLY RETURNING FOR TWO MORE SEASONS!"
As you would expect from a show about a social media guru, many major updates were announced through Instagram. We discovered through the platform that filming started in June. Netflix posted that production had begun with a shot of the roundtable script reading. Of course star and producer Lily Collins made an announcement as well. Her Instagram account showed her standing in front of the Eiffel Tower itself. She captioned it, "Back(bend) in Paris! Can't show you too much of season 3 yet – so here's a little flashback for now! Lots of love from season 2."
Throughout her time filming in the City of Love, we got more posts from her. One included her standing in front of her very own Cartier billboard.
Once the season's production wrapped, she posted a heartfelt set of behind the scenes pics. She captioned them, "Words can't express how many emotions I feel when I finish each @emilyinparis season and this year is no different. We truly have the best, most dedicated crew there is and a cast I can call a family. Thank you for supporting, uplifting, and encouraging endlessly and working tirelessly to make it all happen. I can't wait to share what we've created. Proud doesn't even do it justice. Je vous aime tous!"
Emily Beyond Paris?
When Jimmy Fallon interviewed Collins on The Tonight Show, he asked what she thought about the petition fans signed. The petition outlined how viewers wanted the show to travel to different cities beyond Paris.
Collins said, "Honestly, I would go all over the world with it, if I could. But the one thing is, like, I just want to go to streets where you can wear flats — because wearing heels, I mean, you wouldn't think how painful that can be in Paris. I actually literally went to a podiatrist every week to fix my feet because I was wearing heels all the time. I had to have, like, insoles made for every pair of shoes."
Producer Darren Star promised that Emily in Paris Season would bring Emily beyond the city. "We're always thinking about how we can show Paris," he said. "It's not hard to make Paris look amazing, because it is, from wherever you look or wherever you point the camera. We will always want the story to drive locations, but we have some really beautiful locations lined up for season three in France, not just in Paris."
Wherever the next season will take place, know that it will be wild. Lucas Bravo said of Season 3, "Everything is just amplified. I feel like Darren [Star] went a bit crazy with writing this season. He's living with us and writing as we shoot so he's getting inspired by our own lives, and the things we say, and the places we go to, and he just injects the Darren Star magic bubble in the middle of all that and it just goes sideways."
Emily in Paris Season 3 Cast
So who will return to Paris for Season 3? Of course, we can't have Emily in Paris Season 3 without Emily. Lily Collins will return to play the fashionable Emily Cooper.
Alongside Emily is her best friend Mindy, played by Ashley Park. We've seen plenty of Paris posts from Park to supplement Collins's Instagram updates. Lucas Bravo's Gabriel will return to play his part in the love triangle. His new on-screen girlfriend Camille, played by Camille Razat, will also return.
Cooper's co-workers and boss – Julien (played by Samuel Arnold), Luc (played by Bruno Gouery), and Sylvie (played by Philippine Leroy-Beaulieu) – will come back.
Lucien Laviscount, the actor behind Alfie, got promoted to a series regular. We also have two guest-starring newcomers: Paul Forman as Nicolas de Leon and Melia Kreiling as Sofia Sideris. Leon leads "a seemingly charmed life" but " is put under immense pressure despite his endless source of wealth, status, and access as he tries to prove himself as more than just a nepotism hire.
Whatever choice Cooper makes professionally will impact her cast of coworkers.
The Plot
What lies ahead for Emily in Emily in Paris Season 3? Does she choose Chicago or Paris? At one point when People Magazine asked, not even Collins knew. "I myself don't know her choice yet. I keep asking. But whatever choice it is you know it will be filled with drama, fashion and a lot of fun and romance." When she was asked again after filming, her answer changed to "More love triangles, more drama, more laughs, more fashion, more locations, more France!" She also guaranteed even more cliffhangers.
Producer Darren Star elaborated to TVLine, "She has reasons to pick a number of doors at the end of season two, and our challenge is deciding which of those doors she's going to choose and why. That's what season three is going to be about." He also talked about how she would struggle knowing where she belonged. Does her heart belong to her hometown or her new city?
She loves her new city, which we discovered as her heart was torn when Sylvie left Savior. Will she move with her team to the new company, or will she still work for the promotion she's been promised since before she moved?
And not to mention her wildly inconvenient realization that she's loved Gabriel all along. Are her hands tied now that he's back with Camille? Or will she throw away her long distance relationship with Alfie and get between Gabriel and his new relationship?
We're hoping Emily in Paris Season 3 will pick up right where the Season 2 finale left off. That way, we'll get the answer she was about to give Sylvie on the phone before the cut to black.
Emily in Paris Season 3 Release Date
So when will we be once again swept off our feet by Emily's Parisian exploits?
Netflix promised we'll receive Emily in Paris Season 3 on December 21, 2022. Although waiting feels impossible, this is a rather quick turnaround for a show that only started filming in June.
The official logline reads, "One year after moving from Chicago to Paris for her dream job, Emily finds herself at a crucial crossroads in every aspect of her life. Faced with two very different paths, Emily will have to decide exactly where her loyalties lie — at work and in her romantic life — and what those decisions mean for her future in France, all while continuing to immerse herself in the adventures and surprising twists and turns that life in Paris provides."
Can't wait to see a sneak peek? Check out the teaser trailer for Emily in Paris Season 3!
Emily in Paris Season 3 Trailer
And, as of November 30, 2022, Netflix has finally released a full trailer for Season 3, check it out below!
Are you excited for Emily in Paris Season 3? Sound off in our comment section below!
Recommend

0

recommendations
Published in Featured, Streaming, TV, TV News