Tommy Lee Jones Net Worth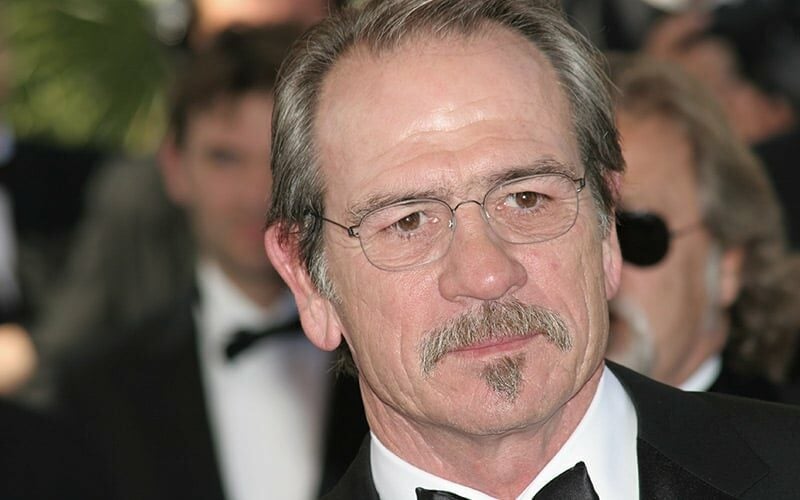 Tommy Lee Jones is an American actor best known for his roles in No Country for Old Men, The Fugitive, and the Men in Black movies. Since starting his career in Hollywood in the early 1970s, he's appeared in more than 80 movies and television series.
Though, it's not just his work in front of the camera that has contributed to his career success. Tommy Lee Jones's net worth has also been impacted by his work as a producer and director, his brand endorsements, and his real estate investments. Continue on to discover Jones's most successful projects and trace his career from the beginning until now.
Early Life
Tommy Lee Jones was born on September 15, 1946, in San Saba, Texas, United States. His father, Clyde C. Jones, worked at an oil field and was a cowboy. And his mother, Lucille Marie Scott, was a teacher and police officer who also owned a beauty shop.
Jones grew up in Midland, Texas, and attended the Robert E. Lee High School, now known as Legacy High School. In 1965, he graduated from St. Mark's School of Texas, where he transferred after moving to Dallas.v
Jones then attended Harvard College on financial aid, where he became roommates with Al Gore. He played guard for the Harvard football team and was a student in Robert Chapman's English literature and drama class. In 1969, Jones completed his Bachelor of Arts degree in English and graduated cum laude.
Acting Career
After graduating, Jones moved to New York to pursue his acting career. It wasn't long before he was cast to play multiple supporting roles in the Broadway production A Patriot for Me.
His film debut would happen a year later when he was chosen to star in the romantic drama Love Story in 1970. As coincidence would have it, he was actually one of the inspirations for the character that he played, which author Erich Segal would later recount.
For his first television appearance, Jones was cast as a recurring character in the soap opera One Life to Live. As Dr. Mark Toland, he stayed in the show from 1971 to 1975, appearing in a total of 21 episodes.
During the 1970s, Tommy Lee Jones's net worth was not that significant yet. However, he would have a steady stream of acting jobs throughout the decade. A couple of his most notable roles were as Coley Blake in Jackson County Jail and as Angelo Perino in The Betsy. On television, he played the title character in The Amazing Howard Hughes in 1977.
Early Projects
Jones continued to play diverse roles on the big and small screens in the 1980s. In 1981, he starred in Coal Miner's Daughter and was nominated for his first Golden Globe. And in 1983, Jones won his first Primetime Emmy as Outstanding Lead Actor for The Executioner's Song. He also did a lot of TV films and shows like Cat on a Hot Tin Roof and Lonesome Dove.
The Fugitive
In 1992, Jones was nominated for an Academy Award for the first time in JFK for his role as Clay Shaw. But it was The Fugitive in 1993 that allowed him to snag his first Oscar for Best Supporting Actor. The film, which also starred Harrison Ford, was also a huge commercial hit, earning a total of $368.9 million worldwide against a production budget of $44 million.
U.S. Marshals
Tommy Lee Jones's net worth would get a sizable boost of $10 million when he appeared in the 1998 sequel to The Fugitive, U.S. Marshals. The movie, which also starred Wesley Snipes and Robert Downey Jr., wasn't as successful as its predecessor. However, it still managed to gross $102 million globally against a $60 million budget.
The Client
Jones would have a very busy year in 1994, appearing in major roles in five films. The list includes smash hits The Client with Susan Sarandon and Natural Born Killers with Woody Harrelson and Robert Downey Jr.
With a budget of $45 million, The Client grossed over $117 million globally, and Natural Born Killers, with a budget of $34 million, earned just over $50 million worldwide.
Batman Forever
In 1995, Jones would give one of the most memorable portrayals of a Batman villain with his performance as Harvey Two-Face, in Batman Forever. Joining a powerhouse cast that included Jim Carrey, Nicole Kidman, Chris O'Donnell, and Val Kilmer as Batman, the film would be yet another box office hit for Jones, making more than $336 million against its $100 million budget. And as of 2022, this title is Jones's seventh highest-grossing film.
Men In Black Movies
The film franchise with the biggest impact on Tommy Lee Jones's net worth would be Men in Black. All three films that Jones had starred in alongside Will Smith were huge box office hits, with a combined box office revenue of more than $1.5 billion.
The first film was released in 1997 and earned Jones a reported salary of $7 million. It had a budget of $90 million, which was nothing compared to the $589.4 million it made from theaters worldwide. It was also nominated for multiple awards and was praised generously by critics.
As of 2022, the first Men in Black is Jones's second-highest-grossing film of all time.
With this success, it wasn't hard for Jones to negotiate a salary increase for Men in Black II in 2002. He received a paycheck of $20 million, and he also got the studio to give him a commission on the movie's gross box office earnings. At the end of its theater run, the film had generated well over $445 million. Needless to say, his profits from the sequel were a sizable increase to Tommy Lee Jones's net worth.
Men in Black 3 was released a decade later. But for fans, it was worth the wait. On opening weekend alone, the film had already made $54.6 million in the United States. And by the end of the theatrical run, it had raked in $624 million against a budget of $225 million.
As of 2022, Men in Black 3 is Jones's highest-grossing film.
Space Cowboys
Between the first two MIB films, Jones would star in the 2000 adventure film Space Cowboys. He joins Hollywood bigwigs Clint Eastwood, Donald Sutherland and James Garner. It earned $128.9 million in box office revenues against a production budget of $65 million.
The Hunted
In 2003, shortly after the second Men in Black film, Tommy Lee Jones's net worth got another notable hike when he was paid $17 million to star in the thriller The Hunted. Unfortunately, it was a box office failure, making only $46 million against a $55 million budget.
No Country for Old Men
Jones's box office redemption wouldn't come until four years later when he was cast in No Country for Old Men in 2007. He drew much praise from the critics for his portrayal of Sheriff Bell. And he also received numerous award nominations for his performance, including nominations from the BAFTA and the Screen Actors Guild.
With a budget of $25 million, the film earned over $171 million globally. Jones reportedly earned $10 million for his role.
Captain America: The First Avenger
Tommy Lee Jones also made an appearance in the Marvel Cinematic Universe (MCU) in 2011 when he took on the role of Col. Chester Phillips in Captain America: The First Avenger. The veteran actor's salary is not known. However, the film did go on to make $370 million in theaters worldwide against a budget of $140 million.
Lincoln
In 2012, Jones would appear in the multi-awarded historical film, Lincoln. Directed by Steven Spielberg, it featured a powerhouse cast led by Daniel Day-Lewis, with Sally Field and James Spader playing supporting roles.
Aside from the numerous awards and critical praise, the film also made it big at the box office. With a budget of $65 million, it generated $275.3 million worth of box office revenues worldwide.
The Homesman
The 2014 western drama The Homesman marks Jones's debut as a screenwriter. He was also the fim's director and an executive producer, as well as the lead actor. He is joined in the cast by Hilary Swank and Meryl Streep.
With a budget of $16 million, the film only grossed $3.8 million at the box office globally.
Jason Bourne
In 2016, Jones joined the Bourne film franchise in its fifth installment, Jason Bourne. With Matt Damon reprising his lead character role, the film was again a massive success, just like its predecessors. With a large production budget of $120 million, the film made a quick $59 million on opening weekend alone. Before the end of its theatrical run, the movie earned $415.5 million worldwide.
Recent Work
At 76 years old, Jones is still very active in the movie industry. Some of his most recent appearances were in Ad Astra in 2019 opposite Brad Pitt, Wander in 2020, and The Comeback Trail, also in 2020.
Other Ventures
Besides his salaries from his acting career, Tommy Lee Jones's net worth has also been impacted by his endorsement deal with the beverage brand Suntory. He had started appearing in the brand's commercials as "Alien Jones."
Real Estate
Also adding to Tommy Lee Jones's net worth are his smart real estate investments over the years. In 2002, he had a bit of a land shopping spree in Wellington, Florida, spending $2.95 million for the primary piece of property. Over the years, he bought a number of adjacent properties, increasing the size of his estate, which would be his primary residence for the next decade or so.
The massive piece of property includes a 4-bedroom house that covers 11,000 square feet, a polo field, 48 horse stalls, and several miles of horse trails. In 2013, Jones listed this property with an asking price of $26.75 million. However, he re-listed it in 2019 at a much lower asking price, eventually selling it for $11.5 million.
Personal Life
Tommy Lee Jones had been married three times. The first was from 1971 to 1978 to Kate Lardner, who was the niece of screenwriter Ring Lardner. The second was from 1981 to 1996 to Kimberlea Cloughley. With Cloughley, he has two children, Austin Leonard and Victoria.
Then, in 2001, Jones married actress Dawn Laurel in 2001. The couple is still married as of 2022.
Tommy Lee Jones's Net Worth 2022
As of 2022, Tommy Lee Jones's net worth is estimated at $100 million. While that number primarily comes from Jones's acting career, it is also impacted by his work as a producer, director, and screenwriter. His real estate investments and brand endorsements have also affected his net worth.
Fans of Jones can look forward to seeing him next in Finestkind, which also stars Jenna Ortega and Ben Foster. He'll also star in The Burial opposite Jamie Foxx. Both projects are currently in post-production.
Additionally, he's also set to direct and write The Cowboys, though the project's development status is currently unknown.