Jeff Bridges is an American actor best known for his roles in The Big Lebowski, True Grit, and Starman. Having started in Hollywood in the 1950s, Bridges has appeared in more than 90 movies and television series.
Though, it's not just his work on the big screen that has contributed to his financial success. Jeff Bridges's net worth has also been impacted by his work as a producer and his real estate investments. Read on to discover Bridges's most successful projects and trace his career from the beginning until now.
Early Life
Jeffrey Leon Bridges was born on December 4, 1949, in Los Angeles, California. His parents were acclaimed actors Lloyd Bridges and Dorothy Bridges. His older brother Beau Bridges, also a multi-awarded actor and director, acted as a surrogate father when their father was busy at work, hence their close relationship.
Bridges attended University High School and graduated in 1967. He then joined his father in a tour of the Anniversary Waltz stage production. He later moved to New York and signed up at the Herbert Berghof Studio for formal acting classes.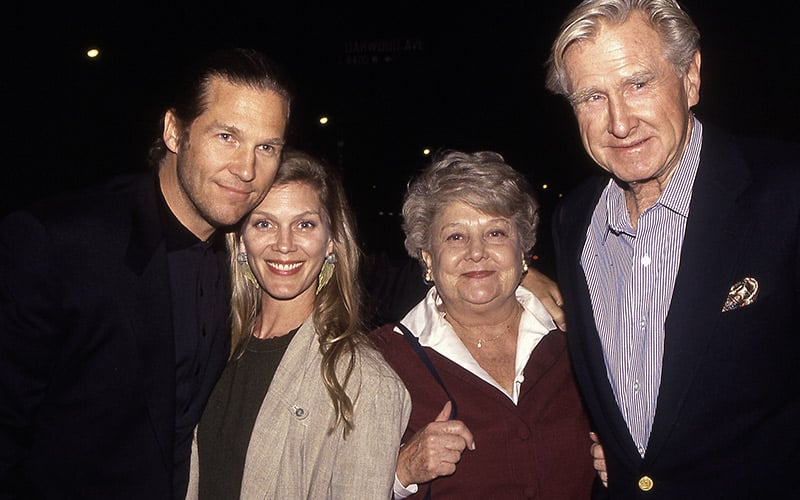 Acting Career
Bridges was not even a year old when he first appeared on the big screen. It was an uncredited role in the 1951 drama The Company She Keeps starring Lizabeth Scott and Jane Greer.
Being part of a notable family of actors, Bridges had plenty of acting opportunities as a child. From 1958 to 1960, he appeared occasionally on his father's television show Sea Hunt. He also played various roles in The Lloyd Bridges Show in early 1960.
In 1971, Bridges's rise to fame would begin when he was cast in the coming-of-age drama The Last Picture Show. This would be the breakthrough film not only for Bridges but also for his co-stars Timothy Bottoms and Cybill Shepherd. It would also earn him his first Academy Award nomination.
Early Projects
Bridges's second Oscar nomination came in 1974 for Thunderbolt and Lightfoot. Bridges co-stars as Lightfoot alongside Clint Eastwood as Thunderbolt. His work for this film earned him a salary of $87,000.
The rest of the 1970s would see Bridges co-starring with some huge names in the film industry. There was Rancho Deluxe with Sam Waterston, Somebody Killed Her Husband with Farrah Fawcett, and Stay Hungry with Sally Field, among others.
Bridges also starred in the 1976 blockbuster King Kong, which earned more than $52 million against a budget of $24 million.
Starman
In 1984, Bridges would once again be nominated at the Academy Awards, this time for the Best Actor category, for his performance in Starman. He also received his first Golden Globe nomination for the role. With a budget of $22 million, the film earned $28.7 million globally.
By this time, Jeff Bridges's net worth was starting to slowly rise, but he was still several years away from the huge paychecks that were coming. He wrapped up the 1980s with back-to-back rom-com hits in 1989 – See You in the Morning and The Fabulous Baker Boys.
The Fisher King
The 7-digit salaries began coming in the 1990s. For his role in the comedy-drama The Fisher King in 1991, Bridges was paid $3 million and earned a Golden Globe nod. The film, which also starred the late Robin Williams, went on to earn $41.9 million in theaters.
The Mirror Has Two Faces
In 1996, Jeff Bridges's net worth got a $5 million boost for his work in the smash hit and critically acclaimed The Mirror Has Two Faces. He shared the screen with Barbra Streisand, who also directed. With a budget of $42 million, the film generated $41 million in box office revenues.
The Big Lebowski
Bridges's next big hit would come in 1998 in the crime comedy The Big Lebowski. He gave a superb performance in the lead role of Jeffrey "The Dude" Lebowski, which led him to become an icon of pop culture.
Written and directed by the Coen Brothers, this movie also starred Julianne Moore and John Goodman in supporting roles. It performed fairly well at the box office, making a total of $47 million against its $15 million budget.
Iron Man
In 2008, Bridges would star in his highest-grossing movie to date, Iron Man. This was the first movie in the Marvel Cinematic Universe (MCU), and Bridges was cast to play Obadiah Stane. With Robert Downey Jr. in the title role, the film went on to earn a very impressive $585.8 million at the box office against a budget of $140 million.
Crazy Heart
The following year, Bridges won his first and so far only Academy Award for Best Actor for his work in Crazy Heart. He also won in the same category at the Golden Globe and the Screen Actors Guild Awards.
The film, which also starred Maggie Gyllenhaal and Robert Duvall, was a relatively low-budget film with only $7 million allotted for production. It still managed to earn many times that, grossing $47.4 million in theaters.
Tron: Legacy
In 2010, Bridges would deliver two back-to-back stellar performances. The first was as Kevin Flynn in Tron: Legacy. It was very well received in theaters, generating $400 million in ticket sales over a budget of $170 million.
He would later reprise his role in the short film Tron: The Next Day, which was released the following year.
True Grit
The second film for Bridges in 2010, True Grit, was another huge commercial hit, with earnings of $252.3 million globally. But more than that, it also received a multitude of critical accolades, including ten Oscar nominations.
Kingsman: The Golden Circle
In 2017, Bridges joined the cast of the Kingsman movie franchise in Kingsman: The Golden Circle with fellow franchise newcomers Channing Tatum and Halle Berry. Several cast members also reprised their roles from the first film, including Colin Firth and Taron Egerton.
The movie quickly earned $39 million at the domestic opening, and it went on to finish its run with $410.9 million in gross earnings against a $104 million budget. And as of 2022, The Golden Circle is Bridges's second-highest-grossing film.
Recent Work
Bridges's most recent film appearance was in the neo-noir thriller Bad Times at the El Royale in 2018. In the same year, he also provided the narration for the documentary film Living in the Future's Past. He was also a producer on the project.
In his most recent starring role, Bridges returns to the small screen. He plays the main character of Dan Chase in the drama thriller series entitled The Old Man.
The first season premiered in June 2022 on FX. For his work, Bridges was reportedly paid a whopping $1 million per episode. The series has already been renewed for a second season.
In 2019, the Golden Globe Awards honored Bridges by presenting him with the Cecil B. DeMille Award for his exemplary work in the entertainment industry.
Other Ventures
Jeff Bridges's net worth has also benefited from all the voice work he has done through the years. It started in 1982 when he voiced the character of Prince Lir in the animated film The Last Unicorn.
A few other voice roles followed for animations like Surf's Up and The Little Prince. Bridges also narrated several documentaries such as Lost in La Mancha and A Place at the Table.
Bridges is also actively involved in groups that advocate for the environment, like the Amazon Conservation Team. He also spoke for the group Share Our Strength in their campaign, No Kid Hungry.
Real Estate
A considerable amount of Jeff Bridges's net worth comes from his real estate investments. Together with his wife Susan, Bridges owns real estate in Montecito, very close to Santa Barbara. The couple bought one of these properties in 2014 for $6.85 million. They sold it five years later to Oprah Winfrey for the same price.
In 2017, Bridges sold a much larger piece of property in Montecito. For this 20-acre estate, the final selling price was $16 million.
In addition to his own purchases, Bridges and his siblings had also inherited a coastal Malibu home when their father passed away in 1998. The estimated value of the property today is anywhere between $4 and $6 million. The siblings rent it out for a reported $16,000 per month.
Personal Life
Bridges has been married to Susan Geston since 1977. They met during the filming of the western comedy Rancho Deluxe in 1975, when Geston was employed as a waitress. The couple has three daughters, including Isabelle Annie, Jessica Lily, and Haley Roselouise. They also have one granddaughter through their eldest child.
In 2020, Bridges had been diagnosed with non-Hodgkin's lymphoma and contracted COVID-19 shortly after. After going through chemotherapy, his cancer is now in remission.
Jeff Bridges's Net Worth 2022
As of 2022, Jeff Bridges's net worth is estimated at $100 million. While it's largely his acting career that impacts that number, his producer credits, and real estate investments also affect his net worth.
Fans of Bridges can look forward to seeing him in the next season of FX's The Old Man. He's also signed on to star in Lake Bell's upcoming comedy, The Emperor's Children, which Noah Baumbach has written and Ron Howard is producing. The movie follows three Brown University-educated individuals approaching the age of 30 in the months leading up to September 11.
Additionally, he also star as E.J. Watson in the TV movie Shadow Country on HBO. The western-drama is still in the early stages of development.
Recommend

0

recommendations
Published in Celebrity, Celebrity Net Worth