'Guillermo del Toro's Pinocchio' Movie Review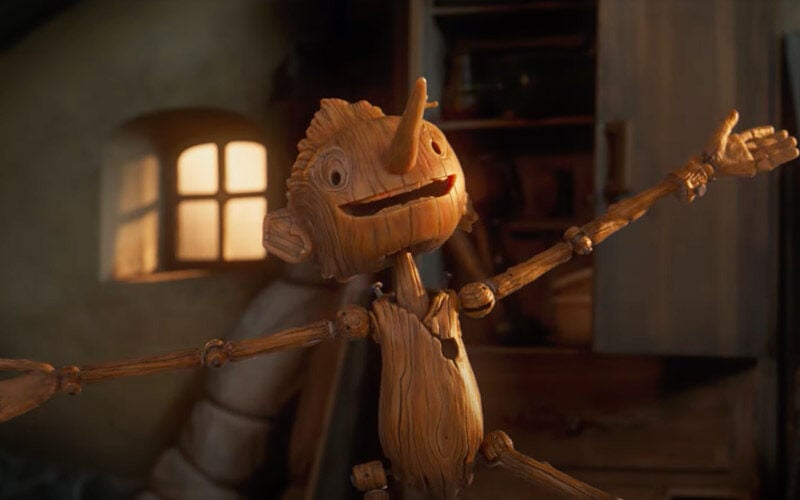 Pinocchio is an age-old character that we're all familiar with. But for me, I wasn't a big fan of Disney's 1940 take on the story. And with no shortage of remakes in the last decade, I couldn't help but ask… Do we really need yet another Pinocchio movie? If it's Guillermo del Toro's Pinocchio, the answer is a resounding yes.
So what's the reason for my enthusiasm? As a big Guillermo del Toro fan, I was confident that his take on the character would bring something new to the screen. And despite going in with reasonably high expectations, I fell in love with this movie.
Let's dive into a high-level overview of the flick. Guillermo del Toro partnered up with stop-motion legend Mark Gustafson for this film, which presents a reimagining of the Carlo Collodi tale. The story follows tells the story of Gepetto and the small wooden boy he creates, Pinocchio. A series of wild adventures ensue as Pinocchio discovers what it means to be a "real boy" and the life-giving power of love.
Guillermo del Toro's Pinocchio Movie Trailer
Guillermo del Toro's Pinocchio Movie Review: What I Did and Didn't Like
With a runtime of 1 hour and 57 minutes, Guillermo del Toro's Pinocchio gives you plenty of time in the magical world the film creates. From the beautiful artistry of the stop-motion characters to the heart-warming laughter Pinocchio pulls from the audience, it's a truly delightful film.
There's a darkness to the film that is equal parts charming and creepy, a blend that del Toro has mastered over the years. And despite its more mature approach to the classic tale, it still has the ability to enchant younger audiences. Though, thankfully (for that audience), with a little less horror than some comparable films from del Toro's resume, such as Pan's Labyrinth.
Moments of heartbreak collide with humor throughout the flick, which helps to balance out the overall experience. It's easy to walk away from Pinocchio and write it off as just another fable. But, not this go around. This film is sad yet exquisitely beautiful and hilarious, and audiences will find themselves working through their whole arsenal of emotions.
The film boasts an all-star cast of voices, including Gregory Mann, Ewan McGregor, David Bradley, Tilda Swinton, Christoph Waltz, Finn Wolfhard, Cate Blanchett, and Ron Perlman, just to name a few. And performances combine effortlessly with the unique style of the characters to create something truly memorable for movie fans.
Overall
Guillermo del Toro's Pinocchio will easily make my Top 10 movies of 2022. It's a charmingly creepy adaptation that is lovingly crafted and brilliantly executed. While Disney is stuck making questionable quality live-action remakes of its former hits, del Toro is creating something new and nostalgic at the same time. Simply put, this one is magical.
Guillermo del Toro's Pinocchio Movie Review:
Grade: A+