Michael Douglas Net Worth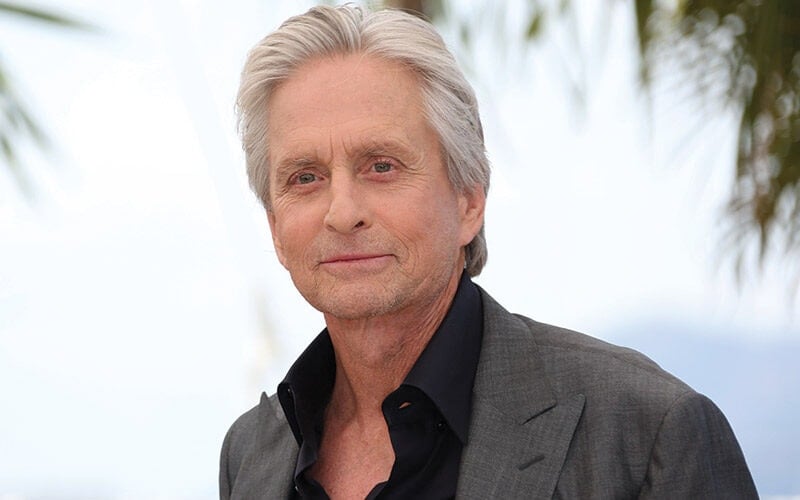 Michael Douglas is an American actor best known for his iconic roles in Basic Instinct, Fatal Attraction, and Wall Street. Having started his career in Hollywood in the 1960s, Douglas has appeared in more than 60 movies and television series.
But it's not just his work in front of the camera that has impacted his success. Michael Douglas's net worth also comes from his work as a producer, his four production companies, his real estate investments, and more. Continue on to learn about his most successful projects and follow his career from the start until now.
Early Life
Michael Kirk Douglas was born on September 25, 1944, in Brunswick, New Jersey. His parents are renowned actors Diana Dill and Kirk Douglas. Additionally, Douglas has a younger brother and two half-brothers from his father's second marriage to Anne Buydens.
Douglas attended a number of schools in different states – The Allen-Stevenson School, Eaglebrook School, and The Choate Preparatory School. In 1968, he graduated from the University of California with a degree in dramatic art.
Acting Career
Douglas's first appearance on the big screen, although uncredited, was in his father's 1966 film Cast a Giant Shadow. His first starring role came in his next film, Hail, Hero. And two more leading roles followed, including, Adam at 6 A.M. and Summertree.
One Flew Over the Cuckoo's Nest
In 1975, Douglas's father presented him with the rights to the novel One Flew over the Cuckoo's Nest. He grabbed the opportunity and produced a film of the same title. He cast Jack Nicholson in the lead role, who went on to win the Best Actor Award at the Oscars. Douglas also went home with an Oscar after winning Best Picture.
This film was the first of Douglas's many successes as a film producer. Without a doubt, it also gave Michael Douglas's net worth an early jump start, after having earned more than $109 million at the box office. Adjusting for inflation, it would be equivalent to approximately $600 million today.
The Streets of San Francisco (1972 – 1976)
In 1972, Douglas was cast in one of the lead roles in the crime drama series The Streets of San Francisco. He stayed on the show for five seasons from 1972 to 1976 as Inspector Steve Keller, getting three consecutive nominations at the Primetime Emmy Awards and another one from the Golden Globes.
Romancing the Stone (1984)
In 1984, Douglas produced and starred in the adventure film Romancing the Stone with Kathleen Turner and Danny DeVito. With a budget of $10 million, the movie raked in more than $86 million worldwide.
Wall Street
Douglas would have a very big year in 1987 as he starred in two of the most memorable films in his career. The first one was the Oliver Stone drama Wall Street, where he starred opposite Charlie Sheen and Darryl Hannah. With his stellar performance, Douglas won his first Academy Award as Best Actor.
The film was also a commercial success, earning $43.8 million globally. In 2010, Douglas would come back to reprise his role as Gordon Gekko in the sequel Wall Street: Money Never Sleeps. With Shia LaBeouf co-starring, the film generated $134.7 million against a budget of $70 million
Fatal Attraction
The second big film for Douglas in 1987 was the massive blockbuster Fatal Attraction with Glenn Close. It would be the actor's highest-grossing film at that point in his career. The movie earned $320.1 million, which would be equivalent to $807.4 million today. His performance also earned him a BAFTA nomination.
Two years later, Douglas would reunite with Romancing the Stone co-star Kathleen Turner in The War of the Roses. The satirical black comedy also did very well in theaters, grossing over $160 million.
Basic Instinct
By the time the 1990s rolled in, Michael Douglas's net worth was rising more rapidly than ever. He has been producing a string of blockbusters, like Flatliners, Double Impact, Radio Flyer, and The Rainmaker, among others. He had also entered the 8-digit acting salary range.
In 1992, he starred opposite Sharon Stone in the erotic thriller Basic Instinct, where he received a paycheck of $14 million. The movie earned more than $352 million at the box office and eventually became one of the most iconic films of the decade.
The American President
Three years later, Douglas was paid another $15 million for his starring role in The American President. He shares the screen with co-star Annette Benning and earned a Golden Globe nomination. It was another hit, raking in $107.9 million from theaters worldwide.
The Game
The box office hits and massive paychecks continued for Douglas as the 1990s came to a close. In 1997, he played the lead character in The Game opposite Sean Penn for a $20 million salary. The movie grossed $109.4 million worldwide against a $50 million budget.
A Perfect Murder
Michael Douglas's net worth got another sizable boost in 1998. He starred opposite Gwyneth Paltrow and Viggo Mortensen in A Perfect Murder, where he was reportedly paid another $20 million salary. With a budget of $60 million, the film grossed over $128 million globally.
Traffic (2000)
Another sizeable increase came to Michael Douglas's net worth in 2000. First, there was Wonder Boys, where Douglas received a reported $5 million salary. His work got him noticed at the BAFTA and the Golden Globes.
Meanwhile, his supporting role in Traffic earned him a $10 million salary. This crime drama went on to earn over $207.5 million at the box office.
Ant-Man Movies
Michael Douglas would become part of the Marvel Cinematic Universe in 2015. He took on the role of Hank Pym. His first appearance would be in Ant-Man which, like the rest of the MCU film, was a massive blockbuster. It earned $519.3 million over a budget of $130 million.
He would then return for Ant-Man and the Wasp in 2018. This time, the box office numbers were even higher at $622.7 million. The first weekend alone already brought in more than $75.8 million, and this was just in the United States.
As of 2022, this title is Douglas's second-highest-grossing film of all time.
Avengers: Endgame
Douglas continued his portrayal of Hank Pym in the Avengers franchise. In 2019, he joined the Avengers: Endgame ensemble cast, which was led by Robert Downey Jr., Chris Evans, Chris Hemsworth, Scarlett Johansson, and many others.
With all the high-salary actors involved in the film, the large budget of $356 million was necessary. But this was nothing compared to the $2.8 billion that it made after its worldwide theater run. As of 2022, Endgame is Douglas's highest-grossing film, and it's also the second-highest-grossing film of all time.
Recent Work
Douglas had not done many films acting outside of his recent work in the Marvel films. But in 2018, he produced the thriller film We Have Always Lived in the Castle, with Taissa Farmiga in the lead role.
Additionally, the AFI Life Achievement Award recipient is also set to star as Benjamin Franklin in the upcoming biographical miniseries Franklin.
Other Ventures
Despite commanding incredibly huge salaries for his films, it was really his revenues from producing that impacted Michael Douglas's net worth the most. In 1969, he founded his production company, Bigstick Productions, Limited. And in 1976, he and his brother Peter took over the running of his father's production company, Bryna Company. But since he already had his own company, Douglas left Bryna in 1978.
During the 1980s, Douglas founded another production company called The Stone Group with Rick Bieber. In 1994, he created yet another company called Douglas/Reuther Productions with Steven Reuther. In 1997, he started a fourth production company, Further Films.
Real Estate
Much of Michael Douglas's net worth can be found in his vast and diverse real estate portfolio. The accomplished actor and producer has collected valuable properties all over the world.
One of his larger investments is S'Estaca, an estate on the coast of Spain. Douglas paid $3.5 million for this 250-acre property in 1990. He had listed it twice, first in 2014 for $60 million then in 2019 for $32.4 million. He unlisted it both times after unsuccessfully finding a buyer.
Douglas had also made many millions from the sale of his 13-acre Westchester, New York property. He bought it for $11.3 million in 2015 and sold it four years later for $20.5 million.
In 2019, Douglas spent $4.5 million to purchase a luxurious home in Irvington, New York. In addition, Douglas also owns a lavish NYC apartment overlooking Central Park that he put on the market in 2021 for $21.5 million, and on top of that cost, there is also a hefty HOA fee upwards of $21,000 per month.
Personal Life
Michael Douglas is married to actress Catherine Zeta-Jones, who is 25 years his junior. The pair first met in 1998, when fellow Hollywood couple Antonio Banderas and Melanie Griffith introduced them. A handful of years later, they tied the knot in November 2000 after dating for more than a year.
Together they have two children, Dylan Michael and Carys Zeta. And while they parted ways for a while in 2013, they are now happily back together.
Douglas was married to Diandra Luker from 1977 to 1995. Together, the two share a son, Cameron. However, after the couple's divorce,
Michael Douglas's net worth dwindled considerably after their divorce from his first wife, Diandra Luker. The two had been married from 1977 until 1995 when she filed for divorce. It's reported that she received $45 million from the split, making it one of the largest divorce settlements in Hollywood history.
Prior to his marriage to Lucker, Douglas had also been in a romantic relationship with actress Brenda Vaccaro. They dated for about six years during the 1970s.
Michael Douglas's Net Worth
As of 2022, Michael Douglas's net worth is estimated at $350 million. However, it's not just his acting career that impacts that number, his producer credits, his multiple production companies, and his real estate investments also significantly add to his overall net worth.
Fans of Douglas can see him next in 2023's Ant-Man and the Wasp: Quantumania, where he'll return as Dr. Hank Pym. He's also set to star as Benjamin Franklin in an upcoming Apple TV+ project.
Additionally, Douglas has five other titles in various stages of development, including the remake of Starman with Shawn Levy attached to direct. While Levy hasn't been sure the project would move forward, it's still listed on IMDB Pro as one of Douglas' upcoming projects with him as a producer.