Antonio Banderas Net Worth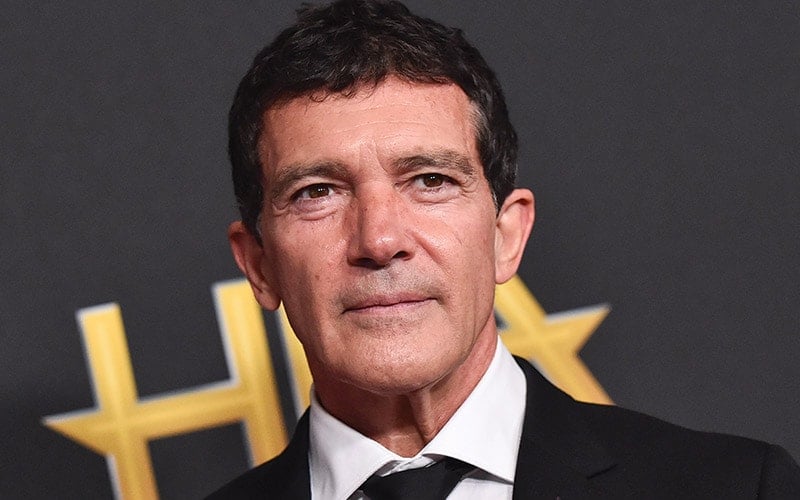 Antonio Banderas is a Spanish actor best known for his roles in The Mask of Zorro, Once Upon a Time in Mexico, and The 13th Warrior. Since starting his acting career in Hollywood in 1982, he's appeared in more than 115 movies and television series.
However, it's not just his work on the big screen that has contributed to his success. Antonio Banderas's net worth has also been impacted by his fragrance lines, winery, brand endorsements, writing credits, producing credits, and real estate investments. Read on to discover Banderas's most successful projects and trace his career from the beginning until now.
Early Life
Jose Antonio Dominguez Bandera, known today as Antonio Banderas, was born on August 10, 1960, in Malaga, Spain. His mother, Ana Bandera Gallego, was a schoolteacher, and his father, Jose Dominguez Prieto, was a gendarme officer. Banderas is the older of two boys.
Banderas dreamed of becoming a football player from an early age. However, he suffered a broken foot when he was 15, which derailed his goals. He shifted his attention to the performing arts, joining the ARA Theatre School and the College of Dramatic Art in Malaga. With his training and growing experience, Banderas was able to get into the Spanish National Theatre.
Acting Career
Banderas's first public performance was in a small Malaga theatre, followed by a few other similar productions with a touring theatre troupe. At the time, there was political censorship over such plays, which led to the numerous arrests of Banderas.
In one of his performances, the Spanish director Pedro Almodovar took notice of Banderas's acting skills. He gave Banderas his film debut in Labyrinth of Passion in 1982. The success of the film paved the way for further film collaborations between the two down the line. The list includes Matador in 1986 and Law of Desire in 1987, where Banderas gave a sensational performance.
In 1987, Almodovar cast Banderas in the controversial film Tie Me Up! Tie Me Down! The Spanish actor portrayed a mental patient who kidnapped a porn star, eliciting much praise from critics. With this role, Antonio Banderas's net worth began to rise as he gained recognition as an international actor.
Early Projects
In 1991, Banderas landed a role as one of Madonna's objects of desire in her pseudo-documentary, Madonna: Truth or Dare. He was not very fluent in English at the time.
In his first American film, The Mambo Kings, he had to memorize his movie lines phonetically. Despite this, he still drew favorable reviews from critics for his acting.
Interview with the Vampire: The Vampire Chronicles
One of the films that solidified Banderas's status as a Hollywood star was Interview with the Vampire in 1994. In this film adaptation of the Anne Rice novel of the same title, Banderas played the role of the vampire Santiago. He appeared alongside A-listers Tom Cruise and Brad Pitt. The film was a huge commercial success, bringing in $223.7 million over a budget of $60 million.
The following year, Banderas took over the role of El Mariachi in Desperado, the second film in the Mexico Trilogy by filmmaker Robert Rodriguez. The box office revenues were not spectacular at $25.4 million. However, the film would become a cult classic. It also marks the first of many films that Banderas and actress Salma Hayek would co-star.
Evita
In 1996, Banderas would reunite with Madonna in the musical film Evita, co-produced by Andrew Lloyd Webber and Tim Rice. The movie started a bit slow in theaters, earning $195,085 on opening weekend. It went on to finish at $141 million against a budget of $55 million.
Antonio Banderas's net worth also got a sizable boost from the project, as he received a reported salary of $4 million for his role, which included performing his own vocals for all the songs. His hard work in the movie paid off as he earned his first Golden Globe nomination in the Best Actor category.
The Mask of Zorro
In his next starring role, Banderas played the masked vigilante in The Mask of Zorro. He appeared alongside Anthony Hopkins who played the original Zorro, and Catherine Zeta-Jones, who plays his daughter and Banderas's love interest.
The movie was a huge commercial success. With a budget of $95 million, it was able to generate total gross earnings of $250.3 million. A sequel entitled The Legend of Zorro was released in 2005. And it was also a box office hit. Though, the sequel didn't match the ticket sales of the original, only making $142.4 million in gross revenues.
The 13th Warrior
Banderas would then appear in The 13th Warrior in 1999, which is a film adaptation of Michael Crichton's novel Eaters of the Dead. It had a fairly large budget of $160 million. But, unfortunately, it made only $61.7 million in theaters. Banderas did gain critical praise for his performance though, also earning a couple of nominations.
In the same year, Banderas would have his directorial debut in the comedy-drama Crazy in Alabama. It starred his then-wife Melanie Griffith.
The Body
In 2001, Antonio Banderas's net worth got a sizable boost when he took on the lead role in The Body. Banderas reportedly received a salary of $12 million for the role. However, with a budget of $30 million, the film only grossed about $280,000 worldwide.
Shortly after, he starred opposite Angelina Jolie in Original Sin.
Spy Kids Movies
In 2001, Banderas was cast to play the role of Greg Cortez in the Spy Kids movies. The actor's salary wasn't disclosed, but all four films were commercial successes. The first film earned $147.9 million on a budget of $35 million. The second film, Spy Kids 2: Island of Lost Dreams, made $119.7 million, and the third, Spy Kids 3: Game Over, raked in even more at $197.1 million.
The final film of the franchise, Spy Kids 4: All the Time in the World, did not fare as well as its predecessors. It made only $85.6 million against a budget of $27 million.
Once Upon a Time in Mexico
In 2003, Banderas reunited with Salma Hayek in the final film of the Mexico Trilogy. He once again plays the role of El Mariachi in Once Upon a Time in Mexico. The film generated $98.8 million at the worldwide box office, with a budget of $29 million. With his performance, Banderas won Best Actor at the Imagen Awards.
In the same year, Banderas would return briefly to his theatre roots as Guido Contini in the musical production, Nine. The actor delivered a brilliant performance that won him his first Tony Award for Best Actor.
Shrek Movies
The film franchise that would have the largest impact on Antonio Banderas's net worth would be the Shrek movies. Although he was not part of the cast of the original film, he did play a notable role, Puss in Boots, in all the sequels. According to reports, Banderas earned about $10 million from the Shrek films.
The box office numbers for the franchise were nothing short of amazing. Shrek 2 made almost a billion at $928.8 million. Shrek the Third earned $813.4 million, while Shrek Forever After generated $752.6 million from theaters worldwide.
Puss in Boots
In 2011, Banderas starred in Puss in Boots, which was a spin-off from the Shrek movies. It did very well at the box office, opening with $34 million on the first weekend and going on to finish its theater run with $555 million of total earnings against a budget of $130 million.
As of 2023, Shrek 2 is Banderas's highest-grossing film, followed by Sherk the Third and Shrek Forever After in second and third.
The Skin I Live In
In 2011, Banderas would reunite with his friend and mentor, director Pedro Almodovar in the Spanish sci-fi thriller The Skin I Live In. It had a limited release in the United States, so it only earned $33.7 million. However, it did very well internationally, winning several awards and nominations across various categories.
The Expendables 3
In 2014, Banderas joined the ensemble cast of The Expendables 3, led by Sylvester Stallone and Jason Statham. Like the earlier installments of the franchise, this film did brilliantly at the box office, earning a total of $214.7 million against a budget of $80 million.
Recent Work
Among Banderas's most recent work was his lead role in Pain and Glory in 2020. It earned him his first and so far only Oscar nomination.
He was also part of the cast of Hitman's Wife's Bodyguard in 2021, along with Ryan Reynolds, Samuel L. Jackson, and Salma Hayek.
Other Ventures
Antonio Banderas's net worth has also been significantly impacted by his work off-camera. For starters, Banderas had been working with fragrance and beauty company Puig for over ten years now. He had been the brand's most-known ambassador and had promoted fragrances like Diavolo, Spirit, and Antonio for Men. In 2007, Banderas successfully launched his own fragrances, Blue Seduction for Men and Blue Seduction for Women.
Banderas is also co-owner of a winery in Burgos, Spain called Anta Banderas. They specialize in the production of red wines and rosé wines.
Over the years, Banderas has lent his image to a number of international brands. He had appeared in commercials for the US allergy medication Nasonex and the British retail shop Marks & Spencer.
Additionally, he also has numerous writing and producing credits as well.
Real Estate
Following his divorce from Griffith in 2016, the ex-couple sold the properties they had acquired during their marriage. Their family home in Los Angeles went for $16 million. They also have a property in Aspen, which they listed for $9.9 million. Ultimately, they had an offer for $4 million, which they took in 2019.
The couple also had a home in New York City. Banderas put the property on the market in 2018 with an asking price of $7.95 million. Outside of their conjugal properties, Banderas also owns real estate in Surrey, England, and in his hometown of Malaga in Spain.
Personal Life
Antonio Banderas's first wife was Spanish actress Ana Leza, to whom he was married from 1987 to 1996. He then married actress Melanie Griffith in 1996. The pair had a daughter together, Stella del Carmen Banderas, who was born in September 1996.
With his divorce from Griffith, Antonio Banderas's net worth was slightly impacted. As part of the settlement, Banderas had to give Griffith spousal support in the amount of $65,000 a month. He also covered their daughter's expenses, including college and grad school tuition.
Antonio Banderas's Net Worth Today
As of 2023, Antonio Banderas's net worth is estimated at $50 million. While his acting career is responsible for a sizable amount of his net worth, his fragrance lines, winery, brand endorsements, writing credits, producing credits, and real estate investments also have a notable impact.
Fans of Banderas can look forward to seeing him next in 2023's Indiana Jones and the Dial of Destiny. Not much is known about Banderas's role in the fifth Indy flick, but he has spoken with the press about the film, noting that his involvement is brief. He'll also star in Clean Up Crew, The Last Girl, and The Monster of Florence.
Additionally, he has two more projects, Solo and Akil, in the works, which are in the early stages of development.