The Walking Dead's Ross Marquand Creates a Signature Cocktail Kit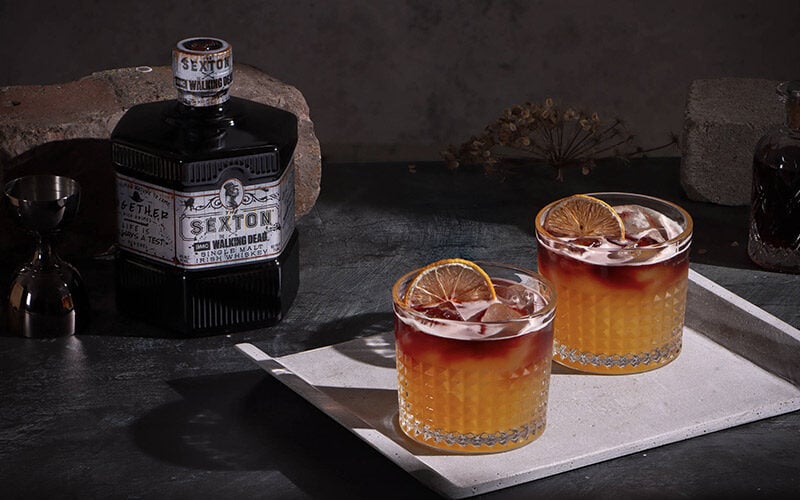 With the final episode of The Walking Dead airing tonight, fans are celebrating all the good the hit AMC series has brought to their life over the last 12 years.
And while it's hard to say goodbye to a series that has meant so much to us all, it's easy to celebrate all the good times that the show has brought to us. And that's exactly what one company is doing. Cocktail Courier has teamed up with the official whiskey of The Walking Dead, The Sexton Single Malt, to create a limited edition cocktail offering.
But that's not even the best part. What makes this even cooler is that the kit was created by The Walking Dead's very own, Ross Marquand (AKA Aaron). So needless to say, this is a cocktail kit that is uniquely suited for Walking Dead fans!
Meet the Final Showdown
Curious about the this drink yet? "The Final Showdown" cocktail tastes just as good as it looks with the triple distilled, smooth whiskey complementing the tart taste of fresh fruit juice, balanced out with some sweet agave syrup and topped with a red wine float – allowing the Walker vibe to shine!
This exclusive kit includes a 750 ml bottle of The Sexton's Walking Dead inspired limited offering and ingredients for up to eight cocktails, so everyone one at your watch party can enjoy it! Secure your kit before it's too late, because just like the show, this special whiskey is not going to last forever…
Here's what your kit includes:
1 The Sexton Single Malt Irish Whiskey The Walking Dead Limited Edition 750 ml bottle
1 El Coto Rioja Crianza 375 ml bottle
1 Agave Syrup 4 oz bottle
2 Pineapple Juice 6.0 oz cans
4 Lemons
12 Dehydrated Lemon Wheels
1 'The Final Showdown' Classic Recipe Card
"The Final Showdown" Cocktail Recipe
Chill rocks glass by placing it in the fridge/freezer or by filling with ice water and setting aside for 5 minutes.
Remove rocks glass from fridge/freezer or if using ice water, empty the glass.
Add The Sexton, pineapple juice, fresh lemon juice and agave syrup to shaker.
Fill shaker with ice, and shake vigorously for 10 seconds.
Pour into rocks glass.
Measure out red wine, place a spoon facedown over the rocks glass and slowly pour over.
Garnish with a dried lemon wheel.
FanBolt's Taste Test
I'm working on a video that I'll share to Instagram here that will walk you through how to make the cocktail. But until then, I have to say, the show may be ending tonight, but this cocktail will be made for years to come in our household. I'm no stranger to whiskey and scotch cocktails, and I have to say, this is one of the best ones I've had. It's the perfect balance of bright and light while still having that delightful smokey taste!
Curious about more details? Head over to Cocktail Courier for more information! And meanwhile, let us know how you're celebrating the series finale of The Walking Dead!