Don Cheadle is an American actor best known for his roles in Traffic, Crash, and Hotel Rwanda. Since starting his career in Hollywood in the mid-1980s, Cheadle has starred in more than 100 movies and television series.
Though, it's not just his work on the big screen that has contributed to his career success. Don Cheadle's net worth has also been impacted by his producing and directing work, stage performances, and real estate investments. Read on to discover Cheadle's most successful projects and trace his career from the beginning until now.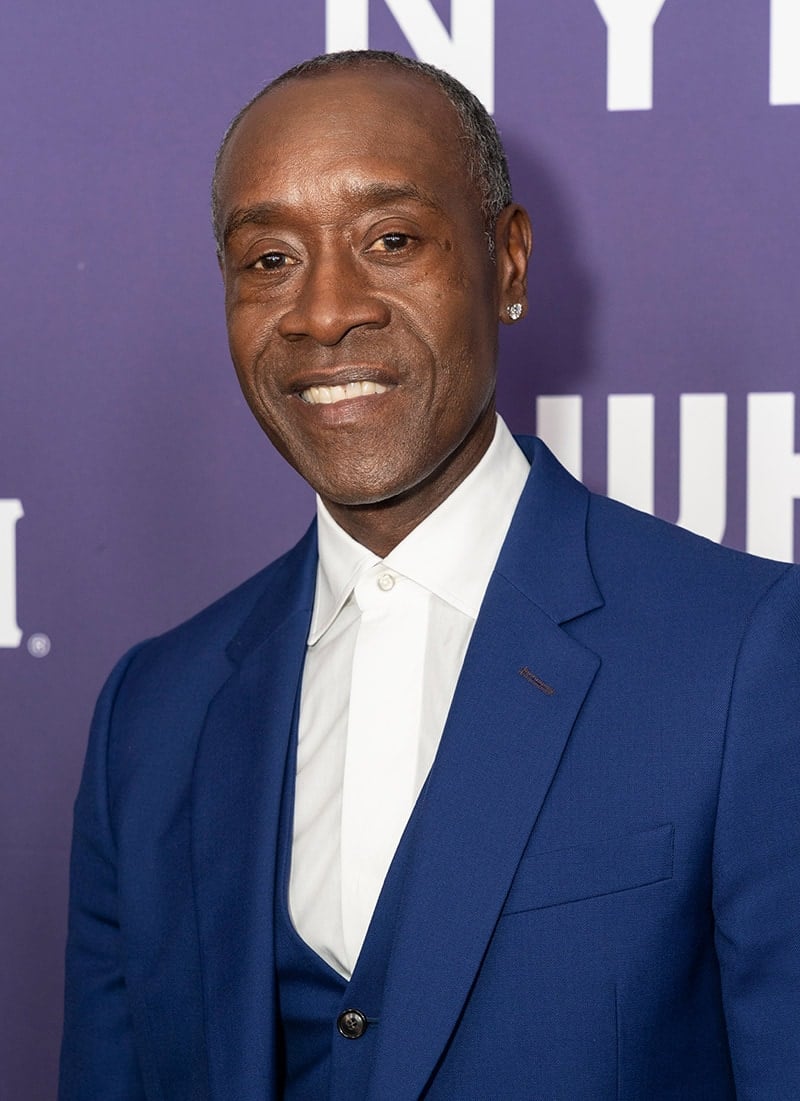 Early Life
Donald Frank Cheadle Jr. was born in Kansas City, Missouri, on November 29, 1964. His mother, Bettye North, was a schoolteacher and his father, Donald Frank Cheadle Sr., was a clinical psychologist. With his sister Cindy and brother Colin, Cheadle's family frequently traveled when he was a child.
He attended Hartley Elementary School in Nebraska, then graduated from East High School in Colorado. While in school, Cheadle showed a strong inclination toward music and acting. He was part of the school's jazz band, sang in the choir, and performed in numerous theater productions.
Cheadle holds a Bachelor of Fine Arts degree, which he earned from the California Institute of the Arts in 1986.
Acting Career
Cheadle had his film debut in the 1985 comedy Moving Violations. This was followed by minor roles in the television series Fame, L.A. Law, and Sidekicks in 1986. The following year, he snagged a role in the popular police series Hill Street Blues and also starred in the war film Hamburger Hill alongside Dylan McDermott.
In 1988, Cheadle worked with Sean Penn and Robert Duvall in the crime film Colors. Then he went back to doing small TV roles. He ended the decade with roles in Night Court, Hooperman, Booker, China Beach, and The Fresh Prince of Bel-Air.
Picket Fences
After years of playing various guest roles, Cheadle had his big TV break when he was selected to join the Golden Girls in the sequel sitcom The Golden Palace in 1992. Unfortunately, the show lasted only one season.
The following year, Cheadle was cast as John Littleton on three seasons of Picket Fences. He started as a recurring character in the second season and was promoted to the main character for the third and fourth seasons. He appeared in a total of 38 episodes of the show.
As Picket Fences was coming to an end, Cheadle appeared in the 1995 Denzel Washington flick, Devil in a Blue Dress. His performance got him positive reviews from critics and a nomination from the Screen Actors Guild.
Boogie Nights
In 1997, Cheadle was chosen for a supporting role in the comedy-drama Boogie Nights. The film, which starred Mark Wahlberg and Julianne Moore, turned out to be a moderate commercial success, making $43.1 million at the box office against a budget of $15 million.
Out of Sight
The following year marked Cheadle's first collaboration with director Steven Soderbergh in the crime comedy Out of Sight, which also starred George Clooney and Jennifer Lopez. This would be the first of many films that the two would work on together, with the list including the blockbuster movies in the Ocean's franchise.
With a budget of $48 million, the film earned $77.7 million.
The Rat Pack
Another year later, Cheadle would achieve another milestone, winning his first Golden Globe Award in 1999. It was for his supporting role in the made-for-TV film The Rat Pack, where he shares the screen with Ray Liotta, Joe Mantegna, and Angus Macfadyen. Cheadle portrayed the legendary Sammy Davis Jr.
Crash
Cheadle would then try his hand at producing for the first time in the 2004 crime drama Crash. It turned out to be a massive blockbuster. Over the first weekend of release, the film already drew $9.1 million, which was $3 million more than its production budget of $6.5 million. It went on to earn $98.4 million in total gross revenues.
He also co-stars in the film with Matt Dillon and Sandra Bullock. For both his acting and producing work, Cheadle earned nominations at the BAFTA. He also won at least a dozen other awards and nominations through the film.
Hotel Rwanda
Cheadle would receive much well-deserved critical acclaim in 2004 for his riveting performance in Hotel Rwanda. With this role, he secured multiple Best Actor nominations, including those from the Academy Awards, the Golden Globe, and the Screen Actors Guild.
With such accolades, one would expect the film to have had a stellar performance at the box office. But, unfortunately, that was not the case. The multi-awarded film opened to barely more than $100,000 at the box office, ending its run with just $33.9 million in gross revenues.
Traitor
In 2008, Cheadle again took on the lead actor and producer role, this time for the spy film Traitor. Unfortunately, the film left a mediocre impression on film critics and movie-goers. And the movie earned only $27.7 million globally. which barely covered its production budget of $22 million.
The Guard
In the 2011 Irish cop comedy film, The Guard, Cheadle found himself playing an FBI agent partnered with a crass police officer played by Brendan Gleeson. The film would turn out to be a huge commercial success. Even though it only made $19.6 million at the box office, it made more than three times its production budget of $6 million.
Marvel Movies
In 2010, the Marvel Cinematic Universe (MCU) would begin its significant impact on Don Cheadle's net worth. The actor would join the powerhouse cast of the film Iron Man 2, where he played the role of James Rhodes/War Machine. Cheadle reportedly received a salary of $1 million for the flick.
Iron Man 2 earned $623.9 million against a budget of $200 million. Throughout the rest of the decade, Cheadle would appear in six more big-budget Marvel films, including Iron Man 3 in 2013, Avengers: Age of Ultron in 2015, Captain America: Civil War in 2016, Avengers: Infinity War in 2018, and Captain Marvel and Avengers: Endgame, both in 2019.
Of these, Avengers: Endgame would be the biggest blockbuster and the highest-grossing film of Cheadle's career. Quite unbelievably, it generated an unprecedented $357 million on opening weekend alone, which was already more than its colossal budget of $356 million.
The film went on to make a record-breaking $2.8 billion in theaters worldwide, making it the second-highest-grossing film of all time.
House of Lies
As Cheadle's fame was skyrocketing to new heights due to the Marvel effect, Cheadle's television career was also taking off. In 2012, he began working on the comedy-drama series House of Lies opposite Kristen Bell. In addition to playing Marty Kaan on-screen, he directed four episodes and was an executive producer for the series as well.
Cheadle won four consecutive Primetime Emmy nominations for the show and won the Golden Globe for Best Actor in 2013.
Appearing in all 58 episodes of House of Lies, the Showtime series had a sizable impact on Don Cheadle's net worth. With a reported salary of $150,000 per episode for his on-screen work, Cheadle made around $8.7 million for the show.
Recent Work
Cheadle's most recent work includes the television comedy series Black Monday. He was the star of the Showtime series and also an executive producer.
Black Monday also had a notable impact on Don Cheadle's net worth, with an acting salary of $150,000 per episode. With ten episodes per season, this works out to be $1.5 million per season and $4.5 million in total. Of course, this doesn't include his earnings as a producer. His performance also earned him a Primetime Emmy nomination for Outstanding Lead Actor.
In 2021, Cheadle reprised his role as James Rhodes in an episode of the miniseries The Falcon and the Winter Soldier. For this single episode, he received a nomination from the Primetime Emmys. He is also currently doing the voice of Dean Williams in The Wonder Years, inspired by the original series in the late 1980s.
And, just recently in 2022, Cheadle produced the stage musical A Strange Loop. The play, which had 11 Tony Award nominations, won the Tony for Best Musical in 2022.
Other Ventures
Also impacting Don Cheadle's net worth is his work as a producer and director. Cheadle has produced ten movies and television series to date, including titles such as Crash, Traitor, and Miles Ahead.
And in 2019, Cheadle launched a new production company called Radicle Act.
Real Estate
Don Cheadle's net worth is also affected by his real estate investments over the years. In his most recent transaction, he received $2.415 million for a property in Venice that he had listed for $2.445 million.
Cheadle and his partner had purchased the home in 2018 for $894,000 when it was just an 800 sq. ft. bungalow. They transformed it into a luxurious 3-bedroom abode with a floor area of 2,400 square feet.
Personal Life
Since the early 1990s, Cheadle had been in a relationship with actress Bridgid Coulter. They have two daughters, Agana and Imani. They finally made it official in 2020 and got married, apparently upon the suggestion of their accountant.
Don Cheadle's Net Worth 2022
As of 2022, Don Cheadle's net worth is estimated at $40 million. And while his acting career is largely responsible for this number, his work as a director and producer, his production company, and his real estate investments also impact his net worth.
Fans of Cheadle can look forward to seeing him next in 2023's The Big Cigar and the upcoming Disney+ Marvel series Secret Invasion, which will also star Samuel L. Jackson and Emilia Clarke. Additionally, Cheadle has seven additional projects in the works in various stages of development.
Recommend

0

recommendations
Published in Celebrity, Celebrity Net Worth