Atlanta Film Critics Circle Announces 2022 Winners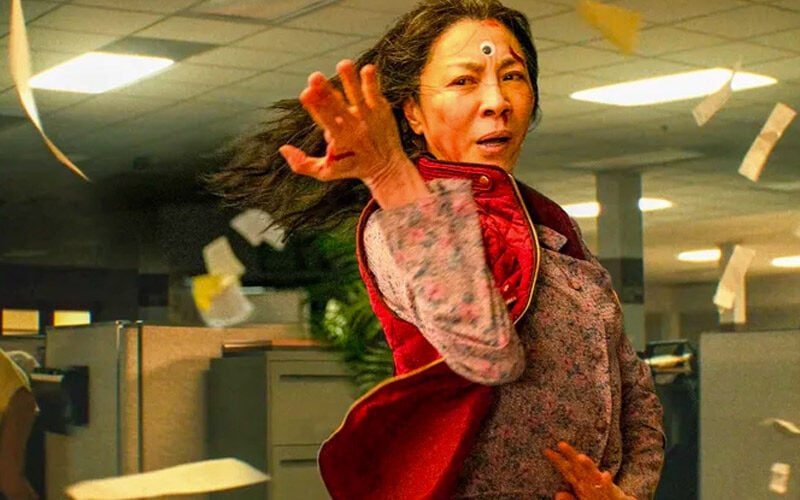 The 2022 Atlanta Film Critics Circle winners have been announced!
For the sixth year, the 31 voting members of Atlanta's only dedicated city-specific critics group, the Atlanta Film Critics Circle, have awarded their top films of the year.
The Big Winner: Everything Everywhere All at Once
The top film of the year is Everything Everywhere All at Once, an indie box office phenomenon that has grossed $70 million in the U.S., making it the highest-grossing film ever for A24. A manic, metaphysical fantasy and paean to the grit and heart of a Chinese-American family rendered in psychedelic terms, Everything Everywhere All at Once is "a jaw-dropper of a film," says frequent Atlanta Journal-Constitution film contributor Felicia Feaster.
"It's the kind of insane plot so rich with philosophical ideas and delirious action that restores your faith in filmmaking and the boundless imagination of this art form. Who would have expected such a bizarre film to clean up at the box office? I hope it shows the industry they need to take more chances and back innovative scripts and filmmakers." says Feaster.
Co-written and co-directed by Daniel Kwan and Daniel Scheinert, the film is a celebration of off-the-leash imagination and a fascinating reimagining of the immigrant story led by a mesmerizingly sexy, poignant performance of middle-aged angst from Michelle Yeoh. The duo share AFCC's Best Director award.
Ke Huy Quan
Everything Everywhere All at Once also won the AFCC Best Supporting Actor award for Ke Huy Quan's often heartbreaking turn as the quiet, stalwart husband to Michelle Yeoh's action force-to-be-reckoned-with. Ke Huy Quan is undoubtedly a sentimental critical favorite for reappearing in such a complex adult role, after his work as a child star in The Goonies and Raiders of the Lost Ark. His performance proves, like John Travolta in Pulp Fiction or Burt Reynolds in Boogie Nights, there is always the chance for a second act in film.
Themes
For AFCC Advisory Board member and LastOneToLeaveTheTheatre.com critic Michael McKinney, the film was part of a group of 2022 releases, including The Fabelmans, Nope, The Banshees of Inisherin, Aftersun, and Women Talking that took idiosyncratic or unconventional families as their subjects.
"A lot of the films dealt with family and how important those ties are for each of us," says McKinney.
AFCC's annual award winners reflect that 2022 was notable for works by movie-making royalty like Steven Spielberg in his autobiographical The Fabelmans, and newcomers like Scottish director Charlotte Wells, whose Aftersun is an evocative portrait of a fragile, divorced father (Paul Mescal) and his 11-year-old daughter Sophie (Frankie Corio) on a seaside holiday in Turkey.
In addition, Aftersun won NYU grad Wells AFCC's Best First Feature Award for her tender, meticulously observed debut about a role reversal between a father and his precocious daughter, whose coming-of-age presents a burgeoning realization of her father's limitations.
Breakthrough Performer: Austin Butler
The winner of AFCC's other special award for Breakthrough Performer, Austin Butler, brought fragility and empathy to his version of the oft-imitated Elvis Presley in Baz Luhrmann's audacious biopic Elvis. Butler's captivating performance endows Presley with humanity and charisma that transcends our image of an American icon, who has often been portrayed as a kitschy cliche and poster child for artistic decline.
Not surprisingly, AFCC's first year offering an award for Best Stunt Work went to Top Gun: Maverick, a sequel to the 1986 action-drama. The film was also number six on the AFCC's list of the top 10 films of the year and won for Best Cinematography for 2022.
Best Actress Cate Blanchett
This year's Best Lead Actress category was full of memorable performances. However, it was Cate Blanchett as the mercurial, self-involved but also empathetic orchestra conductor, Lydia Tar, who stood out. AFCC member Rebecca Daniel, of Show Me The Movies, calls it a "powerhouse performance." AFCC co-founder Felicia Feaster admires Blanchett's ability to connect the audience to an unusual breed of film protagonist.
"She's the kind of unapologetically brilliant, self-actualized, narcissistic, and not always likable character we are used to seeing men play, but women rarely play in film," says Feaster. "But Blanchett somehow endows her vision of Lydia Tar with a fierceness and complexity that endears her to us. I think this is going to be a performance for the ages that endures, on the level of Robert De Niro in Raging Bull or Meryl Streep in Sophie's Choice."
Best Actor: Colin Farrell
Another spin on convention, the tough-as-nails Lydia Tar is contrasted with this year's Best Lead Actor winner Colin Farrell as a gentle, earnest farmer living on a tiny island in Ireland whose life is torn asunder when he is rejected by his best friend (Brendan Gleeson). Director Martin McDonagh won AFCC's Best Screenplay award for his gossamer balance between humor and heartbreak in a parable-like story about loneliness, friendship, and dashed dreams.
Best Documentary: Fire Of Love
The AFCC's Best Documentary this year was Neon's Fire of Love. Director Sara Dosa's film documents the lives of two scientists, Katia and Maurice Krafft, who were born in the same town in France and grew up to become world-renowned volcanologists and husband and wife. The film offers a unique story of shared passion and two like-minded souls who found love in both work and their private life. The doc also boasts some of the most spectacular footage of red and gray volcanos shot by the couple who died doing what they love in 1991.
"I am especially delighted that two films I fell in love with this year, Fire of Love and Everything Everywhere All at Once, won awards. And I hope that their wins will inspire people to seek them out," says McKinney.
Best International Feature: RRR
The top pick for Best International Feature, director S.S. Rajamouli's rousing action saga was, for Rebecca Daniel, a definite crowd-pleaser, as well as critical favorite. "It's got action, heart, and dance sequences galore." She calls it "a worthy winner for best international film."
This year's AFCC awards also bucked the usual industry notion that award-winning films tend to only be released during the award season.
"We have been trained to think that Hollywood has an 'award season' late in the year. This year, we saw that great films can hit theaters at any time. Our Best Picture, Best Director, and Supporting Actor come from films released in March. We honored the remarkable technical mastery on display in Top Gun: Maverick, the quintessential summer movie. Our pick for Documentary was in theaters in July. And we were wowed by the Breakthrough Performance of Austin Butler in Elvis in June. To anyone who says 'there's nothing worth seeing right now', just look at our list to see there are great movies around you all the time," says film critic and AFCC Advisory Board member Jason Evans of Flixchat.
"I love the wide range of films that made the top ten, this year," says McKinney. "From the major box office winner Top Gun: Maverick, to a smaller film like The Banshees of Inisherin, shows what a great year it was for cinema."
Complete AFCC Award List
TOP 10 FILMS (ranked):
WINNER Everything Everywhere All at Once
The Fabelmans
The Banshees of Inisherin
Tar
RRR
Top Gun: Maverick
Decision to Leave
Women Talking
Glass Onion: A Knives Out Mystery
Nope
BEST LEAD ACTOR:
Colin Farrell, The Banshees of Inisherin
BEST LEAD ACTRESS:
Cate Blanchett, Tar
BEST SUPPORTING ACTOR:
Ke Huy Quan, Everything Everywhere All at Once
BEST SUPPORTING ACTRESS:
Janelle Monae, Glass Onion: A Knives Out Mystery
BEST ENSEMBLE CAST
Glass Onion: A Knives Out Mystery
BEST DIRECTOR:
Daniel Kwan and Daniel Scheinert, Everything Everywhere All at Once
BEST SCREENPLAY:
Martin McDonagh, The Banshees of Inisherin
BEST DOCUMENTARY:
Fire of Love
BEST INTERNATIONAL FEATURE:
RRR (India)
BEST ANIMATED FILM:
Pinocchio
BEST CINEMATOGRAPHY:
Claudio Miranda, Top Gun: Maverick
BEST ORIGINAL SCORE:
Michael Giacchino, The Batman
BEST STUNT WORK:
Top Gun: Maverick
AFCC Special Award for BEST BREAKTHROUGH PERFORMER:
Austin Butler, Elvis
AFCC Special Award for BEST FIRST FEATURE FILM:
Charlotte Wells, Aftersun
About the AFCC
Co-founded by longtime Atlanta film critics Felicia Feaster and Michael Clark in 2017, the Atlanta Film Critics Circle is an attempt to fill a void in the local film community, and in the representation of Atlanta's media on the national stage. The AFCC is supported by its Advisory Board and longtime critics Jason Evans, Will Leitch, Hannah Lodge, Michael McKinney, Kyle Pinion, and Josh Sewell.
Composed of a dynamic mix of 31 Atlanta-based critics working in newspaper, magazine, and online journalism, the AFCC's mission is to establish a national presence for a film critics group in Atlanta and to foster a vibrant film culture in Atlanta, already home to an exploding film industry production presence.
Founding members (critics living in and/or currently writing for global, national, regional and/or Atlanta metro area outlets) of AFCC voted on December 4 for the group's annual awards.