Christopher Lloyd Net Worth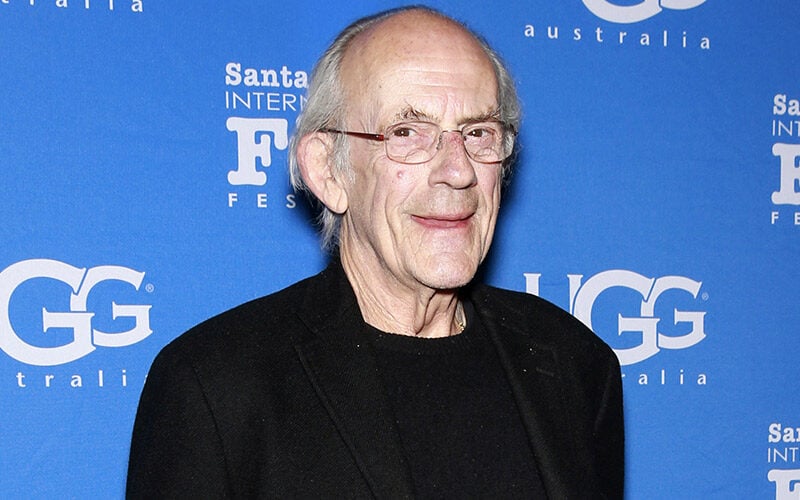 Christopher Lloyd is an American actor best known for his roles in Who Framed Roger Rabbit, Clue, and the Back to the Future movies. Having started his acting career in Hollywood in 1975, he's appeared in more than 230 movies and television series.
Though, it's not just his acting career that contributes to his success. Christopher Lloyd's net worth is also impacted by his stage work and real estate investments. Read on to discover Lloyd's most successful projects and trace his career from its start until now.
Early Life
Christopher Allen Lloyd was born in Stamford, Connecticut, on October 22, 1938. His mother, Ruth Lapham Lloyd, was a singer. And his father, Samuel R. Lloyd Jr., was a lawyer. Additionally, Lloyd also has two older brothers and two older sisters.
Lloyd went to Staples High School, where he became one of the founding members of the Staples Players, which would be the school's theater company.
Acting Career
Lloyd's professional acting career would begin on stage during his high school years. He was heavily involved in the performing arts since that time. However, it wasn't until 1969 that he finally had his Broadway debut. This was in the Cort Theatre production of Red, White, and Maddox.
Early Projects
More theater roles came for Lloyd in the early 1970s, such as in the 1973 production of Kaspar. Critics praised Lloyd for his work, and he also received a Drama Desk Award and an Obie Award for his early performances.
One Flew Over the Cuckoo's Nest
In 1975, Lloyd broke into the film industry as he was cast as Max Taber in the psychological comedy-drama One Flew over the Cuckoo's Nest. The cast included Jack Nicholson and Louise Fletcher in the lead roles and Danny DeVito in a supporting role. It swept the Academy Awards, winning five out of its nine nominations.
It was also a massive commercial success, earning an amazing $109 million over a measly production budget of only $3 million.
Taxi
In 1978, Christopher Lloyd's net worth would start to climb noticeably when he took on the role of Rev. Jim Ignatowski in the television series Taxi. He portrayed the character for five seasons, appearing in a total of 84 episodes. He gave a consistently brilliant performance and won the Primetime Emmy Awards for Outstanding Supporting Actor in a Comedy Series for two consecutive seasons.
The favorable reviews led to bigger and better roles for Lloyd in subsequent years. He appeared in films like The Lady in Red in 1979, The Postman Always Rings Twice in 1981, and Star Trek III: The Search for Spock in 1984.
Clue
In 1985, Lloyd would bring the character of Professor Plum to life in the black comedy Clue. The film was based on the popular board game of the same name. Lloyd would join an ensemble cast that featured Tim Curry, Eileen Brennan, Madeline Kahn, and many more. Unfortunately, it only earned $14.6 million, falling short of making back the production expenses.
Back to the Future Movies
The film franchise that would have the biggest impact on Christopher Lloyd's net worth would be the Back to the Future movies. He would play what would probably be his most recognizable role as Dr. Emmett "Doc" Brown. The films, which he co-starred with Michael J. Fox in, would rank among the most iconic films of the 1980s.
The first film of the series had only a $19 million production budget. But it managed to rake in a very impressive $383.3 million from theaters worldwide, making it the it the highest-grossing movie of the trilogy. And, as of 2022, it's also Lloyd's highest-grossing movie.
Back to the Future Part II made more than $330 million, working with a budget of $40 million. Likewise, the third film of the series also had a production budget of $40 million. Although it earned considerably lower than the first two films, it was still a commercial success with $245 million in gross earnings at the box office.
Who Framed Roger Rabbit
Lloyd's next big blockbuster was the Robert Zemeckis-directed film Who Framed Roger Rabbit in 1998. He played the cruel Judge Doom, who was the main antagonist of the film. With a huge budget of $70 million, it quickly earned $11.2 million on opening weekend in the US alone. At the end of its global theater run, it was able to draw an impressive $329.8 million in gross revenues.
As of 2022, Who Framed Roger Rabbit is Lloyd's third-highest-grossing film.
The Addams Family
In 1991, Lloyd would take on the role of Uncle Fester in The Addams Family. The film was voted favorite movie at the Kids' Choice Awards and Best Horror Film in 1991 at the Horror Hall of Fame. It also brought exemplary results at the box office, making $191.5 million compared to a budget of $30 million.
A year later, Lloyd would win his only Primetime Emmy Award for Outstanding Lead Actor in a Drama Series for his work on Road to Avonlea.
Dennis the Menace
Continuing with his popularity in kid-friendly movies, Lloyd would appear in the 1993 family comedy Dennis the Menace. It was a hit with audiences, as clearly reflected in the $117.3 million it drew in ticket sales.
In the same year, Lloyd would join Brendan Fraser, Linda Hunt, Steve Buscemi, and others in Twenty Bucks. He would also reprise his role as Uncle Fester in The Addams Family Values.
Angels in the Outfield
The following year, Lloyd would play the lead role in the sports fantasy film Angels in the Outfield, appearing alongside Danny Glover and Tony Danza. It wasn't a huge blockbuster. But it did earn a few million, with gross earnings of $50.2 million.
The Pagemaster
Also, in 1994, Lloyd played the character of Mr. Dewey in The Pagemaster, providing the voice for The Pagemaster himself. The film featured a powerhouse cast that included the likes of Patrick Stewart, Whoopi Goldberg, Leonard Nimoy and Macaulay Culkin. Despite this, the film was a box office failure, earning only $13.7 million after completing its theater run.
Anastasia
Lloyd's next family film would be the animated musical Anastasia in 1997. He provided the voice to the character of Grigori Rasputin, the movie's villain. The other voice actors included Meg Ryan as Anastasia, John Cusack as Dimitri, and many more.
It was not Lloyd's first voice gig, having previously voiced Merlock the Magician in Ducktales the Movie in 1990. When it came to the singing part, Jim Cummings took over the character. The film was a success, making $139.8 million from theaters globally.
Lloyd would continue to take on diverse roles as the millennium came to a close, still focusing on GP films for the entire family. The list of his acting credits during this time included My Favorite Martian, Baby Geniuses, and Interstate 60. He also continued to voice characters for animated films, including Hey Arnold! The Movie, Fly Me to the Moon, Sid the Science Kid, and Jungle Master.
A Million Ways to Die in the West
In 2014, Lloyd would appear in a cameo as his iconic Doc Brown character in A Million Ways to Die in the West. This Western comedy featured a star-studded cast, including Seth MacFarlane, Neil Patrick Harris, Amanda Seyfried, Charlize Theron, and a lot more. It had a production budget of $40 million, which it was able to more than double with its total theater earnings of $87.2 million.
Recent Work
Among Lloyd's most recent appearances was as Alec Windsor in the film Spirit Halloween: The Movie. He had also recently returned to his theater roots as he portrayed King Lear in the 2021 Shakespeare & Company production.
Other Ventures
In addition to his prolific career as a film and television actor, Lloyd has had notable work in theater and videos. He had also appeared in music videos for Huey Lewis and the News and for O'Neal McKnight. Both times, he portrayed the role of Dr. Emmett Brown.
Real Estate
A notable part of Christopher Lloyd's net worth comes in the form of real estate. For instance, Lloyd and his fourth wife, Jane Walker Wood, had purchased an 8-acre property in Montecito, California in 1997.
Following their divorce in 2005, the ex-couple listed the property with an asking price of $11 million. Unfortunately, before they got any takers, a fire tragically destroyed the entire house in 2008.
Personal Life
Christopher Lloyd has had five marriages, the first of which was to Catharine Dallas Dixon Boyd from 1959 to 1971. He then tied the knot with actress Kay Tomborg in 1974, and this marriage lasted until 1987.
His third and most short-lived marriage was to Carol Ann Vanek, from 1989 to 1991. Then he was married to screenwriter Jane Walker from 1992 to 2005. Lloyd is now married to Lisa Loiacono, with whom he exchanged vows in 2016. Lloyd does not have any children.
Christopher Lloyd's Net Worth Today
As of 2022, Christopher Lloyd's net worth is estimated at $40 million. And while his acting career is a large contributor to that number, his stage work, and real estate investments also impact his net worth.
Fans of Lloyd can look forward to seeing him next in The Mandalorian Season 3, which returns to Disney+ in 2023. He'll also star as Alchemist the in the Man & Witch alongside Sean Astin and Eddie Izzard.
Additionally, Lloyd is in post-production on Nandor Fordo and the Talking Mongoose, which also stars Simon Pegg and Minnie Driver. And last but not least, he's also completed work on Time, the Fourth Dimension, in which he'll portray an eccentric professor who goes on a multi-dimensional adventure.
Recommend

0

recommendations
Published in Celebrity, Celebrity Net Worth