FanBolt's 2022 Holiday Gift Guide for Geeks!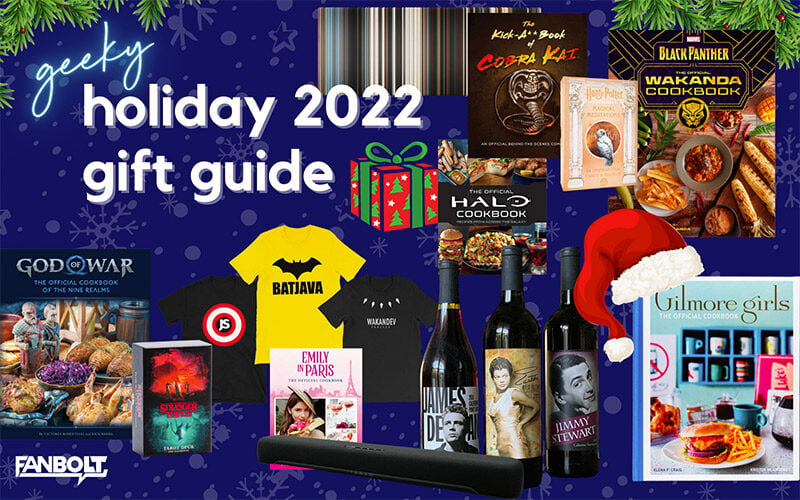 Whether it's Stranger Things, Black Panther, or Jane Austen, we've got the perfect fandom gifts for the geeks in your life covered with FanBolt's 2022 Holiday Gift Guide!
Check out our holiday recommendations below, and in our comments section, share with us what items are on your holiday wish list!
FanBolt's 2022 Geeky Holiday Gift Guide
For The Stranger Things Fan (Who Loves Tarot)
Stranger Things Tarot Deck and Guidebook
Stranger Things continues to be the most successful series on Netflix (though we've heard recent rumblings that Wednesday is a close second for that title), and while there is no shortage of merch available from the series, this tarot deck is one of the more unique ones.
Featuring original artwork inspired by classic tarot iconography, this 78-card deck comprises both major and minor arcana and depicts fan-favorite characters, imagery, and themes from Stranger Things. Packaged in a collectible gift box, it's a totally tubular gift for Stranger Things fans and tarot enthusiasts alike!
For the Video Game Fan (Who Loves to Cook)
Anyone who knows me knows I'm always game for some Halo (specifically Halo 1 multiplayer for the level Damnation). So I absolutely geeked out over this cookbook when it was first released this past summer.
The book features over 70 recipes for every occasion, and it's perfect for cooks of all ages. But what I love most is that every recipe comes with a difficulty rating, prep time and cook time estimates, and dietary notes – which lets you know what you're getting into before you even start.
Favorite recipes? I highly recommend the Hot Chocolate (simple yet decadent), the Cheese Danish (be sure to let them cool before you eat them), and the Spadehorn Bites (some of the best meatballs you'll ever taste!)
God of War: The Official Cookbook of the Nine Realms
Have you seen the stew in the game and wanted to make it? If so, you're not alone. I've got a video of it coming to FanBolt soon, where we'll test out one of the recipes! But there is no shortage of tasty dishes here from the Norse realms of Midgard, Alfheim, Jötunheim, and beyond.
There are over 60 recipes for every occasion that are perfect for the newbie chef to the master chef, there's never-before-seen art of iconic characters, locations, and more, and there's some exclusive lore that lets you dive deeper into your favorite characters. And this book, just like the Halo cookbook, also features difficulty rating, prep time and cook time estimates, and dietary notes.
My favorite recipe from the book, you ask? The Prosciutto-Wrapped figs. I'm not being dramatic when I say they're life-changing. They're absolutely divine.
For the Cobra Kai Fan (Who Loves Behind-The-Scenes Looks)
The Kick-A** Book of Cobra Kai: An Official Behind-the-Scenes Companion
A shoutout to all Cobra Kai fans! This book is a celebration of the superfans. It's a must-have companion to the show acting as a master sensei ready to guide readers through the karate-crazed San Fernando Valley.
The legacy of The Karate Kid and Cobra Kai continues with never-before-seen photographs and illustrations as well as interviews with Ralph Macchio (Daniel LaRusso), William Zabka (Johnny Lawrence), Martin Kove (John Kreese), Xolo Maridueña (Miguel Diaz), and Mary Mouser (Samantha LaRusso).
For the Emily in Paris Fan (Who Appreciates Cocktails)
Emily in Paris: The Official Cookbook
Emily in Paris is one of my favorite guilty pleasures (Seriously, I have a countdown clock until Season 3 premieres on Netflix). So when this book was released in August, I was first in line!
While this book features some fabulous French recipes, I was most in love with its cocktail recipes. Curious for a sneak peek? Join me as I test out the French Connection cocktail here.
In total, this beautifully designed cookbook contains more than 75 recipes inspired by the show. From dishes like Gabriel's Omelette and Pierre's Cracked Crème Brûlées, to classic French fares such as Ratatouille and Pain au Chocolat, to American ex-pat favorites including Quiche au Ciment (AKA Chicago Deep-Dish Pizza) and bacon-topped Cheeseburgers, there's literally something for everyone.
For the Harry Potter Fan (Who Appreciates Meditations)
Harry Potter: Magical Meditations
There are very few people on earth who wouldn't benefit from slowing down a bit and doing some self-reflection. So what better way to indulge in a little self-care than to include a little geeking out as well?
This inspirational card deck features 64 cards, each of which offers the reader a unique question, prompt, or invitation for self-reflection based on the major characters, moments, quotes, and themes of the Harry Potter films.
The set comes packaged in a decorative gift box with a book that delves deeper into the cinematic moments explored in the cards and the inspiration the filmmakers drew from while creating them. It's the perfect present for the mindful Harry Potter geek in your life!
For Sci-Fi Nerd (Who Is Also a Designer)
Movie Palette is a company that creates colorful paintings from your favorite films. But these aren't just any paintings. Each one consists of stripes of colors, and every stripe represents a color of a particular scene in the movie. Furthermore, each stripe is put in chronological order to complete the Movie Palette of the whole movie. It's such a unique and cool gift to give the movie nerd in your life – and thanks to their vast selection of films, you'll have no problem finding paintings of your favorite films!
As a designer by trade, I love things that are well-designed. I'm an art nerd who has an immense love for cinema. So when I first discovered Movie Palette, I was in heaven. Such a cool gift for movie fans (and bonus points if that movie fan is also a designer – they'll appreciate this even more)!
So what is it that you're looking at exactly here? The Movie Palette above displays all of the striking colors from each scene of the movie Dune (2021). These colors combined give you a captivating masterpiece that truly captures the essence of the movie.
For the Black Panther Fan (Who Loves Exotic Food)
Marvel's Black Panther The Official Wakanda Cookbook
Wakanda fans can indulge in the flavors of Africa with this official cookbook! There are over 70 tasty recipes that span from street food dishes to entrees to desserts and drinks.
Alongside absolutely stunning food photography are classic cuisine recipes such as Roasted Chambo, Braised Oxtail and Dumplings, and Glazed Road Runner Wings, making this cookbook a tribute to culinary traditions from all over Africa. Not to mention, this one also features difficulty rating, prep time and cook time estimates, and dietary notes (I seriously can't stress how much I love it when cookbooks do this).
My personal favorite? I love the Okra Fritters. They're vegetarian and nut-free, easy to make, and only take about 20 minutes in total to prepare (including cook time)!
For the Jane Austen Fan
Persuasion: The Complete Novel, Featuring the Characters' Letters and Papers, Written and Folded by Hand
Last year we included the Pride and Prejudice version of this, and this year the Persuasion edition was released! It's such a unique present for the Janite (massive Jane Austen fan) in your life. And while most Austen fans will already have a copy of Persuasion, they won't have anything that holds a candle to this one, which is designed and curated by Barbara Heller, a set decorator for film and television and the writer and director of award-winning short films.
Captain Wentworth's letter to Anne Elliot remains one of the literature's most unforgettable confessions. It is the jewel at the heart of Persuasion, Jane Austen's captivating story of second chances and enduring love. Throughout the story, letters, newspapers, maps, and other paper ephemera reveal the characters' deepest motivations and shape their destinies. Anne's snobbish father obsesses over a written history of their noble family, and a page from the Bath Chronicle reveals the elaborate social scene of the town where the lovers are finally reunited.
This deluxe edition brings all of this and more to life. As you read the novel, you will find pockets throughout containing replicas of thirteen items from the story, re-created with exquisite calligraphy and meticulous attention to historical detail. For anyone who loves Jane Austen or still cherishes the joy of letter writing, this book deepens the experience of a favorite story in an entirely new way!
For the Geeky Web Developer
Being a web developer by trade and a movie geek at heart, DevHero's apparel line has had me geeking out over it since I first discovered the brand. With t-shirts, cropped tops, hats, hoodies, and more all inspired by your favorite superheroes, there's a unique web developer spin on each of the production lines.
It's hard to pick a favorite. But for me personally, I absolutely adore DevHero's Autonomous Pink Crop Hoodie. It's one of the most comfortable tops I own, and I love making it known that I'm making my mark in a male-dominated industry.
For the Gilmore Girls Fan (Who Always Drooled over Sookie's Cooking)
Gilmore Girls: The Official Cookbook
Anyone who watched Gilmore Girls knows that food was a central theme throughout every season of the series. Whether it was a meal that Luke was cooking up for Lorelai and Rory or a full spread that Sookie was putting together for The Dragon Inn, there was no shortage of tasty dishes that were featured throughout the show's seven-season run.
The book features over 50 recipes, including Sookie's Risotto, Mrs. Kim's Flaxseed Muffins, Luke's Cheeseburger and Fries, and, of course, the perfect cup of coffee! Additionally, the cookbook also contains helpful cooking tips from Sookie, hosting tips from Michel, etiquette tips from Emily Gilmore, and wisdom from Lorelai and Rory for cooking fast and talking even faster.
For the Classic Movie Fan (Or Wine Fan)
We had this on our list for a few years, and we loved it so much that we kept it on for this year as well. There's simply no way to have a better night in than by grabbing a loved one, a classic movie, and a good bottle of wine! And Turner Classic Movies has made that even more fun with the TCM Wine Club, which brings you the best wines from around the world straight to your door – and pairs every bottle with a classic film seen on TCM.
Uncork the fun of movies and wine! And get all the details at www.tcmwineclub.com!
For The Little Fan
We include this one every year because we adore it so much! These Minifigure link watches are perfect for the little geek in your life! And they're available in a variety of different fandoms – it's the perfect way to teach little geeks that they should be proud of who they are and what they love – and they can even literally where their geek pride on their sleeve!
Of the above options, my personal favorite has to be the BB-8 Minifigure Link Watch ($25), because I mean it's BB-8. The watch comes with multi-colored, interchangeable links which allow for plenty of design possibilities for a unique watch that fits all wrist sizes.
That's one of the things I loved the most about LEGO growing up – and even now. It promotes and encourages creativity. You can create whatever your mind comes up with – whether it's following directions – or doing something that is completely unique and outside the box.
For the Music & Movie Lover
Yamaha's SR-C20A Compact Soundbar with Built-in Subwoofer
If you watch a lot of movies or listen to a lot of music, having a good soundbar in your life is a must! The Yamaha SR-C20A has a small and compact design that comes with BIG sound! The setup was super easy, the audio is clear and rich, and will fit in almost any media center without being bulky and awkward.
Sound can make content come to life in front of you – whether it's a movie, tv series, video game, or even music you're streaming via Bluetooth – it's magical how sound can immerse you, surround you, and transport you. We couldn't recommend this one more for the movie lover or soundphile in your life!
———————
And that's it for our 2022 gift guide! What are on your holiday wish lists? Share your lists with us in our comment section below!
Happy Holidays!
*Disclaimer: Please note we did receive free products for some of the above items for review and consideration in our gift guide (no other compensation was made) – however, all opinions are our own and we stand behind them.
FanBolt is a participant in the Amazon Services LLC Associates Program, an affiliate advertising program designed to provide a means for sites to earn advertising fees by advertising and linking to products on Amazon. FanBolt does earn a small commission from qualifying purchases on Amazon links in this article.
Recommend

0

recommendations
Published in Books, Emma's Geek Girl Blog, Featured, Lifestyle