'Ant-Man and the Wasp: Quantumania' Movie Review: A Big Start for Marvel's Phase 5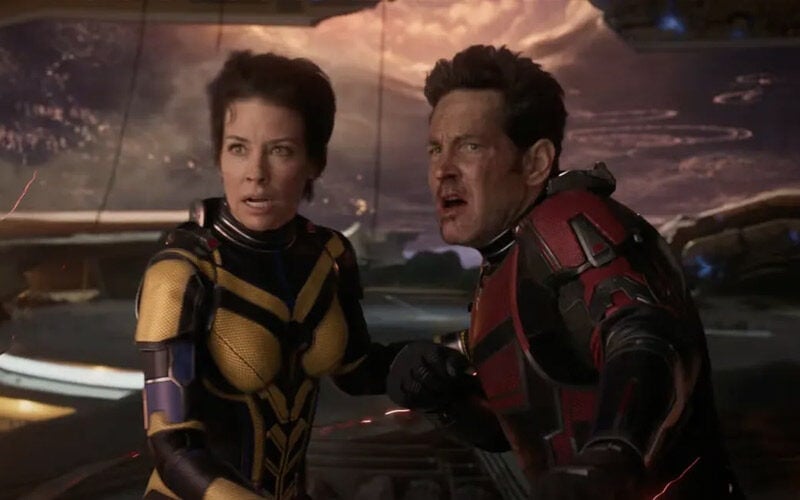 Phase 5 of the Marvel Cinematic Universe (MCU) is finally here with the release of Ant-Man and the Wasp: Quantumania. And with a less-than-stellar Phase 4, fans have placed high hopes on the MCU's next series of films. Does it pay off? Does it still feel like Marvel is still saturating the market too much? To be short and sweet, yes… and yes. There are problems here. But it doesn't mean that it's not an entertaining watch.
In the third installment of the Ant-Man movies, Ant-Man, Scott Lang (Paul Rudd), and the Wasp, Hope Van Dyne (Evangeline Lilly), return to the big screen for their next adventure. This time, together with Hope's parents, Hank Pym (Michael Douglas) and Janet Van Dyne (Michelle Pfeiffer), as well as Scott's daughter, Cassie (Kathryn Newton), the family finds themselves exploring the Quantum Realm.
There are strange new creatures, unique environments, and a new big bad known as Kang, played brilliantly by Jonathan Majors, for the family to encounter. And as they embark on an adventure that will push them beyond the limits of what they thought was possible.
Check out the trailer for the film below.
Ant-Man and the Wasp: Quantumania Trailer
Ant-Man and the Wasp: Quantumania Movie Review: What I Did and Didn't Like
With a two-hour and five-minute run time, Ant-Man and the Wasp: Quantumania packs a lot in. Countless stories are being told with each of the cast members, and there's an insane richness to all the new areas of the Quantum Realm that the film visits. What's surprising is that Marvel can keep this story organized despite the fact that it does feel like a bit of a mess. But it's a good mess.
Story
While the story, at times, can feel a bit too fractured and too large overall, it's actually really well put together. The pacing is spot on, but the problem is it never lets up. It's an intense momentum of twists and turns. Though, there is a good balance of comedy to help balance out all the action. And while Kang isn't as menacing as Thanos (yet – we know he will be), he still provides a great villain that's both intimidating and interesting to watch.
All in all, the script does an excellent job of connecting to the wider MCU while also telling its own story. But if any of the MCU films felt like it should have been a 10-episode mini-series on Disney+, it's this one.
Acting
Paul Rudd, Evangeline Lilly, Michael Douglas, and Michelle Pfeiffer are all back in action sharing the spotlight. And they all do a great job at bringing their characters to life — especially Rudd, who effortlessly balances being the comedic relief with being an action hero.
The other standout performance here is that of Jonathan Majors, who tackles the role of Kang with ease. While we met Kang before at the end of the Disney+ series Loki, we see a different Kang here. And before the film's end, we really get to see how much depth there will be with this character. It's clear how challenging Phase 5 will be for Marvel to tell. And Majors' role significantly is raising that bar.
Overall Thoughts
Overall, Ant-Man and the Wasp: Quantumania is a fun and entertaining flick. The action sequences are thrilling and offer plenty of visual effects to bring life to the Quantum Realm for the cast to explore. It's a MASSIVE start for Phase 5. But that's part of the major issue here. It's MASSIVE. There's so much happening that it's overwhelming. While it's surprisingly not hard to follow, the amount of story and setup here feels like it's waterboarding the audience. It's too much to resonate in the way that it should for the level of detail that went into every aspect of this film.
Is it still worth seeing? Absolutely. It's a solid story. And there's a lot of setup here for Phase 5. However, I wish they had portioned out the scale better for it to connect with the audiences in a way that would wow them and not overwhelm them.
Ant-Man and the Wasp: Quantumania Movie Review
Grade: B