Will There Be More 'Ant-Man' Movies? Star Paul Rudd and Director Peyton Reed Weigh-In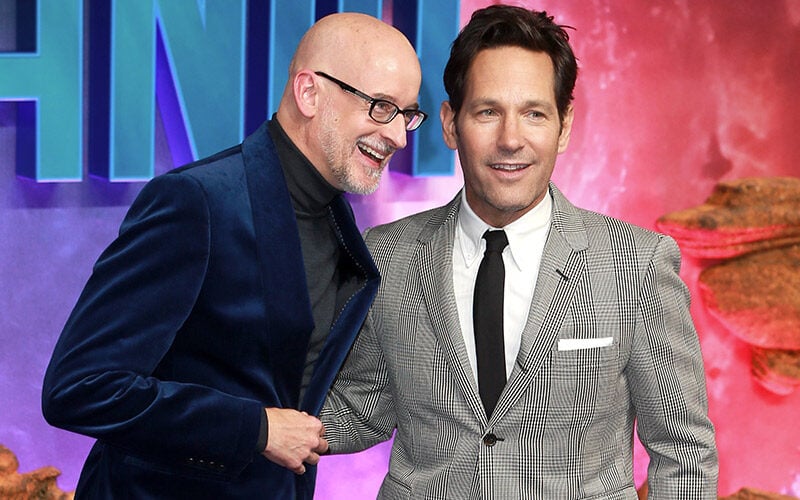 Will there be more Ant-Man movies? It's a question Marvel fans are asking with the release of the latest MCU film, Ant-Man and the Wasp: Quantumania.
Star Paul Rudd, 53, is also not helping the rumors by alluding to the fact that it might be his last Ant-Man movie. Though, he notes that he ultimately is unsure about his character's future in the franchise.
Paul Rudd Weighs-In
"Maybe it is the end of Ant-Man. I don't really know. As far as what's next, the only thing I can say for sure is that the Kang the Conqueror is going to be a very big part of whatever it is," Rudd states.
Rudd went on to explain that it has felt "huge" working on the movies and his character over the course of five films. He first played Ant-Man in the 2015 film, Ant-Man. And since then, he's noticed just how much Marvel Studios president Kevin Feige and others genuinely care about the movies and the characters.
"They feel huge working on them because, you know, they are. And I think that [Marvel] have a way of making films that are different from other studios… Everyone who works at Marvel trusts in the machine a little bit," Rudd says in an interview with Sky News.
"They're good at making the things that they make. Kevin Feige and some of the producers, they know what it is that they want to see because they're comic book fans, they are Marvel fans. They've grown up reading the comics. They are fanboys and fangirls. And so, they really, I think, care about the product!" he adds.
The Success of the Ant-Man Movie Franchise
Ant-Man and the Wasp: Quantumania director Peyton Reed also shares Rudd's uncertainty about the future of Ant-Man movies.
Reed, 58, has directed all three of the Ant-Man movies, and he admits he always gets "suspicious" about what lies ahead, despite the films' box office successes.
The 2015 film raked in more than $519 million at the worldwide box office against a budget of $130 million. Next was 2018's Ant-Man and the Wasp was even more successful, grossing more than $622 million globally against a budget of $162 million. And while Ant-Man and the Wasp: Quantumania just released in theaters last week, it's already made $357.3 million globally on opening weekend.
So with the financial success at the box office speaking for itself, why would Reed be suspicious about the future of the movies?
"It's interesting. Because, you know, I'm superstitious about this stuff, right? I mean, when we were doing the first Ant-Man there was certainly no guarantee we were going to get to make a second one. And even after the second one, there was no guarantee. When we finally announced that, "Okay, we're gonna make 'Quantumania,' we're gonna get to do this," it was marshaling all the forces onto that because we knew if we're gonna get to do a third one, it's gotta be something altogether different. We gotta show the audience something different." Reed explains.
"For me, it was the Quantum Realm, of being able to create that whole world, worlds within worlds, and answer those questions. What the hell was Janet Van Dyne doing down there for 30 years? And also, to kick off Phase 5, to introduce Kang the Conqueror with Jonathan [Majors]." he adds.
Will There Be More Ant-Man Movies? Peyton Reed Is Unsure
However, with the Ant-Man trilogy now being complete, he's not sure about the future of the franchise. And, on a personal note, he's also interested in challenging himself with new work.
"So I was focused on that thing. Now that the trilogy is done, who knows? Again, years ago – you and I have talked about this before – I developed 'Fantastic Four,' like 20 years ago. I channeled a lot of my 'Fantastic Four' love into the 'Ant-Man' world, and specifically into 'Quantumania'," Reed says in an interview with Collider.
"You know, it's no mistake that both are kind of dysfunctional families of superheroes. And in 'Fantastic Four' they may go into the Negative Zone, we went to the Quantum Realm. I really scratched that itch with these movies. I want to play in a lot of different sandboxes," Reed adds.
Though, Reed also admits he wouldn't rule out doing more work with Marvel and the MCU in the future.
"I would never say no to a future doing stuff at Marvel. I mean, I've loved my time at Marvel, I love the people in Marvel, and I love what they've been able to do. It's strange because 2014 is not that long ago, but the idea of this interconnected universe of movies is a relatively new idea." he notes.
Ant-Man and the Wasp: Quantumania is out in theaters now! Have you already seen it? Let us know your thoughts on the film and what you'd like to see for the character moving forward.