Jennifer Lawrence Net Worth
Jennifer Lawrence is an award-winning American actress who has made a name for herself in films like Silver Linings Playbook, American Hustle, and The Hunger Games franchise. Since starting her career in Hollywood in 2006, she's appeared in more than 30 movies and television series.
Though, her work on the big screen isn't the only source of her success. Jennifer Lawrence's net worth has also been impacted by her work as a producer, her real estate investments, and her brand endorsements. In 2013, she was named one of the one hundred most influential people in the world by Time Magazine. She has also made the Forbes 2013 to 2016 Celebrity 100 list.
Read on to discover Lawrence's most successful projects and trace her career from the beginning until now.
Early Years
Jennifer Shrader Lawrence was born in Indian Hills, Kentucky, on August 15, 1990. Her father, Gary Shrader Lawrence, was the owner of a construction company. And her mother, Karen, was a summer camp director. She also has two older siblings, Ben and Blaine Lawrence.
Lawrence attended Louisville's Kammerer Middle School and was considered to be hyperactive and socially anxious. She said that acting in church plays and school musicals made her feel accomplished and helped her overcome her fears. And this was just the beginning of her love for the entertainment industry.
She participated in cheerleading, softball, field hockey, and basketball at her school. As a "toughy," she played basketball on a boys' team her father coached. Her mother encouraged her to do modeling. However, Lawrence made it known that she preferred acting.
At the age of fourteen, much to her mother's dismay, she dropped out of school to pursue her acting career. This was after she was spotted by a talent scout while on holiday with the family. To the surprise of many of her fans, she doesn't have a GED or diploma. But she does consider herself to be "self-educated."
Acting Career
Lawrence landed her first paid acting role in the 2006 television movie Company Town. One could say that this was the true start of her acting career. After this, she appeared on television programs such as Medium and Monk. In the TBS program, The Bill Engvall Show, in 2007, she played the role of Lauren, a rebellious daughter.
Her career took off with her breakthrough movie, 2010's Winter's Bone. She gave an outstanding performance as Ree Dolly, and she earned her first Oscar nomination for Best Actress.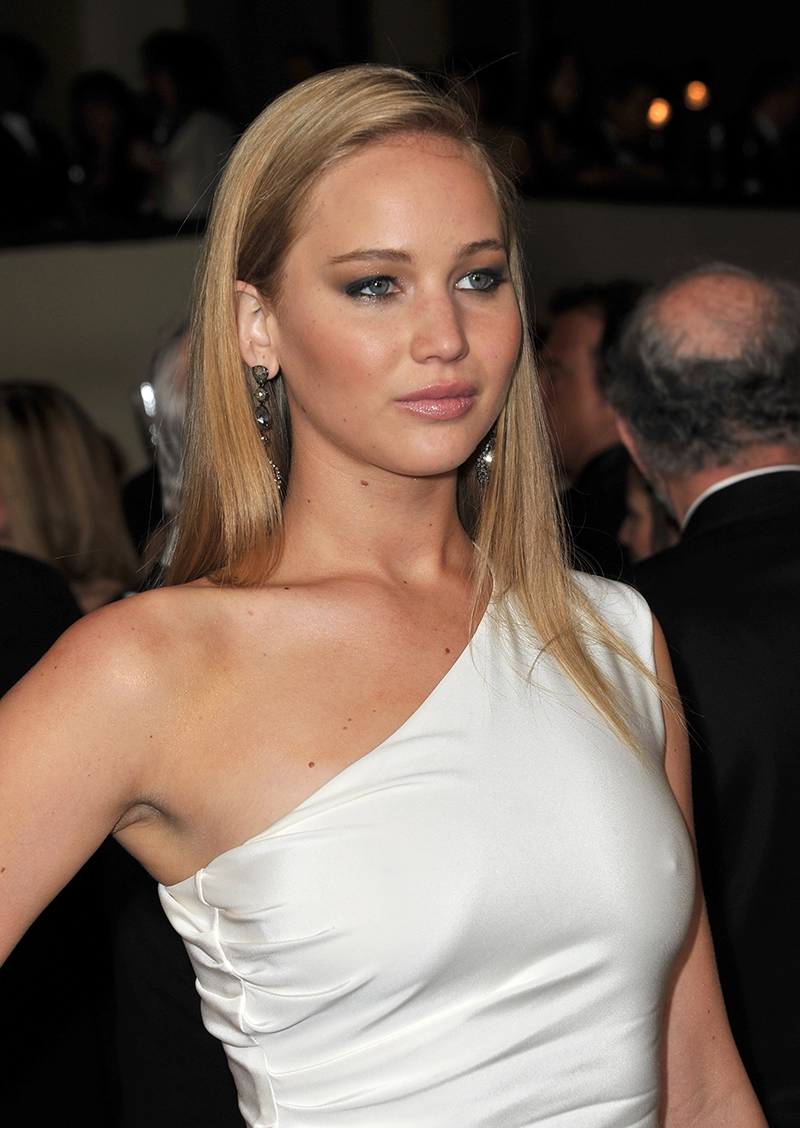 The X-Men Movies
In the coming years, she would join several notable movie franchises, the first being X-Men. She starred as Raven / Mystique in 2011's X-Men: First Class.
The role reportedly paid her $250,000, which wasn't a huge addition to Jennifer Lawrence's net worth. However, her salary would drastically increase for the following X-Men movies. For 2014's X-Men: Days of Future Past, IMDB reports she was paid $6 million, and for 2016's X-Men: Apocalypse, she was paid $8 million.
IMDB records X-Men: Dark Phoenix as Lawrence's highest-paid gig to date. The movie site lists her as having a $47 million paycheck for the film.
The Hunger Games
Another sizable boost to Jennifer Lawrence's net worth would come with 2012's The Hunger Games movie franchise. Lawrence landed the role of Katniss Everdeen. The first film was a huge success. With a budget of $78 million, the movie grossed more than $694 million worldwide.
With a salary of $500,000 plus escalators that equal to $1,000,000, the first film was Lawrence's lowest salary of the series. In 2013, she earned $10 million for The Hunger Games: Catching Fire. She earned $7.5 million for each of the final films, The Hunger Games: Mockingjay Part 1 and Part 2. These films were released in 2014 and 2015, respectively.
As of 2023, The Hunger Games: Catching Fire is Lawrence's highest-grossing film, earning more than $865 million globally against a budget of $130 million.
Silver Linings Playbook
In 2012, Lawrence starred opposite Bradley Cooper in Silver Linings Playbook. With a budget of just $21 million, the film grossed more than $236 million globally.
In 2013, Lawrence won the Oscar for Best Actress in a Leading Role for her work in the film. She also won the Golden Globe that year as well.
American Hustle
In 2013, Lawrence would star opposite Bradley Cooper again in American Hustle. The movie, which also starred Christian Bale and Amy Adams, grossed more than $251 million worldwide against a budget of $40 million.
Lawrence was reportedly paid $1.25 million (plus 7% gross point) for the project. And she was once again nominated for an Oscar, this time in the Best Performance by an Actress in a Supporting Role category. While she didn't take home the award, she did win the BAFTA for Best Supporting Actress for the role.
Recent Work
Netflix's 2021 film Don't Look Up was another massive boost to Jennifer Lawrence's net worth. She starred in the Adam McKay film opposite Leonardo DiCaprio, Jonah Hill, and Meryl Streep. She made $25 million (including back-end) from the project.
And most recently, Lawrence starred in A24's 2022 film Causeway. The film followed the story of a US soldier who suffered a traumatic brain injury while fighting in Afghanistan and is struggling to adjust to life back home.
Other Ventures
Jennifer Lawrence's net worth is also impacted by her ventures outside of the entertainment industry. She's been a brand ambassador for Dior, with a contract rumored to be worth somewhere between $15 to $20 million. And in 2023, she became an "Ambassador of Elegance" for the Swiss watchmaker Longines.
In 2018, Lawrence also launched her own production company, Excellent Cadaver. The company produced 2022's Causeway, in which Lawrence starred. It is also producing the upcoming movies No Hard Feelings, Bad Blood, and Zelda, which will see Lawrence starring as Zelda Fitzgerald.
Lawrence also has a number of charitable initiatives she's partaken in, including her partnership with Chideo, the first charity broadcast network. She arranged for the screening of her movie Serena to generate money for the 2015 Special Olympics World Summer Games. She also worked with Omaze to organize a fundraising competition for the games in conjunction with the Mockingjay – Part 1 premiere of The Hunger Games.
Real Estate
Also impacting Jennifer Lawrence's net worth is her real estate investments. In 2016, Lawrence purchased an Upper East Side penthouse in New York City for $15.6 million. And in 2020, she would sell the property for $9.9 million, taking a $5.7 million loss.
Later in 2020, she bought another Manhattan home, this time a townhouse in the West Village. She paid a massive $21.9 million for the 5,000 sq. ft. home, which includes four bedrooms and three and half baths.
In 2023, Lawrence sold her apartment at 443 Greenwich Street for $9.75 million. She had acquired the property in 2017 for $9.03 million.
Personal Life
While Jennifer Lawrence understandably keeps her personal life as private as she can, she has had a pretty diverse dating history that the media has captured.
In 2010, she was dating Nicholas Hoult. The pair met while filming X-Men: First Class. They split briefly in 2013, and then ultimately called it quits in August 2014.
Not long after, Lawrence began dating Coldplay frontman, Chris Martin. However, by the summer of 2015, the pair had gone their separate ways.
In the fall of 2016, after wrapping on Mother!, Lawrence started dating director Darren Aronofsky. Despite a 22-year age difference, the couple dated for roughly a year before going their separate ways in November 2017.
In 2018, Lawrence met her now-husband, Cooke Maroney. Lawrence and the art gallery director met through close friends and were engaged by early February 2019. The pair tied the knot in October of 2019. And by February 2022, Lawrence and Maroney had welcomed their first child, Cy, who was named after one of Maroney's favorite painters, Cy Twombly.
Jennifer Lawrence's Net Worth
As of 2023, Jennifer Lawrence's net worth is estimated at $160 million. While her acting career is largely responsible for her net worth, her production company, real estate investments, and brand ambassador deals also sizably impact that number.
According to IMDB, Lawrence has a number of projects in development. Her next film will be the 2023 comedy No Hard Feelings, where she stars opposite Natalie Morales, Ebon Moss-Bachrach, and Matthew Broderick.
Recommend

0

recommendations
Published in Celebrity, Celebrity Net Worth