Trilith Hosts 2023 Reel People Care Gala And Raises Over $1 Million for Local Charities
Trilith's 2023 Reel People Care Gala took place on Friday, March 3! And the event exceeded its goal, raising over $1 million for local charities!
Dan T. Cathy, Chairman, Chick-fil-A, Inc, and chief visionary for Trilith, was the driving force behind the first Gala in January of 2014. The event served to thank not only local supporters but also dignitaries who made it possible to launch Trilith Studios (previously known as Pinewood Atlanta Studios) so quickly.
However, fast-forward nearly a decade and the event has evolved into an annual community gathering designed to raise funds for a diverse, curated group of nonprofits that support, strengthen, and improve the local community.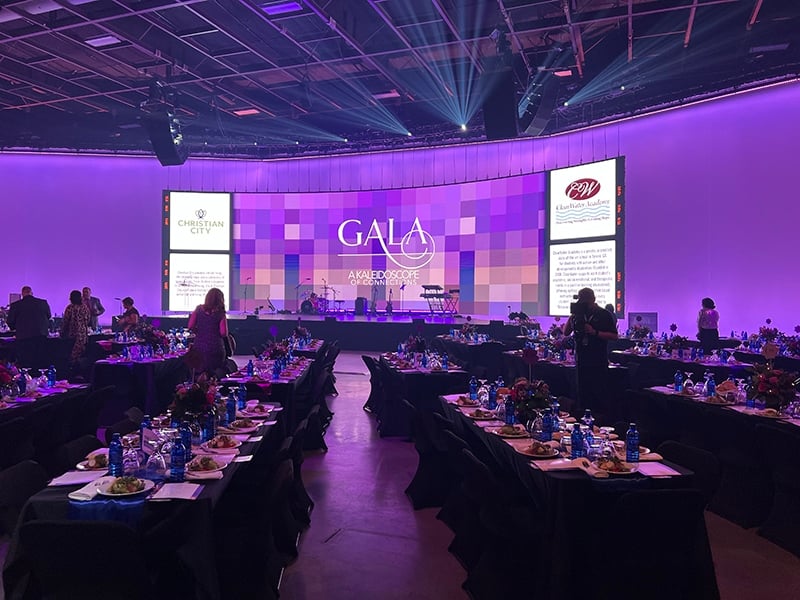 The 2023 Reel People Care Gala
This year's Reel People Care Gala was themed as "A Kaleidoscope of Connections." And it focused on the meaningful connections between the community's non-profits, and the many fruitful partnerships that exist between them – some that were formed solely because of the annual gala fundraiser. It's truly a beautiful event that honors extraordinary causes.
The 2023 Reel People Care Gala highlighted 15 incredible non-profit organizations that serve the South Metro Atlanta community, including:
(AVPRIDE) Association of Village Pride
Bloom
Christian City
ClearWater Academy
Coco's Cupboard
The Eden Project
Fayette Fire Foundation
Fayette Senior Services
The Forest School
Leap for Literacy
Midwest Food Bank
Piedmont Fayette Hospital
Promise Place
Southern Conservation Trust
Two Sparrows Village
This year's MC's for the events included Genaro Lawhorn, Associate Regional Director, Young Life, and Abby McCollum, Marketing Manager, Trilith Studios.
"The Gala provides an opportunity for us to serve as storytelling champions for these incredible organizations and to ignite the spirit of generosity in our community," said McCollum. "So I'm especially excited that this year we hit our ambitious goal of raising $1 million."
Presenters across the evening included Frank Patterson, President & CEO, Trilith Studios, Rob Parker, President, Trilith Development, and Dan T. Cathy, Chairman, Chick-fil-A, Inc and Trilith visionary.
Raising Over $1 Million
"We are incredibly proud of the results of this year's Gala and excited to see all of the support this fundraising will give to our local community," Parker said. "Each year, we are inspired and in awe of the work these charities do. And the opportunity to give back to them is really special."
Attendees participated in a fantastic silent auction, enjoyed a seated dinner and a
behind-the-scenes entertainment experience in the Trilith's Shipyard.
The Reel People Care Gala is made possible by the Trilith ecosystem of productions, vendors and retailers that come together to sponsor and support the event – from delectable catering provided by Hanna Brothers, to customized arrangements provided by The Funky Shack, to the interactive Shipyard Experience.
For the Georgia Film Geeks
For this year's event, the Shipyard Experience included a number of cool props from Georgia-filmed productions. From a Captain America Shield (signed by the cast) to cars used in Zombieland: Double Tap, Hawkeye, The Walking Dead, Stranger Things, and Doom Patrol, there were so many geek-out worthy photo opts for fans of Georgia film.
Check out a selection of the props that were on display below.
All in all, it was an incredible event! And we can't wait to see what the ten year anniversary of the Reel People Care Gala brings in 2024!