Dragon Con 2023: 8 Geeky Vendors that We Loved!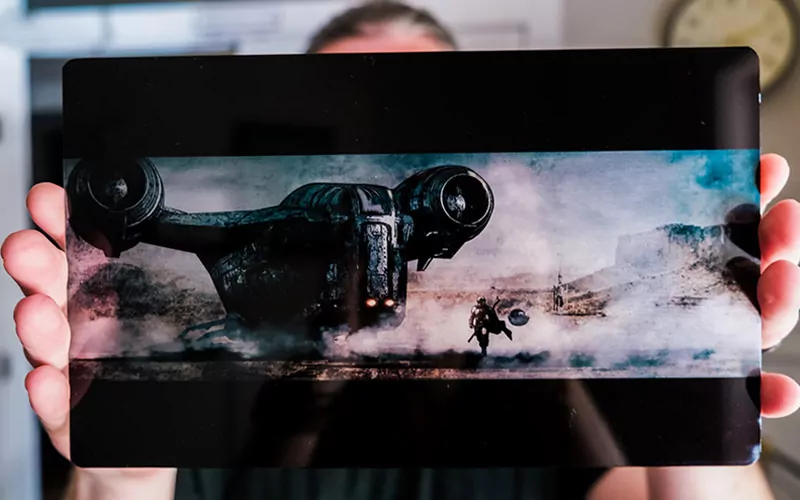 Dragon Con, the mecca for all things geek and nerd culture, returned this year with another incredible event. And while we had a wonderful time exploring the cosplay, we had an equally amazing time exploring the vendor hall.
From comic books and collectibles to cosplay accessories to stunning art and gaming merchandise, the vendor hall was a treasure trove of nerdy delights. As we roamed through the multiple floors filled with hundreds of vendors, we couldn't help but be awestruck by the creativity, passion, and sheer geekiness on display.
While we wish we could highlight all the vendors, we wanted to take a closer look at eight of our favorites, from which Team FanBolt bought items.
Whether you're a die-hard Star Wars aficionado or a dedicated Potterhead, there was something for every fan at Dragon Con 2023. Let's dive in!
Geek-Out Worthy Dragon Con 2023 Vendors
Andrew Heath
First up (and where we bought the second most from), was Andrew Heath's booth. Every year, Andrew's work gets us. This year, we ended up grabbing four prints, which are further down in the article.
So here's what you need to know about Andrew. He's a graphic designer and illustrator from Kentucky. And he designs wonderfully geeky prints with a modern and clean design.
If you're looking for well-designed geeky prints to celebrate your fandom, we highly recommend checking out Andrew's work!
Megan Withey
Next is Megan Withey, an incredibly talented fantasy and pop culture watercolor artist from South Florida. With more than 26,000 sales on her Etsy and more than 92,000 followers on her Instagram, she has quite a fan following!
While we loved her Ashoka print, our friend bought her Up print, which may be the most beautiful print from the Pixar movie we've ever seen.
Ionox Media
I was obsessed with the Ionox Media booth. While one of the pricer booths, they caught my attention with their etched and laser-cut topographic maps. They were some of the coolest pieces of art I saw in the vendor hall.
From the fictitious Isla Nublar from Jurassic Park to the actual schematic for popular Disney World rides, including Haunted Mansion, Pirates of the Caribbean, and more, Ionox Media had some super rad pieces.
I'm crossing my fingers for an Epcot map of the World Showcase in the future. But until then, that Isla Nublar map is absolutely in my future. Check out their Etsy here.
Jim Mehsling
We came away with five pieces from Jim Mehsling's booth, and I absolutely love all of them! Honestly, it was hard to limit ourselves to just five. There were about ten more myself and my husband were considering.
Mehsling is an illustrator, animator, topps sketch card artist, and concept artist for film and television. You can check out his Etsy here, and be sure to check out the metal prints.
The iridescent quality of the metal prints makes the lighting all the more impressive. The featured photo at the top of this article with the Mandalorian Razorcrest is probably my favorite piece we got from Jim. But that being said, I also really love the Mandalorian N-1 Starfighter print as well!
Drew Blank
While we're on the topic of Mando, that brings us to Drew Blank's booth, which had all of us laughing. We couldn't not go home with a Pillo Pascal. We love Pedro Pascal far too much to do a thing like that!
I spoke with Drew at the booth, and he's going to have a pretty amazing set up at New York Comic-Con this year. So if you're looking to pick up your own Pillo Pascal (and you're going to NYCC), be sure to look his booth up!
Not planning on going to NYCC – but realize you also need a queen-sized pillow case with Pedro Pascal's face on it. How could you not need one? Don't worry, you can still get one online here!
PopCycled Baubles
I had high expectations for some creative Barbenheimer (Barbie/Oppenheimer crossover) pieces this year. Shockingly, there weren't many booths that had anything related to the July movie blockbuster weekend.
However, I absolutely loved the print that PopCycled Baubles had. They had it on coasters, tote bags, flasks, etc. I asked about a shirt, and they mentioned that they would be uploading the design to their Redbubble account soon, which means you can put it on anything you want.
I picked up one of the coasters for FanBolt's office. I couldn't get over the "Atomic Chic Since 2023" tagline. Well-designed with a touch of humor.
Want to pick up your own? You can check them out on Instagram here and their Redbubble here. It doesn't look like they've officially launched the Redbubble yet, so might be worth reaching out to them directly on Instagram if you're wanting some Barbenheimer goodness sooner rather than later!
O' Christmas Geek
Have to admit, I'm biased on this one because I know the wonderful lady, Molly, who runs this booth. If you're looking for anything remotely geeky for your holiday season decor, O' Christmas Geek has you covered.
So, Dork the Halls! And pick up your Dungeons and Dragons, Game of Thonres, Harry Potter, Doctor Who, Manadalorian (I could keep going…) seasonal decor, and get ready to start geeking out as the end of the year approaches!
Monkey Minion
Monkey Minion was another booth that caught my designer's eye. With clean, modern illustration styles, this husband and wife team from Wichita, KS, creates art, books, and other merchandise centered around space, science, nature, and pop culture.
We picked up a shark print and a space print from their booth. And now, looking at their website, I'm wondering how the heck I missed this Star Wars print, because it's another one we need for our office!
What We Bought at Dragon Con 2023 Vendor Hall
Are you curious about the full haul that FanBolt picked up at Dragon Con 2023? Check out a few more highlights in the gallery below that weren't featured above.
While most of these pieces will go on the walls in our home office, others will be on display throughout our house, and a few might even end up as gifts come the holiday season!
The Dragon Con vendor hall is always one of the best parts of the convention. There are so many well-designed pieces spanning all fandoms. Whether you're looking to pick up cosplay gear, artwork, collectibles, board games, t-shirts, or other merchandise, if it's geeky, you can find it in the vendor hall.
A note for 2024: While it typically takes a little time to get into the hall, it's worth it. The line usually wraps around the second America's Mart building, but it moves fast and gives you the opportunity to make friends in line. So don't pass up the opportunity to stop by for Dragon Con 2024!