'Alice in Borderland' Season 3: Release Date Speculation, News, Cast, and More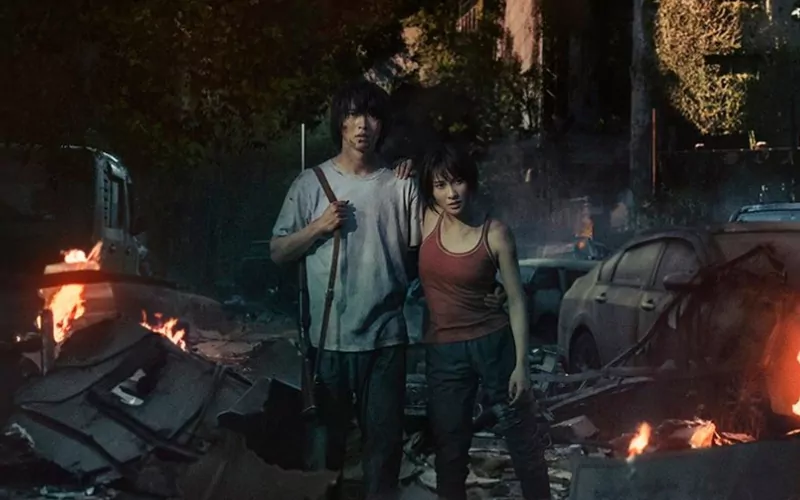 Since premiering in 2019, Alice in Borderland was one of the most successful shows on Netflix. The Japanese dystopian thriller drama hooked audiences everywhere with the twisted games that see its characters fighting to survive. With the show getting a renewal this year, fans of both the manga and the live-action series are anticipating what's next for Arisu and the gang.
Here's what we know so far about Alice in Borderland Season 3. Spoilers ahead for Seasons 1 and 2.
Alice in Borderland Returns for Season 3
After much speculation on the show's possible renewal, Netflix formally confirmed Alice in Borderland Season 3. The streaming service officially released a teaser on September 28, showing the appearance of the Joker card. The same card appeared in the last episode of Season 2. Before the teaser, mysterious posters of the cards appeared in a subway in Japan, showing several cards.
The photo was also posted by Netflix, and eagle-eyed fans were quick to decipher the message behind the cards: ALICE THREE.
The renewal of Alice in Borderland didn't come without some skepticism, however. As the first two seasons covered pretty much the entire manga, fans wondered what else could possibly happen. Fortunately, Alice in Borderland author Haro Aso tweeted that he is working on the upcoming season. That seemed enough assurance for fans of the manga.
Alice in Borderland is based on the manga series of the same name by Haro Aso. It follows misfit gamer Arisu who is suddenly transported to a parallel dimension where he has to play and win games to survive. The games are divided into four categories, represented by suits of cards.
The show's director Shinsuke Sato also confirmed that he will be back to helm the third season.
Alice in Borderland Cast
Alongside the renewal news, Kento Yamazaki and Tao Tsuchiya are confirmed to return as Arisu and Usagi respectively. While the official cast list isn't out yet, we can expect Nijiro Murakami to return as Chishiya, as well as Aya Asahina as Kuina. Miyoshi Ayaka is also expected to be back as Ann. Yuri Tsunematsu became a fan favorite as Heiya, and because her character ended up surviving Season 2, she'll likely be back.
Season 2 also surprised the show's fans with the return of Niragi and Aguni, played by Dori Sakurada and Sho Aoyagi respectively. Niragi and Aguni were thought to have died after they didn't escape the burning resort in Season 1. While both of them were extremely injured at the end of Season 2, it's possible that they'll be back for Season 3.
Also expected to return are Hayato Isomura as Banda and Katsuya Maiguma as Yaba. After clearing the Jack of Hearts game, they also opted to remain in the borderlands as citizens. For Season 3, the two of them may likely become the new game masters.
However, that might not be the case for Tatta, played by Yutaro Watanabe. Since Tatta in Season 2, it doesn't seem like he'll be back.
What Happened in Season 2
Alice in Borderland Season 2 was all about the face cards, which meant harder games. Arisu, Usagi, Kuina, Ann, Tatta, and Chishiya were forcibly split up with the emergence of a mysterious gunman. Ann set off on her own to look into the extent of the "borderlands" while Chishiya was also left to play the games on his own. The success of the citizens playing the face card games also meant the death of the existing face card game masters.
The more they played, the more they learned that the face card game masters were also former gamers who became "citizens."
Just when Arisu cleared the Queen of Hearts game, the surviving players were all asked whether to become citizens or return. All but two of them decided to decline citizenship and return. Many of them end up at a hospital following an earthquake. None of them seemed to remember each other.
Season 2 ended on a very ominous note though, with the appearance of what is the last card on the deck: the Joker card.
"When we ended Season 1, we were halfway through the manga series," Kento Yamazaki told Gamer Braves. "I think, in general, Season 2 is not just a death game that you're seeing. You really dig into the existence of each character and we dig into the theme of 'what are we doing on this Earth, and why are we living these lives?'"
"It poses questions about what is life about and what is it to live. These are deeper questions that were also in the original manga. We've been able to deliver these in the drama series and deliver them to the world," the actor added.
What to Expect for Season 3
While there's no official synopsis yet, it seems like anything can happen for Alice in Borderland Season 3. It's possible that certain characters, who are believed to be dead, may also make surprise returns in the coming season. Arisu and the gang might believe that they're back in the real world, but the reveal of the Joker card seems to hint otherwise.
As the show plays on Alice in Wonderland references, there are some references yet to be explored as well. It's also possible that all the contestants are in a virtual reality. While Arisu and Usagi might have made it out, it's also likely that they slipped into another game.
The face card games were already difficult to clear. So it's possible that the Joker card might be the most difficult of all. Should the Joker take on its name, then Arisu and the gang are up for a journey. However, in the manga, the Joker card is the Ferryman who takes Arisu and the gang back to the real world.
But with the manga's author involved, it seems like anything could happen in the upcoming series.
Riisa Naka, who played Mira, the Queen of Hearts, shared what she hopes to happen in Season 3.
"If there were to be a Season 3, I wonder what would happen with the whole team that fought together so far," she told Nextshark. "You saw the ghost of Hatter introduced in the show so many times, so I have this feeling that he might come back again. So for Mira, you might also think that she could return."
Alice in Borderland Season 3 Release Date News & Speculation
There's no official release date yet for Alice in Borderland Season 3. For comparison, fans waited over two years for Season 2. Both seasons of Alice in Borderland were also released in December. However, that doesn't mean that Season 3 will come by December 2024. We can probably expect the third season to start filming in 2024, meaning a 2025 release date is likely.
As of September 28, 2023, we know the series is in active development on Season 3. So, we can only wait and see what happens in the coming weeks ahead.
For now, fans can watch or rewatch Seasons 1 and 2 of Alice in Borderland on Netflix.