'GoodFellas' Cast to Reunite for Film's 25th Anniversary at Tribeca Film Festival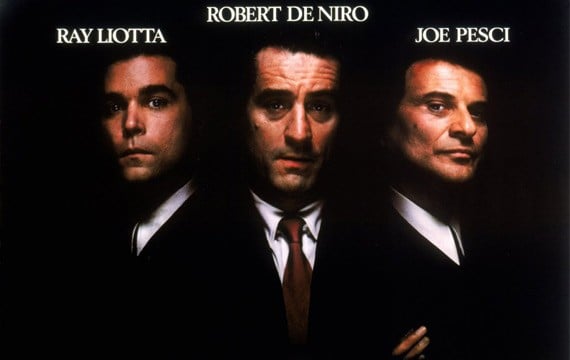 Martin Scorsese is reuniting with his GoodFellas stars Robert De Niro, Joe Pesci and Ray Liotta to celebrate the 25th anniversary of the classic mob movie at a special event for the Tribeca Film Festival.
Fellow cast members Paul Sorvino and Lorraine Bracco will join the movie veterans for a screening and group discussion with comedian Jon Stewart at The Beacon Theatre on April 25, when a remastered version of the 1990 release, which is based on author Nicholas Pileggi's true-crime bestseller Wiseguy, will close De Niro's annual festival in New York City.
A statement released by De Niro's producing partner and Tribeca co-founder, Jane Rosenthal, reads: "While TFF's mission is centered around new stories and voices, we also seek to honor the creators and films that have shaped the cultural landscape.
"GoodFellas is one of those pictures with an honest and stylized portrayal of the gangster lifestyle that has inspired a generation of filmmakers and television directors across genres. We are proud to celebrate its 25th anniversary at our closing night and introduce new audiences to one of Marty's masterpieces."
An honored Scorsese adds, "I was so excited to learn that this picture, now 25 years old, would be closing this year's Tribeca Film Festival. Excited and moved. It was an adventure to get it on screen – we wanted to make a movie that was true to Nick Pileggi's book…, which means that we broke some rules and took some risks. So it's heartening to know that GoodFellas has come to mean so much to so many people. It's wonderful to see one of your pictures revived and re-seen, but to see it closing Tribeca, a festival of new movies, means the world to me."
And De Niro says, "I was most proud of this film 25 years ago, and equally proud of it now. I'm very happy that it is our closing night film."
The screening of the Oscar-winning movie will take place days before the release of a Blu-ray version of GoodFellas hits retailers. The DVD will also include a new documentary, titled Scorsese's GoodFellas, and feature interviews with De Niro, Liotta, Leonardo DiCaprio, Harvey Keitel and others.
The GoodFellas cast and crew aren't the only stars marking a big milestone at the Tribeca Film Festival – the surviving members of British comedy troupe Monty Python will also gather to celebrate the 40th anniversary of their cult classic, Monty Python and the Holy Grail, on the penultimate day of the festival.
The 2015 Tribeca Film Festival will run from April 15 to 26.
Photo Credit: Warner Brothers
Recommend

0

recommendations
Published in Entertainment, Entertainment News, Featured, Movie News, Movies