AMC Renews 'The Walking Dead' and 'Talking Dead'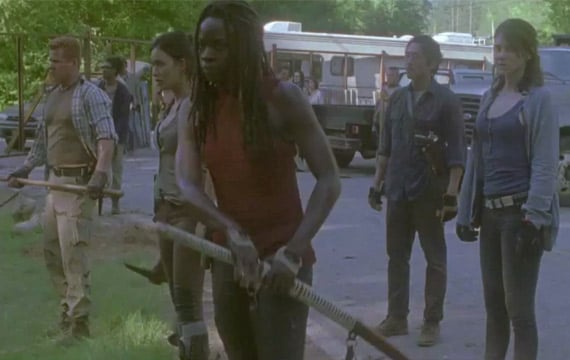 While the fates of, like, ALL of the characters may be up in the air, fans of The Walking Dead can at least take some solace in knowing that the show itself is safe for another season.
AMC announced today that they've renewed the #1 show on television for a seventh season, as well as renewing Talking Dead, the live after-show hosted by Chris Hardwick.
"Thank goodness someone had a Magic 8-Ball with them in our many long internal meetings about these renewals. When, on the third shake, 'without a doubt' filled the murky blue screen, we knew we had to proceed with new seasons of The Walking Dead and Talking Dead," said Charlie Collier, president of AMC, SundanceTV and AMC Studios, in a press release. "All joking aside, we are so proud to share these shows with fans who have been so passionate, communicative and engaged. We are grateful for and continually impressed by the talent, effort and excellence on continuous display by Robert Kirkman, Scott Gimple, Chris Hardwick and the many people with whom we partner to make these unique shows possible. The result: More Walking and Talking. Hooray."
The announcement comes just in time for Halloween and days after one of the show's most traumatizing episodes yet, which left the fates of the show's beloved characters up in the air. That particular episode pulled in 18.2 million viewers, 12 million adults 18-49 and 11.5 million adults 25-54 in live+3 ratings, so it's no wonder AMC went ahead and made the announcement.
You may not be surprised by the news of the renewal, but we know you're excited! Share the excitement with us in the comments below!
Photo Credit: AMC
Recommend

0

recommendations
Published in Entertainment, Entertainment News, Featured, TV, TV News